Most of us will be familiar with the Disney cartoon, but the Birmingham Royal Ballet's production of Aladdin is an even greater technicolour experience.
The story – now being told at The Lowry in Salford – will be largely familiar to anyone who has watched the animated film.
A poor and plucky boy finds a magic lamp, taking him on a crash course for love with the princess, Badr al-Budur (played by Momoko Hirata) and rivalry with The Maghrib (played by Iain Mackay).
David Bintey's production follows the traditional story slightly more closely, and balances humour and spectacle with drama and fantastically impressive choreography.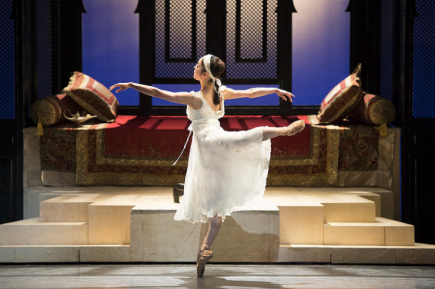 LOWRY: Aladdin has touched down in Salford
The Cave of Riches at the end of Act 1 is a myriad of wonders which are practically worth the price of admission alone, showcasing a wide variety of styles and techniques as an array of precious gems dance around an awe-struck Aladdin.
The title character, played by Mathias Dingman, is a heart-warming lead, and Hirata's Princess is suitably a picture of poise and elegant strength.
Hirata also acts superbly, emoting love through to revulsion, with a light dash of comedy along the way.
The show's humour kicks into gear during Act 2 and is well-played when it appears, principally by Aladdin's mother (played by Marion Tait), and The Sultan (played by Jonathan Payn).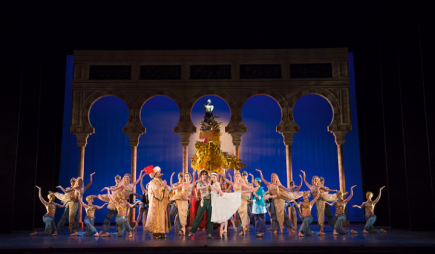 SPECTACLE: The show balances humour and drama 
The scene at the royal court is Bintley's Aladdin in a nutshell: genuine humour flowing into an impressive main dance for The Djinn of the Lamp (played by Tzu-Chao Chou), flowing into a Lion Dance which combines both audience titters and dancers' technique.
It would all be that little less special without Carl Davis' score though, with the orchestra conducted by Paul Murphy and led by Robert Gibbs adding that magisterial note that every performance needs.
The sets and costumes are vibrant and atmospheric; scene-changes are enjoyable as scenes in themselves; and the special effects and lighting make the magic feel magic.
Aladdin is a show in which almost everyone who graces the stage impresses – a couple of very minor costume malfunctions aside – and is a great production for those who are brand new to ballet and those connoisseurs among us.
*Birmingham Royal Ballet's Aladdin is playing at The Lowry, Salford until Saturday, September 23. You can buy tickets HERE.