Few stories have been dramatised and adapted as many times as Charles Dickens' heart-warming tale A Christmas Carol.
The classic novella was written in 1843 and remains intensely popular to this day, thanks to its timeless themes of greed and redemption which have resonated with audiences for over 170 years.
The latest theatre adaption – now showing at the Bolton Octagon – does justice to this story we all know and love, successfully putting an original spin on it whilst keeping true to its powerful moral message.  
Written by Neil Duffield and directed by Ben Occhipinti, it is distinctly warm and funny, with lead Marc Small giving a captivating performance as Ebenezer Scrooge, a money-grubbing miser who's forced to see the error of his ways. 
In popular culture, Scrooge is known as an old, wrinkly white man, yet Small is a young, handsome black man with breadths of charisma both on and off stage.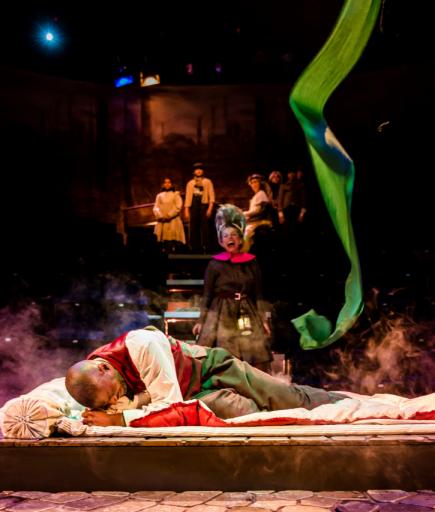 This feels important to mention because often the nature of Victorian dramas inherently discriminate against non-white actors. Therefore, the diversity – as well as the talent – of this cast must be applauded.
In fact, the Bolton Octagon – now celebrating its 50th anniversary – is working on a re-development programme to make it more accessible for everyone, and part of this show's magic is down to the theatre itself.
The festive decor did much to add to the pre-show excitement, whilst the simple yet effective set design made the most of the theatre's relatively small stage.
The set is based around Scrooge's bed, where four ghosts pay him a visit on Christmas Eve. These are ex-business partner Jacob Marley and the ghosts of Christmas Past, Present and Yet To Come.
Suitable for ages five and above, these scenes have clearly been directed with a younger audience in mind, and darker elements of the novel are watered down in favour of a giddier, light-hearted approach.
The Ghost of Christmas Present – an affable woman with a charming cockney accent – was far less ominous than even the Muppet's Christmas Carol counterpart.
Scrooge himself isn't nearly as mean or miserable as he is in the book and adds a lot of humour to scenes which are supposed to portray his hatred, fear and self-loathing.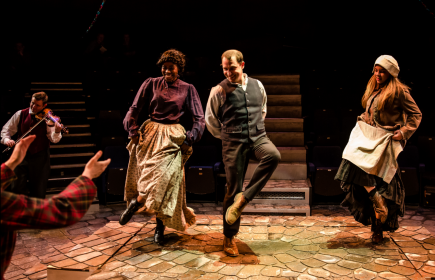 Nevertheless, the play stays true to the central themes and narrative of the story.
Dickens wrote A Christmas Carol to encourage charity and kindness during the festive season in response to how British society treated the poor – and subtle reminders of this are scattered throughout.
In the opening scene, Scrooge chases away a pair of charity collectors, telling them the unemployed are 'surplus population' who drain society.
"If they are hungry let them find work," he grunts unsympathetically, reflecting an attitude towards the poor that can often still exist today.
Later on in the production, a group of starved looking children crawl on to the stage representing poverty, hunger and disease.
"They belong to us all," says the Ghost of Christmas Present, subtly chastising both Scrooge and wider society for turning the other cheek towards those in need.
This enduring moral message is what makes the novel still relevant today.
It has been skilfully integrated into the Octagon's adaption to make the audience reflect on their own levels of empathy whilst watching Scrooge transform into a kinder, gentler person. 
This is done to a beautiful soundtrack of classic Christmas hymns which make A Christmas Carol the perfect family night out- you'd be a Scrooge not to like it!
*A Christmas Carol will be showing at the Bolton Octagon until Saturday, January, 13. You can buy tickets HERE.