911 band member Spike Dawbarn has exclusively revealed to MM that his infamous bodyshakin' move received praise from none other than global superstar Beyoncé.
The Warrington-born singer opened up about the provocative dance move and how it has been a huge part of the band's success and his life.
When Spike and the band first burst on to the scene in 1995, the fresh-faced trio had teeny boppers hooked with their high-energy dance routines and catchy songs.
Bodyshakin' was one of the group's biggest hits which had people up and down the country manically gyrating to the track.
The dance phenomenon reached new highs when the boys crossed paths with Bootylicious babe Beyoncé who was Jumpin' Jumpin' with glee over the move.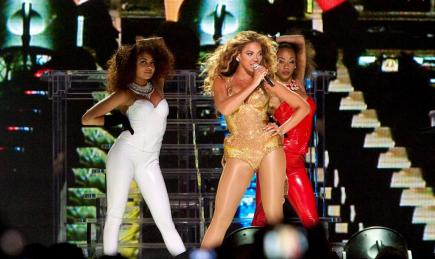 TWERK IT! Beyoncé admired Spike's bodyshakin' moves
Spike said: "We did a TV show with Destiny's Child, and Beyoncé saw me bodyshakin and she was like 'do that move for me, I need to see that again, do it again!'"
Despite the popularity of the move it does have its drawbacks. Spike revealed that performing the move night after night can be a bit of a ball ache…literally.
He admitted: "When I created that dance move, my balls hadn't even dropped. I'm 39 now and shaking your bits kills these days!"
The pint-sized popstar admits that the move has gone down in pop history.
He said:  "Everybody just wants body shaking. Everywhere I go people are still asking me to do body shakin'.
"I've even been in shopping centres and people have asked to do the move, it's a compliment. That's something I created and people just want to see it, it's great for your ego."
With the era of the twerk upon us, Spike seems convinced that bodyshakin' has had a hand in the rump revolution.
He said: "It's sprung onto a lot of things that move, girls started doing it with the bootyshaking and all that, it kind of came before anyone knew anything about it!"
911 will be on the road again this autumn for the Big Reunion Boy Band Tour, and Spike who was singled out on the television show for his promiscuous antics is quick to mention he is now in a relationship, and that the only thrusting he will be doing will be on stage!
The Big Reunion Boy Band Tour will be at the Manchester Phones 4u Arena on October 26. Tickets can be bought here. 
Beyoncé picture courtesy of MP3wax.com and 911 image courtesy of ITV via YouTube, with thanks