Award-winning author Jon Ronson took to the stage at the Bury Met for an evening all about the rights and wrongs of public shaming on social media, last night.
The man, who brought us The Men Who Stare at Goats and The Psychopath Test, was up in Manchester to promote and discuss his new book, So You've Been Publicly Shamed.
As a one-man show, Ronson had the air of anxiety and unease he often alludes to in his work, but it was a kind of anxiety that made this great cultural figure all the more intriguing.
His recent work on public shaming could not come at a more apt time, when social media sites like Twitter can either make or break a person's reputation in a matter of hours.
Ronson described our fascination with destroying others around us as a 'fetishistic obsession', yet defended the merits of self-expression through Twitter.
Far from berating the explosion of observation offered by the public, he said of Twitter: "It is the most important advancement in communication since print. It should not be viewed as a toy."
To detail his argument he used the example of a woman who was recently shamed on Twitter after posting a Tweet about not catching AIDS in Africa because she is white.
Justine Sacco outraged the whole world and quickly became the most trending topic on the site, without her knowledge.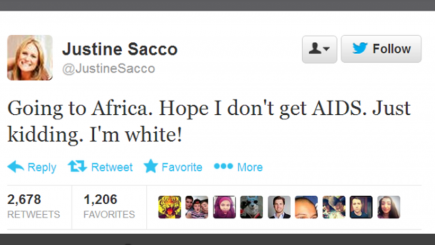 When she landed in Cape Town she was greeted with worldwide abuse and a message from her employers on Twitter telling her she had been fired.
Ronson spoke of the ways this one Tweet had somehow legitimised a trans-national backlash of severe hatred that was arguably more venomous than the Tweet itself.
He said: "We want to tear people down without feeling bad about ourselves."
The author met Ms Stacco in New York when writing his book and told the audience that her life had fallen apart around her.
She had become paranoid, anxious, depressed, suicidal and suffered from insomnia as a result of such extensive abuse.
Ronson said: "Some people value humans over ideology, and some value ideology over humans. Unfortunately, I think the latter are winning."
The writer spoke with elegance, poise, with just a hint of nervousness, and engaged the audience with the kind of familiarity reserved for the most respected of journalists.
Ronson appeared on BBC's Have I got News For You last night, and was eagerly checking his Twitter feed throughout the performance to make sure he had not been publicly shamed, an irony not lost on anyone.
His new book So You've Been Publicly Shamed is now available for purchase and promises all the wit and charm of Ronson's earlier work. 
Image courtesy of Stew Dean, with thanks.