Coronation street star Julie Hesmondhalgh has praised students who took Shakespeare's much loved classic, Romeo & Juliet, to the grassy stage of the Bolton Parish Church gardens last week.
Julie, who played one of the UK's favourite Corrie characters Hayley Cropper, and her husband Ian Kershaw watched on as the romantic Italian setting of Verona was replaced with the streets of Bolton.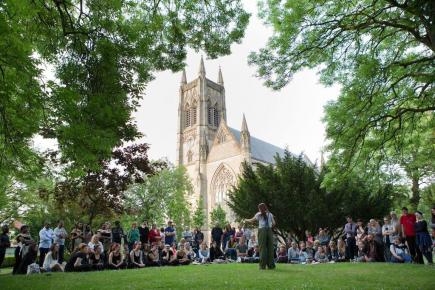 TILL HOLY CHURCH INCORPORATE TWO IN ONE! Bolton's Parish Church was a picturesque setting for the beautiful tragedy
Ian, who watched the play from start to finish, said: "The students threw themselves into it with such confidence and abandon – it completely knocked me out!
"I think Shakespeare would've loved it- he'd have been dancing with everyone else at the end!"
The Shakespearean tragedy's famous and fateful opening line, 'A pair of star-cross'd lovers take their life', was replaced with the playful advice that the audience will simply have to stay tuned in order to discover the ending.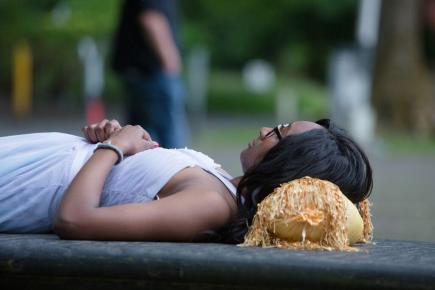 DEATH THAT HAVE SUCKED THY HONEY OF THY BREATH: Romeo and Juliet are ill-fated from the moment they meet
Last year's performance – Brecht's political play The Caucasian Chalk Circle – was made up of just 12 learners and told the tale of Robbie and Judama as they struggle to be together in a world filled with suspicion and revenge.
This year's performance had five times the actors and dancers from Bolton College's Performing Arts Department, as well as pupils from Mount St Joseph's, Sharples and members of the 'Smile of Hope Charity'.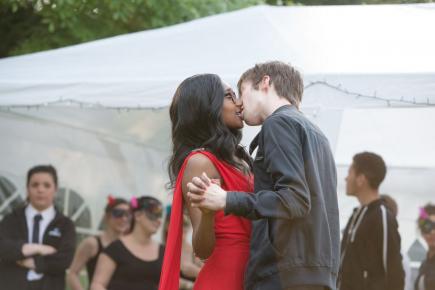 YOU KISS BY TH' BOOK! The star-crossed lovers let their lips do what hands do. They pray.
Aminata Sow, who played heroine Judama Capulet, said: "Opening night was amazing! The atmosphere was great – so light and fun, it went better than we could have hoped!"
Russell Lane, Curriculum Leader for Performing Arts at Bolton College, said: "I thought the show was fantastic and everyone involved played their part magnificently.
"You'd be hard pushed to find a better, more engaging piece of theatre."