A folk singer has made a huge splash after recording his first ever music video in Manchester.
Altrincham-born Alistair McGeorge filmed the footage for his debut single – titled 'Let's Look To Next Year' – alongside the canal in Castlefield earlier this month.
Since the footage was released it has already managed to rack up more than 5,000 hits across channels such as Facebook and YouTube.
Alistair, 26, said he's been flattered by the response after droves of music fans rushed to hear his sound and offer their compliments.
"The reaction has been amazing," he told MM.
"Obviously it's important not to read too much into it, but it was incredible to see. It's been lovely hearing how many people loved the song and the video."
Amongst his many influences, Alistair proudly lists Frank Turner, The King Blues, Scroobius Pip, The Streets, McFly and The Ramones.
However Alistair, who spent four years living in Preston, went down his own unique path when it came to putting together his debut music video.
The up-and-coming musician insisted on its location as a fitting tribute to where he was born and raised.
Alistair explained: "I've always loved Manchester as my home, but after some time away, being back the last few years has made me appreciate it even more.
"It's a big part of who I am, and when the video's producer (Liam Moody at PCM Productions) chatted to me about some ideas, I knew the location he mentioned would be a nice way to pay tribute to that without getting too cheesy."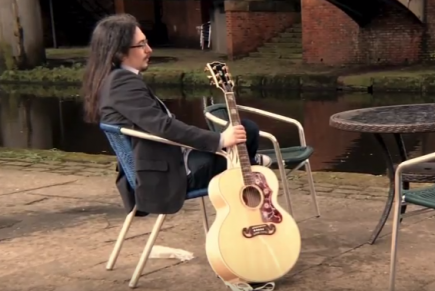 MAKING WAVES: Alistair's music video has been watched more than 5,000 times
Alistair has been making a name for himself on Manchester's bustling music scene over the past year and a half.
Just some of the venues the songwriter has performed at include Night and Day Cafe, Joshua Brooks, Walkabout, Banyan Tree, Trof and Black Dog Ballroom.
Speaking about those gigs, Alistair said: "The scene in Manchester is an exciting one for me, especially after only really coming into it about 18 months ago.
"There are a lot of nights on for artists to get noticed, and some of the people I've played sets with have become familiar faces and friends, which is nice.
"Everyone seems willing to support each other."
In the near future Alistair intends to embark on a fully-fledged tour and hit the studio once again to work on another EP.
His first EP – titled 'Things That I Would Say' – was released on iTunes and other online stores in March.
You can listen to Alistair on iTunes, Spotify and Google Play. His next performance takes place at Zombie Shack on Tuesday 27 September.
Follow Alistair on Facebook.
Image courtesy of PCM Productions via Youtube, with thanks.