Despite being one of Ireland's biggest bands, The Coronas are relatively unknown in the UK, but nothing stopped them 'having the craic' in Manchester last night.
The Soup Kitchen's peeling brick walls and fusty atmosphere is a far cry from gigs The Coronas are used to back home, playing sold out 14,000 capacity venues in Dublin.
However, the intimacy of playing to a small Mancunian crowd along with at least a dozen dedicated Irish fans was charming – it was mellow with the right amount of Irishism.  
The opening songs, off their upcoming album, The Long Way, were a mix of pop and rock with, All the Others, the bands most recent single, merging intimate verses with a hooking chorus.  
When the band played Listen Dear, a particularly Irish-sounding song, the crowd erupted into cheer – it may have been because Danny O'Reilly sounded like he was singing in Gaelic.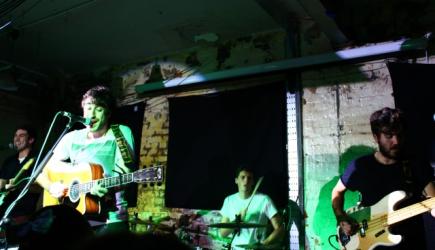 GRIMY: Soup Kitchen's dark and dingy venue added to the atmosphere
Addicted to Progress was a standout song for the night for its euphonious lyrics and composition, with a modern soul piano intro.
One of The Coronas' better known songs Closer to You was performed with gusto – the synth beats and humming bass was mesmeric combined with Danny's long-note vocals.
Between the blithe pop songs the slower ballads stood out for their moving melodies and sentimental lyrics, in particular, Heroes and Ghosts – performed as a piano solo.
Ending the evening on a crowd-pleasing, almost Maroon 5-esque Mark My Words, Danny really defined the meaning of I can feel it close by jumping into the crowd and high-fiving rapturous fans.
It was a fitting end to an electric evening, and a reminder that The Coronas are surely destined for success over on these shores.