They say music is like fashion, artists come and go with the seasons, but once in a generation a group comes along who transcend trends – a band like The Rolling Stones.
At the height of their stardom, the boys from Kent had millions of fans around the world.
The original line-up of band leader Brian Jones (guitar, harmonica), Ian Stewart (piano), Mick Jagger (lead vocals, harmonica), Keith Richards (guitar), Bill Wyman (bass), and Charlie Watts (drums) saw their fame soar in the swingin' 60s.
In those early years, The Stones toured countless cities across the globe, including many visits to packed-out crowds in Greater Manchester.
Rolling Stones fanatic and author Richard Houghton, 54, from North Hampshire, says the band were so successful for going against the grain of the clean-cut image of pop embodied by Beatlemania.
"Their very first gig in Manchester was at the Oasis Club, in August '63, but from then until when they played those last shows [of the early era] in 1966, it really mirrored their ascent to stardom," he told MM.
"It was one of their first gigs outside the London area and by the time they stopped playing they were international superstars and all of their concerts were riots full of screaming girls.
"Because The Stones were the bad boys and The Beatles were the acceptable face of pop music. The Stones had long hair, were viewed as scruffy. It was an act of teenage rebellion to be a Stones fan and to go and see them live was sometimes an act of defiance against your parents.
"My dad used to say there were only three things wrong with this country – ITV, [bank robber] Howard Wilson and Mick Jagger."
Richard is currently writing a book, something he calls a 'labour of love', titled The Rolling Stones 1963-66: A People's History, written from the perspective of the fans.
The devoted Stones superfan owns around 100 books about Jagger and co, but he says the band's early years is something that has not seen much attention over the decades.
During the mid-to-late 60s, The Stones made 18 visits to Greater Manchester, playing at various venues across the region.
Richard, who has lived in Lancashire for 21 years, is now frantically searching for fans who witnessed some of these historic gigs.
"Obviously some of them won't still be with us and people will have moved away but there must be hundreds of people who saw The Stones, who must have memories of going to the gigs and who they went with and what their parents thought about it," he said.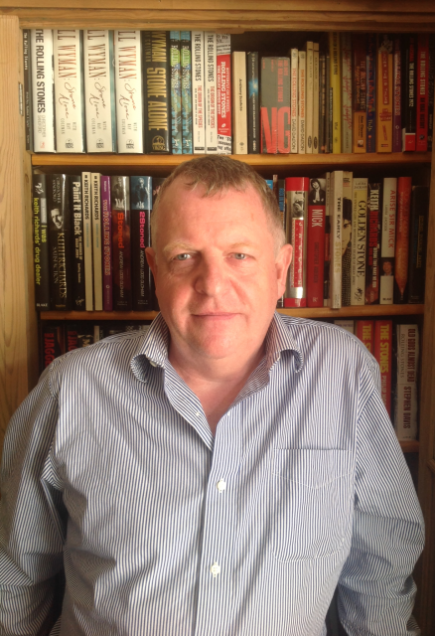 HOW HE ROLLS: Richard owns more than 100 Rolling Stones books
While Richard wants to save some of the best stories for the book, which he is aiming to complete by December, he did reveal some of the exploits of now-grown-up Stones fans.
"There are a few stories of girls snogging Mick Jagger, or snogging Brian Jones, who was the guitarist who died in 1969, or in one case a girl snogging every member of the band."
The girl in question, from Sunderland, told Richard how she and her friends managed to blag their way backstage after a gig to meet their idols – and sneak in some tongue action not unlike the band's iconic logo.
He said: "They persuaded security guards to let them in, but they got backstage with the band and while they were there, in the heat of the moment, the band were trying to have a bottle of beer and a fag and she just had a snog with all of them."
In a two-year period between 1964-1966, The Rolling Stones played 18 times in Greater Manchester, including the Palace Theatre, the now-demolished Belle Vue and the Odeon cinema on Oxford Street four times.
"They came back to the Palace in 1965 and they played at what was the Ardwick ABC, which is now the Apollo, in September 1966," he said.
"And it was just after then that they went into sort of semi-retirement.
"The drugs took over and they decided they weren't going to tour as hard. But they played almost 1,000 concerts in a four-year period."
The band continued the rise to superstardom throughout the 70s, reaching a commercial peak in the early 80s before steadily declining over the next few years.
Tensions between Jagger and Richards didn't help proceedings, but in 1989 the two set aside their differences to work on a new album Steel Wheels that was heralded as a return to form.
Since then there have been three more albums and countless tours, including this year's 14 On Fire tour, spanning the Middle East, Asia, Australia and Europe.
After 50 successful years in the music industry, money is no longer a factor.
What drives on the band now, led by septuagenarian trio Jagger, Richards, Watts and relative youngster Ronnie Wood, 67, is purely the love of what they do.
To still sell out arenas after so many years is simply incredible and The Stones aren't about to give that up any time soon.
And their live performances are still giving Richard satisfaction to this day.
Richard said: "I went to see them this summer, I was lucky enough to go to Stockholm to see them and they were fantastic as they always are. I was just really struck by the fact that they're getting on.
"When you see Mick Jagger up close you really can see the wrinkles and it just occurred to me, it's not just 50 years since the band started out. 
"It's 50 years since their first wave of stardom and since the fans first saw them. And a lot of the fans who saw them back in the 60s were teenage girls and are obviously 50 years older now.
"They weren't just the One Direction of their day, after The Beatles, The Stones were the big draw."
If you attended a Rolling Stones gig in Greater Manchester during the 60s, get in touch with Richard by clicking here.
Image courtesy of Universal Music via YouTube with thanks