Bringing Beatlemania back to Manchester for a few days only, Let It Be began its eight-show run at the Opera House last night.
Essentially a high-class tribute band operating with the benefit of high-production value, the show is billed as "The Beatles show you never got to see."
The foursome surprised the paying audience by asking us to get to our feet for Twist & Shout, and after the last had sheepishly risen from their chair, the show never looked back.
Within a few songs, even the most inhibited were clapping, moving, and stomping their feet to the tunes.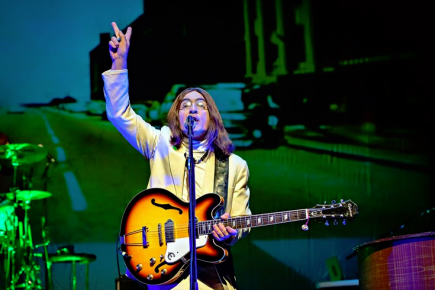 LENNON: The actor had John's mannerisms down to a tee 
Anyone who enjoys a trip down memory lane will love the show, and the costume changes were cleverly covered by television footage from key moments of the 60s (not that a re-watch of Geoff Hurst's World Cup winning goal really needs an excuse).
I also liked the stage design for the re-creation of the Shea Stadium gig – the crowd noises and echo effect highlighted how manic gigs must have been at the height of their fame, and explains why they chose to stop playing live altogether after 1966.
Overall the group played over 30 songs, using a mix of Beatles classics and even throwing in a few solo hits. Fear not though, Paul McCartney and the Frog Chorus thankfully was NOT played.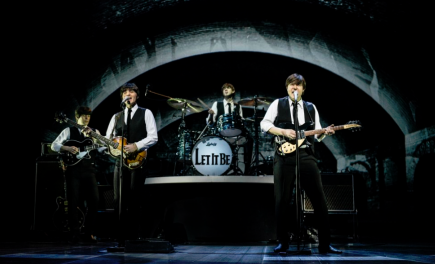 TWIST & SHOUT: The foursome had everyone stood up and stomping their feet
'Paul McCartney' seemed particularly true to life, and I was surprised to find out that he was played by an Italian, Emanuele Angeletti, making the feat more impressive.
I wasn't as convinced by Michael Gagliano's attempt at John Lennon's scouse accent, but his mannerisms were pretty good and he was particularly impressive on the more psychedelic hits such as A Day In the Life.
Tribute bands are always a bit of a guilty pleasure, but this one really did give everyone a good time.
It seems obvious, but unless you're a big Beatles fan this probably isn't for you. If you are though, you're sure to leave with a smile on your face.
*Let It Be is showing at Opera House, Manchester until Saturday, October 27. You can buy tickets HERE.