As LGBT History Month enters its final week Outings, the world's first show about real-life 'coming out' stories, arrives in Manchester for a one-off performance tonight.
The play, which is directed by Tony Award-winner David Grindley, premiered at last year's Edinburgh Festival Fringe and makes its way to the Lowry as one of only four dates on a UK tour.
It is performed by a cast of actors and comedians who bring to life the stories of gay men and women from all over the world, and explores how coming out impacted on their lives.
Inspired by high-profile 'comings out' from the likes of Tom Daley and Ellen Page, the show is fascinated by how people all over the world experience that life-changing moment, and aims to bring it to the stage in a way that is both touching and funny.
Tom Hescott and Matthew Baldwin, who wrote the show, collated over 100 'coming out' stories from LGBT people and feature around 20 of them in a new script updated from the 2014 Fringe run.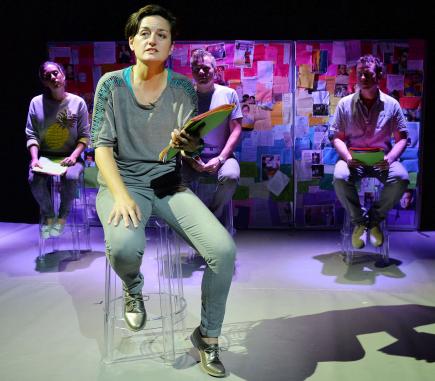 TOUCHING AND FUNNY: Outings aims to portray the often life-changing moment for many in the LGBT community
Oli Seadon, Producer on the show, said: "We picked up some great reviews from national papers in Edinburgh and audiences really went for the show – they found it moving, a lot of them found it funnier and more uplifting than they'd expected. 
"People mentioned to me that they'd found things out that they hadn't known before – I myself have certainly come to understand the trans experience more since working on the show and hearing the stories that Tom and Matt Baldwin have included."
Alongside fellow producer James Seabright, Oli noticed that with equal marriage and general equality in the UK becoming increasingly prominent talking points, it would be an interesting idea to try and make a mainstream and large-scale show talking about coming out.
He added: "We wanted to celebrate coming out and talk about how it's still a big moment in many people's lives, but avoid it being a niche show seen by six people a night above a pub.
"We want the audience to have fun and identify with the contributors of our stories – and I think the show does that."
The shows cast changes for each leg of the tour, and they only have one afternoon's rehearsal to prepare for the evening performance.
Tonight's appearance at the Lowry will feature Corrie legend Julie Hesmondhalgh (Hayley Cropper) and Andrew Hayden-Smith, who stars in the new Channel 4 and E4 series Banana and Cucumber.
Andrew said: "I'm delighted to be joining the cast of Outings at the Lowry. Having recently contributed my own 'coming out' experience to the website RUComingout.com, the subject is close to my heart.
"It's also great to return to the Manchester area having recently filmed Banana and Cucumber there."
The two special guests are joined by regular cast members Camille Ucan and Andrew Doyle, and as the show prepares for international dates, Oli said that a stop-off in Manchester was inevitable.
He added: "Manchester was an obvious choice for the tour. As anyone who watched Queer As Folk in the 90s – or Cucumber now – knows, Canal Street is an iconic location on the LGBT scene.
"I have to confess I've never been myself, though, so will have to sort that out when the show visits on the 24th!"
Outings is on at 8pm tonight at the Lowry, and tickets can still be purchased for the show by clicking here.