Originally from Phoenix, Arizona, Courtney Marie Andrews has been touring her critically-acclaimed new album May Your Kindness Remain. On Sunday night the 27-year-old singer played to a packed crowd at Gorilla, Manchester.
Twain, the project of singer-songwriter Mat Davidson, was Courtney's support act. He had everyone in the mood and his awkward, softly-spoken style caught the attention of the slowly-filling room.
After he had the crowd warmed up, Courtney and her band came on and played the final track on the album Long Road Back To You without really acknowledging the audience. The rendition was beautiful, setting the tone for the evening with its melancholy sliding guitar and Courtney's yearning lyrics.
Dillon Warnek, Courtney's guitarist, had several moments in the spotlight with his brilliant solos. Gorilla's issues with feedback from their PA system didn't deter him. After he received cheers, the whole band seemed to settle in and were bouncing off one another.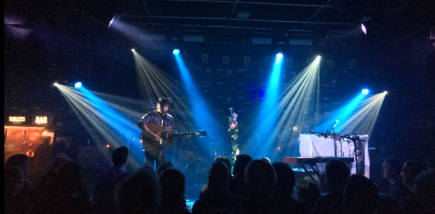 ATTENTION-GRABBING: Twain did the honours as the room filled up
The crowd were very kind and had good reason to be. After getting a feel for things, Courtney took her place at the keyboard to play This House. She dazzled. On keys and with a lighter accompaniment from her band she really had the space to express her memories of her 'dirty ass house'.
The way she plays and sings is controlled – as if she's done it a million times before – yet her performances are still tinged with emotion which just pulls the audience in closer.
She has adopted Manchester as a spiritual home on this side of the Atlantic, playing the Deaf Institute last year as well as Chorlton's Dulcimer way back in 2013. There was a sense of awe and enjoyment amongst the audience right from the off.
By the time she got to playing Border (supposedly about an evil sheriff), the atmosphere was electric and the room was moving with her. The drummer thankfully found his kit and with the screeching organ and reverbing slide guitar added in, it was reminiscent of The Doors' Riders On The Storm. Her punchy delivery and the deep, pulsing instrumentation turned things up a notch – way rockier than most other songs.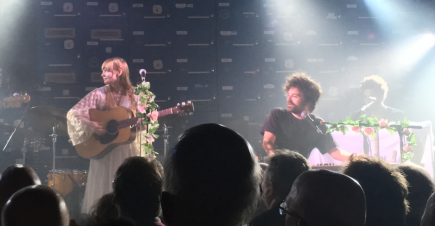 DAZZLING: The singer's performance was tinged with emotion
Courtney's fan base has grown steadily here since she landed in Chorlton and she has previously worked with Jimmy Eat World. There are obvious comparisons to be made between her and other folk/country singers like Emmylou Harris, Joni Mitchell and even Linda Ronstadt. With this album and her performance style, though, she has really defined her own sound.
Courtney's lyrics offer the audience intimacy. She avoids clichés about cowboys and liquor but does create that on-the-road-with-my-guitar feeling. Lines like 'empty cans on the counter' and 'making love on a laundry pile' let us see into her world.
There seem to be many, often troublesome, memories in each word Courtney sings. She is never dull and you can really see the experience she's gained from being on the road since age 16. The grown men in the audience, of which there were many, were brought to tears.
After doing fan favourite Irene from her last album, Courtney made light of not introducing her band until just before her last song. Each musician received a rapturous applause.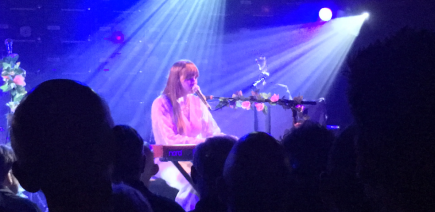 FRESH: Courtney opened eyes to what country music can be
It is clear the band have been playing together for a long time. They joke on stage and are comfortable relying on each other. This gives an authenticity to their performance. Courtney is amazing but she is part of a unit of talented musicians that look as if they tumble along the road together and stay up late drinking whiskey.
Throughout the encore people clapped and cheered until Courtney and company emerged once again, seemingly very humbled.
Mat Davidson from Twain came on at the end and played keyboards. The six musicians brought down the house.
Courtney has the southern roots for sure, but is a far-cry from the Stetsons and rodeos of country past. She provides a fresh a look at what country and folk music can be. She seems to love Manchester – and the feeling is definitely mutual!