The Chemical Brothers' acid-bathed electronica, which came to define the 90s, had a near-packed out arena of Xennials reliving their raving heyday on Friday night. And who can blame them.
But for someone ten years the junior of an average attendee, I felt more a generational outsider than a 30-something year old getting the Uni gang back together. But that's the joy of an electronic duo whose career has spanned 20 years I suppose.
Seeing the city's showpiece Manchester Arena venue packed out for an electronic music show is true testimony to the success that the Chemical Brothers have earned, and are still earning; receiving three Grammy nominations just last week for their latest album No Geography.
With that said it wasn't much of a surprise to see the pair – Tom Rowlands and Ed Simons – rely heavily on new material; perhaps to the slight disappointment of a large number of old-school fans. The 90-minute set list omitted hits like Out of Control, Do it Again and both of the Noel Gallagher-featuring collabs Setting Sun and Let Forever Be.
But every good artist only becomes great through constant reinvention. The big-beat, drum heavy anthems that made The Chemical Brothers the big names they were in the 1990s has of course had to be remodelled to keep them in arena-tour contention.
And nothing exhibits this more than recent hit Got to Keep On – a track built more noticeably around its harmonic and vocal elements, it nods towards a more 21st Century EDM sound in comparison to their more assaulting tracks from the previous decade.
Still, Got to Keep On is met with just as much euphoria as the likes of Hey Boy Hey Girl and Temptation – fathers are in arms with their teenage kids, it's a true generational affair, a passing of the torch as to "how we did it in our day."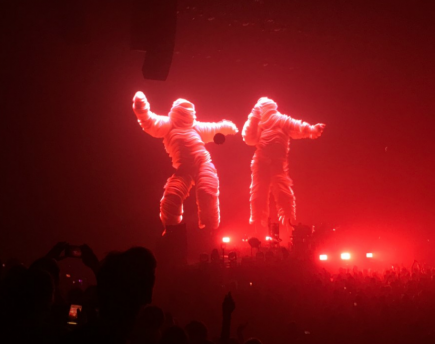 The 'Brothers' combine some of their biggest hits into intersecting remixes on a couple of occasions, with their conglomeration of C-H-E-M-I-C-A-L, Leave Home and Song to The Siren a seamlessly mixed highlight, with the crowd awash with raised hands.
It was the set's climax that of course stole the show though. Chart-topping heavyweight Galvanise emerged with those iconic Q-tip vocals 'Don't Hold Back!' thumping a hole in the arena speakers. Very few weren't dancing frantically, and only those who refrained did so out of need rather than want as their weary legs told them no.
The loudest cheer of the evening was undoubtedly for closing hit Block Rockin Beats which entered the arena with a piercing police siren, and finished with a feeling of camaraderie and nostalgia pulsing around the crowd.
With a hit discography as powerful as Friday's, it would be rude to undermine The Chemical Brothers' production prowess. However in terms of their live performance, it's the impressive visual show that rolls into town with them – directed by Marcus Lyall and Adam Smith – that keeps them so in demand.
For all their big-beat appeal, the Brothers' performance is simply just them adding analogue synthesisers over the top of a predetermined mix. This is no blasé task and still requires a lot of know-how, particularly with the many different bits of hardware on stage.
However for me, without the immersive projections ranging from slapstick superhero film to psychedelic lifeforms, the visual masterpieces just about distract me from the truth: that this is a set copy and pasted straight from Glastonbury, which I ultimately made the mistake of checking out on BBC iplayer earlier in the day.
Therefore, there was no spontaneity, no improvisation and no surprise… the bread and butter for any up and coming DJ looking to excite. But I guess when you are as commercial as The Chemical Brothers, putting on a show goes beyond the music and rests on two 30 ft robots blowing smoke out of their ears. Not for me.