The Manchester Christmas Market has the highest number of hashtags in the UK, according to a recent study.
Design Bundles – a creative resources website – analysed Instagram hashtag counts to establish which Christmas market in the UK provides the most Instagram potential.
Manchester was revealed to be the top destination with 48,300 hashtags to date – Edinburgh, Bath, London, and Birmingham round out the top five.
A Design Bundles spokesperson said: "Social media is such a fundamental aspect of everyday life, and the festive season is no exception.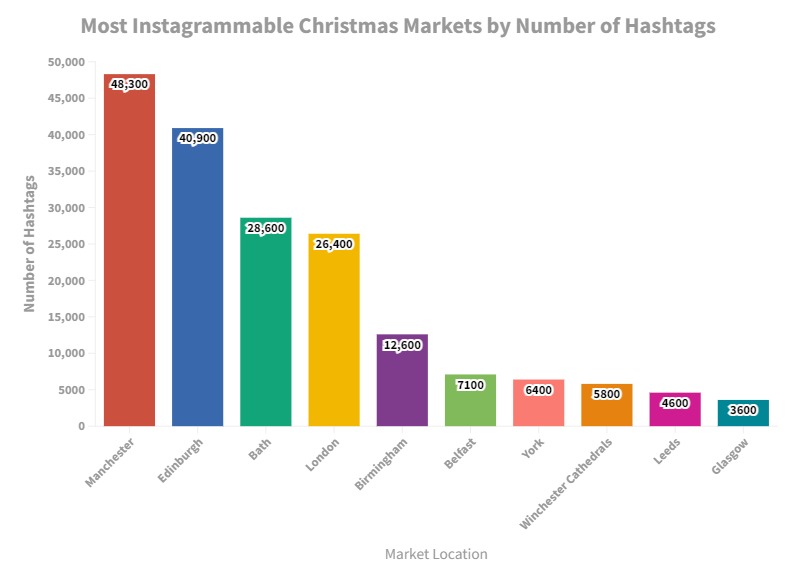 "It will be fascinating to see if these hashtags reflect visitor numbers this year."
The market runs from November 12 to December 22 – past events have seen more than nine million people attend, so there will be potential for the number to rise.
The main hub of the market has moved to Piccadilly Gardens from Albert Square due to construction on the Town Hall.
Other locations include King Street, Exchange Street, Market Street, and St. Ann's Square.
The Edinburgh Market was revealed as the second-most popular, with 40,900 hashtags.
Despite the pandemic, the event went ahead last year and welcomed 2.6 million visitors to the site.
Bath Christmas Market had 28,600 hashtags, placing third – it has been cancelled this year but will run as a virtual event instead.
London's Winter Wonderland returns after a year off due to the pandemic, boasting 26,400 hashtags to date.
It will be the longest UK market this winter, running from November 19 to January 3.
The Birmingham Frankfurt Christmas Market rounds out the top five, with 12,600 hashtags recorded.
The Bavarian-style attraction is well-known for its Germanic offerings and has proven popular over the years.
The markets in Belfast, York, Winchester Cathedrals, Leeds, and Glasgow complete the top ten.
For more information on the Manchester Christmas Markets, check out our guide here.