In a marketplace filled with 'me too' sequels, a Salford-based independent video game developer has bravely tried to deal with the humanity that affects dementia sufferers.
Indie developers have sparked a revolution in recent years that has almost seen a return to the 'bedroom programming' heyday of the 80s.
In a small room across the road from Salford Central train station, White Paper Games' six-strong team are embodying the essence of this homebrew quality as they burrow away on their debut game, Ether One, which releases today.
In a similar mould to story-driven indie titles such as the critically acclaimed Gone Home, the team's labour of love, Ether One, is a first-person narrative experience – part-exploration, part- puzzler.
Launched through the 'Greenlight' scheme, a platform for smaller independent titles and a side-arm of the online videogame-store Steam, Ether One tasks players with restoring the memory of dementia-suffering patient Jean.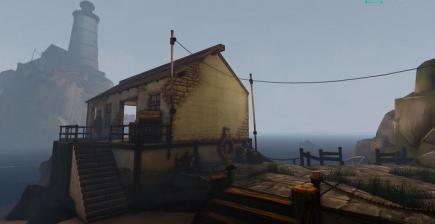 GAME ON: Screenshots from Ether One
Far from the gun-toting, expletive-spewing Call of Duties and Grand Theft Autos of this world, the focus on dementia is unique – something which is becoming increasingly rare in a saturated marketplace.
The recent release trailer forgoes the usual focus on explosions to open with a fact about dementia and a slow-burning pace.
And the team explained their extensive research into a subject which has impacted on them personally.
One of the founder's and creative game designer at White Paper Games, Benjamin Hill, demonstrated the game to his grandmother after he lost a family member (who had dementia) on that side of the family and insists it influenced him while he penned the story.
Environmental artist Oliver Farrell explained the studio's approach to unusual subject matter.
"It deals with the humanity," he said. "This is an experience of dementia.
"We have tried to make a game that talks about the issue. We're not solving it. We've just tried to say 'this is a really serious subject affecting one in three people.
"We've taken it very seriously," Farrell said.
The thematic focus on the mental illness even sets the game apart from indie darlings and first-person exploration pioneers Gone Home, Stanley Parable and Dear Esther, which have won fans in recent years for their non-traditional approach to narratives in games.
"It's great to be named in the same sentence as those guys," explains studio co-founder and game designer Pete Bottomley. "We're part of the same genre but we've almost gone to a different side of things.
"I'd been putting off playing Gone Home because I'd heard they had something similar to our game. I picked it up on Christmas Eve and played through it and loved it."
MM's visit coincided with the final deadline for sending out the review builds, but any panic from last-minute bug fixes was non-existent in the calm and composed studio.
The rookie developers, formed in 2011, have hardly chosen a hub of the gaming industry as their base: Manchester does not have the same reputation as Montreal amongst gamers.
The decision to set up shop in Manchester was one largely out of convenience, rather than creatively driven.
"Well, (technical artist) James' (Burton) aunty and uncle live upstairs," explains Bottomley.
"It's a very media-based and creative city," Hill said, suggesting other reasons for their Manchester base. "It's good to be around all these influences."
White Paper Games also drew influences from some of the more traditional first-person games, most notably, the legendary Thief developer Looking Glass Studios.
Very early in Ether One, there are subtle nods to the influential industry giants, whose alumni include Harvey Smith, Ken Levine and Warren Spector.
The trio have gone on to produce industry heavyweights like Thief's spiritual successor Dishonored, the Bioshock series and cyperpunk action role-playing game Deus Ex.
The March 25 release puts Ether One up against one of their influences as Irrational Games release their final piece of downloadable content, and final content altogether in their current guise, for Bioshock Infinite.
In fact, March has a packed release window as giants Microsoft and Sony kick off the console war in earnest with exclusives Titanfall and Infamous: Second Son as well as hardcore gamer delight Dark Souls 2 and a huge update for 'loot-em-up' Diablo 3.
But the White Paper team are confident their game will find an audience among the saturated crowd.
"We are very aware of everything coming out in March," Bottomley confirmed to MM. "We are confident that we have developed a game that people will value.
"I'm loose about calling it competition. Bioshock is £10, our game is £10 – you're getting two games for the price of one anyway."
Sound designer and composer Nathaniel-Jorden Apostol echoed this belief: "I think we've definitely got something unique."
Comparisons are not just from nostalgic throwbacks and tributes, they are immediately apparent on the surface.
"A lot of people have the art style to Dishonored but I actually had a lot of influences from fine art," explains Farrell.
It's the same story for the narrative with sci-fi elements that recall Nineteen Eighty-Four author George Orwell and Do Androids Dream of Electric Sheep? scribe Philip K Dick.
MM spent two hours with the game and found plenty to rave about.
The audio immediately grabbed attention with the work of Apostol and voice actress Elspeth Edmonds adding to the 'sense of place' and immersion. 
With support integrated for VR headset Oculus Rift when it comes to market later this year, Ether One should pull players into its detailed and intriguing world.
The optional puzzles were thought-provoking but often had logical solutions that will stop players from tearing their hair out.
For players just in it for the narrative, Ether One never forces players into solving puzzles and progression is always possible. 
This open-plan mission structure means that gamers can go back once they have completed the narrative to find out more about the patient should they want to.
With a story play-through taking on average between four and six hours and 10 to 12 hours for the completionists out there, there is plenty of content here for the budget price.
The studio have even suggested that there was so much story that the game had to be split into two episodes, although gamers should not necessarily expect a sequel straight away.
"This is standalone," explains Bottomley, speaking of the decision to keep the number 'One' in the title. "We kept the one in the title because we could return to it in a few years' time.
"We have had a few console opportunities and we will look into whether it is affordable for us."
If Ether One is anything to go by, White Paper Games won't be folding anytime soon.
Ether One releases today on Steam and GOG, priced £10
Image courtesy of White Paper Games, via Facebook, with thanks.