Often referred to as a barefoot performer, 26-year-old Benjamin Clementine is an enigma.
The London-born talent, who is of Ghanaian descent, left school at 16-years-old to end up homeless in France a few years later.
"I was pretty much nothing but a bastard," says Benjamin, who reluctantly talked about his triumph over homelessness to become a musician.
"I never thought that when I starting playing the piano I could fill out a show or sing in front of people, or even talk in front of people. I had to find a way – death was not an option. But I found a way to be happy again."
Clementine found himself between sleeping on the streets and spending time in a hostel. But in an act of desperation he started busking, performing a cappella – playing in bars, in the streets, trains, and eventually at birthday parties.
He taught himself to play the piano, guitar, and drums, and despite his inability to read music, he's gradually worked his way up, signing with Virgin EMI in 2013.
Clementine, however, doesn't want his 'miracle' story to overshadow his music.
"I went through what I went through, and I'm still going through what I'm going through," he said.
"If people put their feet in my shoes, they might not be talking to you right now.
"Of course, people might be proud of me, they might look at me as an inspiration – thats fine. But I'd rather not talk about it as if it's another story. My music is now more important."
It's a complicated one. He had a bust-up with his 'very religious' family.
He is still unwilling to share the details of the confrontation, but it drove him to move away – first to Camden to attempt law at university, and then to Paris after dropping out of the first semester.
Clementine isn't keen on talking about his personal life. Yet his music is about as personal as it gets.
His previous EPs, Glorious You and Cornerstone have mega autobiographical references, and his new album At Least For Now talks about his tumultuous upbringing.
On his song 'Adios', for example, he bids farewell to 'the child in me, who kept on blaming everyone else', while adding, 'the decision is mine, so let the lesson be mine.'
That's what it seemed like, until he said, "People say that my songs are biographical, but that's false. All of them aren't. I am literally talking about what we go through in life, as human beings." Oh.
boy the words must come,first then the melody,then the harmony,now let's sing @CharlesAznavur http://t.co/1DfFvp3AxA pic.twitter.com/4f1WRCEfGt

— Benjamin Clementine (@MrBClementine) May 6, 2015
So how does Clementine describe himself? "I'm not Whitney Houston. I am not Aretha Franklin. The way that I sing my songs or the way that I bring it out, it's…
"I don't know why people get so lazy," he abruptly interjects.
"They could say I'm a singer. They can say whatever they want, but I know what I have done on stage, or whether I'm in my room. I only express myself. I don't want to be categorised by another man, as I would be but a slave."
He's a philosophical one, Clementine. The way he uses language is almost poetic. Earlier in his life, his brother Joseph gave him a dictionary.
As a consequence, Clementine would try and integrate words into his vocabulary that were bordering on archaic; skipping school to read poetry in the library, drawn to poets such as TS Eliot and William Blake.
He's also very softly spoken. It almost summed up his character and painted a somewhat vivid picture of his childhood – much of which is allegedly explored in his new album.
Clementine elaborated on his perception of the music industry.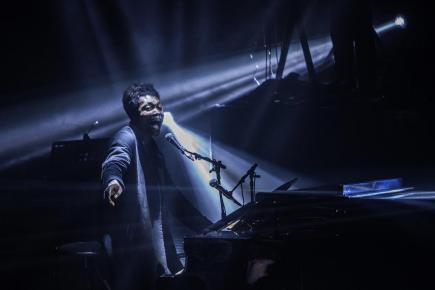 'THE MUSIC WORLD IS DISGUSTING': Clementine slated the reciprocal nature of the 21st century music industry
(© Rencontres Trans Musicales, with thanks)
"I don't think music has much substance anymore. Everyone sings the same thing, everyone is copying each other. This is the so-called music world or pop world right now – it's disgusting.
"I am inspired by people, things around me, people's stories. I do not fear to express them. But it's obvious that radio don't want to play these deep songs or deep music.
"It seems like it anyway. And the ones that do play it, they play old ones. Old artists. It's nonsense, it's all nonsense."
After living in Paris for five years, Clementine now resides in London. When asked about current his state of living, he replied, "I'm still homeless. I'm a vagabond. I'm still going around different places and playing music. I have no home.
"The word itself is very confusing. Even if you buy a house, after 99 years it's not yours anymore. I moved to London to record my music, but I do not stay in one place for five days."
Clementine digresses again – it's as if he's thinking about a million things at once.
"I will give an admission though, for those that are suffering, you've got to use your motivation, creativity.
"That's what you have to use. You've got to do something. You've got to find something that will make you live, that will make you inspire other people.
"And I guess that's to every single human being. If you've locked yourself out of your house for example, find a way to get into your house creatively without people knowing."
Though my ways are not happening I won't underestimate who I am capable of becoming… pic.twitter.com/Drwa3pGK0j

— Benjamin Clementine (@MrBClementine) May 18, 2015
It was sometimes hard to gauge what he meant. He came across as an enigma – you didn't quite know what he was going to say next. Which he probably relishes, to some degree.
He concluded with his thoughts on the environmental effects of his creative process.
"There's more professionalism here, people are talking about you," he said.
"But what I do in my room, or what I do alone by myself. It's pretty much the same process.
"I'm still writing the same way, expressing myself the same way and people are buying into it. I'm talking about people's lives, people's experiences and inspirations. They're enjoying it.
"But it's great to be part of humanity again. I feel like I belong to a certain family. The people's family. And that's it really."
Benjamin Clementine will perform at the Royal Northern College of Music tonight. Tickets, priced £15, are available here.
Images courtesy of Rencontres Trans Musicales, with thanks