Manchester Jessie J fans queued – some from 5 o'clock in the morning – outside the historic O2 Apollo for the world-renowned pop sensation's sell-out performance on Saturday night. 
First on stage supporting the Essex songstress was her beau, American artist Luke James, who started his career singing back-up for R&B performer Tyrese.
Luke went on to write songs for the likes of Chris Brown, Britney Spears and Justin Bieber before releasing his self-titled debut studio album was on September 23 2014.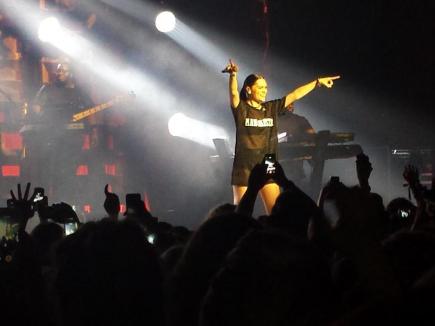 BURNIN' UP: Jessie J was on fire at Manchester's O2 Apollo (© Calum Williams, with thanks)
He gave an impassioned, stripped-back solo performance that took many by surprise, except for his already loyal followers.
By the time Luke had blown the crowds away with his outstanding vocals, the lights were down and everyone was in, away from the bar and ready to warm up their dancing muscles with DJ Charlesy.
The Londoner got everybody riled up and ready to go so that by the time his set reached a close the entire audience were chanting Jessie J's name – the atmosphere was incredible.
Jessie made her way out on stage with her band and Manchester printed across her black top to a deafening roar from the crowd that quickly transformed into a sea of smartphone light.
The singer-songwriter's following are an unbelievably diverse group, from all walks of life – although admittedly as a guy I was slightly outnumbered.
Her fans are also incredibly loyal – for many it was their third, fourth, or even fifth time seeing her live – and why became undeniably clear as she belted out her first track of the night Ain't Been Done.
This is one of Jessie's newest songs, off her latest album Sweet Talker, and she absolutely nailed it.
You never would have guessed she had had to cancel her Glasgow gig due to a throat infection just on Wednesday. Here vocals were flawless.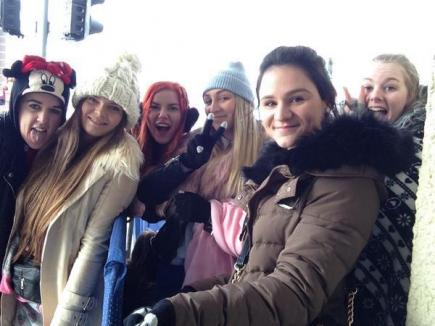 KEEP US TOGETHER: Jessie's female fans were out in force to do it like a dude (© Rebecca Noon, with thanks)
Next up was Sexy Lady, which was played guitar heavy, so it could be rolled straight into Blur's Song 2 before introducing Domino into the playful mix that kept the audience on their toes and  'feeling sexy and free-ee-ee'.
This set the tone for the performance.  We were witnessing was a close-knit band of musicians, who were well-versed and well-rehearsed, with Jessie's sultry and strong vocals to lift it all to stratospheric levels.
There were two moments of the night that really stood out in particular but for very different reasons. 
The first was the black-haired beauty's cover of the Whitney Houston hit I Have Nothing. 
Covering any Whitney song is a lot to take on, least of all when you've been knocked for sick by an illness just three days beforehand.
It takes a confident singer at the top of her game to even think about it.
Taking the track back to basics with an acoustic guitar and vocals, there was nowhere for Jessie to hide – a single waiver or off note would have been picked up on by all immediately, but even when completely exposed this powerful performer delivers nothing but perfection.
Jessie's determination to give a flawless set was also the defining factor in the second stand-out segment of the gig was another song from the new album, Personal.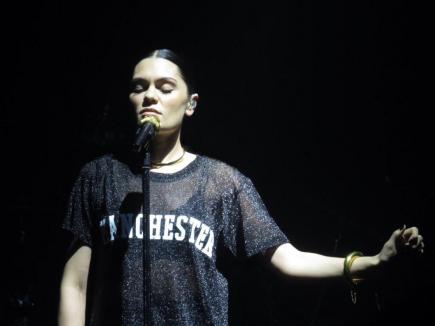 SWEET TALKER: The Essex songstress wooed the crowd with her strong, sultry vocals (© Kate Bradbury, with thanks)
Jessie started the track but stopped the some-way through to do start again and get it right.
Waving for the band to stop, she said: "Let's start this again. Let's start again. You know what, this is the third night of this brand new tour and this is a new song and I'm a perfectionist and I wasn't in tune, right? And I want to get it right. And if you use this as rehearsals, then hey. I don't know. This is Personal."
A lot of other artists would have muddled through to the end but by redoing it, the pop star showed her sheer confidence in her ability and her band's to deliver the absolute best.
Throughout the gig new album songs were interwoven with the classics, such as Price Tag, Do It Like A Dude and Laserlight. 
Jessie brought the show to a close with a Bang Bang! This track, which sent the Essex girl to number one in America, is perhaps her most famous and was a great way to end an extraordinary show.
It's worthwhile mentioning that the staff of the O2 Apollo were a credit.  From the box office to the security team, they were all friendly and helpful and added to everyone's enjoyment. 
The cancelled Glasgow gig has been rescheduled for the February 1 2015, with all the original tickets valid for this date.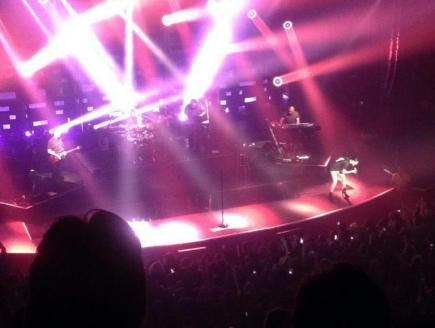 LASERLIGHT: The stunning lighting and the band all added to Jessie's incredibly performance (© Aimee Kearsley, with thanks)
Set list:
Ain't Been Done
Sexy Lady
Domino
Seal Me With A Kiss
Keep Us Together
I Have Nothing (Whitney Houston)
You Don't Really Know Me
Personal
Who You Are
Sweet Talker
Laserlight
Burnin' Up
Do It Like A Dude
Price Tag
Masterpiece
Bang Bang
Main image courtesy of Luke Lewin, with thanks.