Manchester television presenter Timmy Mallett is swapping his wacky outfits and giant pink foam mallet for a paintbrush and easel.
The ex-Piccadilly radio DJ, who studied the History of Art at Warwick University, will be bringing his paintings to Whitewall Galleries in Deansgate on June 12 to show off his arty side.
Mallett has moved away from the small screen in recent years, aside from an appearance on I'm A Celebrity, Get Me Out Of Here! in 2008.
He made his name presenting the Wide Awake Club from 1985 with Michaela Strachan and starred alongside Roland Rat.
With a hit single Itsy Bitsy Teenie Weenie Yellow Polka Dot Bikini, TV programme Timmy Towers and his own production company Brilliant TV, Timmy has crammed a lot into a packed career.
Now, he's painting 'more or less full-time'.
But are his paintings, to borrow his catchphrases, 'utterly brilliant' or more 'bleurgh'?
Marple-born Timmy told MM: "Painting has always been a passion of mine. I would take the paintbrush with me on Wacaday filming."
He did his first serious on-screen painting in 1987 on a report for the programme from Majorca. Not what you'd expect from someone who poured ice into the sea 'to cool it down' and tried to pay with Spanish 'potatoes' (former Spanish currency, pesetas).
A riot of colour; his pieces take inspiration from around the world and appeal with their total lack of pretention and their humour as well as their beauty. Whether you prefer Beers By the Beach or the exoticism and intimacy of his Morocco paintings, there's something for everyone.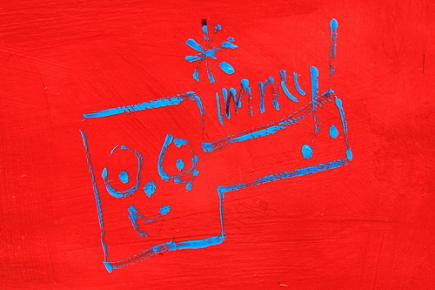 KNOCK KNOCK: Timmy Mallett's signature (© Karen Roe with thanks)
So how does he decide what to paint?
"My painting is all about the moment: carpe diem, seize the day," Timmy said. "I always have my eyes peeled.
"I use photos, sketches as it's not always easy or appropriate to paint on site.
"I use technology too but also take photos in my memory, you can train yourself to do that."
His pictures of woodland and seascapes are some of the most beautiful in his collection. He said: "I'm very interested in the seasons. We have all four of them in one day in this country.
"It's a great climate for an artist."
While he is known for his extroverted style, Timmy brings a sense of variety into his work rather than restricting himself to the garish colours familiar to his fans.
"Well, the variety in my paintings is deliberate," confirmed Mallett. "I'm not somebody who just looks at a landscape."
Indeed, in his Ring-a-Royal piece his wackiness cheekily resurfaces. The piece depicts a red phone box opposite Windsor Castle with a booth, including images of a smiling Queen in red and an elegant Duchess of Cambridge, complete with pram, in blue.
Timmy joked: "It was fun to put a pram in the picture with Princess Kate before she announced she was pregnant. I knew it was what we wanted and lo and behold it happened!"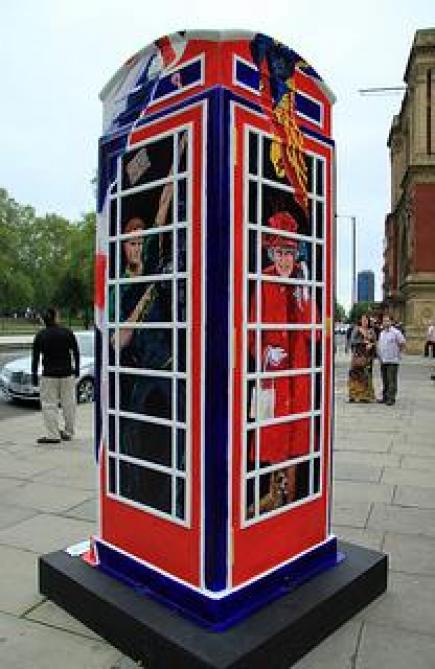 ON THE DOG AND BONE: The Queen is painted with her trademark Corgi dog (© Dave Catchpole with thanks)
Although still awaiting a nod of approval from the Queen herself, he said: "Every day someone is taking a photo. There are around one third of a million photos on Facebook and social media of them".
The royal influence is just part of Timmy's 'celebration of all things British': "It's about appreciating things we don't always notice," pointed out Mallett.
"I'd urge people to go into a phone box and slot coins into the phone and dial the number.
"I like quirky British things."
Mallett's love of Britain extends to his painting of Westminster Bridge; a piece that stands out for its humanity.
He said: "I like the juxtaposition of power. There's the authority and determination inside parliament and then the elderly man with his Tesco bag – one of the people represented by the parliament."
Timmy's painting is prolific and whether you are a proud patriot or a globetrotter, the variety of hsi work should appeal to a wide audience.
Local fans may also be in for a special treat as Timmy teased a future painting that will strike a chord close to home: "I grew up in Manchester and I have been thinking about painting something specifically for the exhibition there.
"You'll have to wait and see what!"
Timmy Mallett's paintings are on view at Whitewall Galleries in Deansgate and he will be available to meet fans on Thursday June 12, 6-9pm.
For more information and details of his appearances nationwide, visit: http://www.whitewallgalleries.com/timmy-mallett
Main image courtesy of Whitewall Galleries via Youtube, with thanks