Few British punk bands as confrontational and bolshy as The Stranglers have been able to survive four decades and still manage a sell-out 16-stop nationwide tour.
With 76-year-old drummer Jet Black sticking up a middle finger to health conditions which threaten leaving him for dead at each gig on the tour, The Stranglers still have every bit of the punk spirit they've proudly carried for 40 years.
MM caught up with frontman Baz Warne after the band's Academy performance on Saturday to talk about why The Stranglers are as relevant as they've ever been.
"To a lot of people, apart from the real die-hards, we've always been there, and that's what an institution is," said Baz.
"You know, you can't look back on the 70s or the 80s musically without The Stranglers being in there somewhere. And we still tour and record and write to this day because we still feel that we've got something to say and that we're relevant."
Telling Baz that my first ever gig was The Stranglers, he interjected in shock: "We've been going as an entity for twice as long as you've been alive!"
There's no arguing with the fact Stranglers fans are a diverse group, and Saturday's gig – despite being mostly populated with the usual collection of balding middle-aged punk devotees – showed the universal appeal of their music to all ages.
Citing the advent of the internet as a reason behind the band's popularity across all ages, Baz said: "We see a big generation thing because parents are bringing their kids. And in some cases, there are grandchildren there as well. We call it 'the family in black'!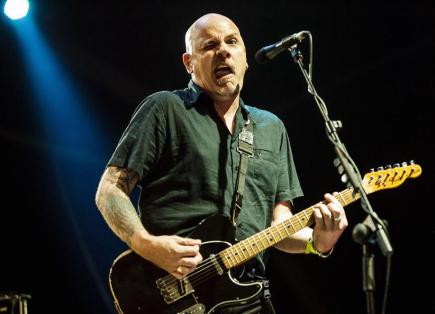 'FAMILY IN BLACK': Frontman Baz Warne said the band were a British institution (© Dena Flows, with thanks)
This month's March On tour follows last year's sell-out Ruby Anniversary tour in which the band celebrated 40 years of success.
Responding to the question of what fans could expect from the next decade, Baz wasn't quite so optimistic.
"Haha, I don't know – probably just to stay alive more than anything!
"To be honest with you mate, I can't really see it. Being a musician, you never really think ahead further than the next few months.
"Obviously you make tentative plans but I honestly don't know. It would be lovely to think we could go for another decade, though, I have to say!"
Baz, 50, only joined the band in 2000, and is very much the youngest sibling of the 'family in black', but capable still of claiming the incredible title of 'the youngest member of the band by over a decade', he proudly told me.
As such, he's managed to avoid many of the scrapes of his fellow band mates; bassist Jean-Jacques (JJ) Burnel, drummer Jet Black and keyboardist Dave Greenfield, who have had their fair share of trouble over the years.
Notorious for their wild antics in their heyday, The Stranglers once sparked a riot during a gig in France, leading to two members sharing a prison cell with murderers.
Another time, the group were escorted out of Sweden under armed guard after kicking up a fuss at a hotel because they weren't serving hot food. Clarkson has nothing on the boys in black.
And then, of course, there were the strippers on stage at their gig in Battersea and the band's 'artistic' decision to take heroin, which influenced their 1980s alien-themed album, The Gospel According to the Meninblack.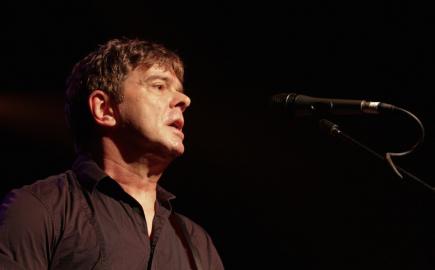 MOVE OVER, CLARKSON: Bassist JJ has done some crazy things in his time including gaffer taping a journalist to the Eiffel Tower
(© Agathe Kipienne, with thanks)
But perhaps most famously was the time JJ – affectionately described by Baz as a 'leather jacketed karate-chopping punk rocker' – gaffer-taped a music journalist half-naked to the Eiffel Tower.
The man in question, Philippe Manoeuvre – now head of huge French music magazine Rock & Folk – was bugging him for an interview. JJ reluctantly agreed, on the condition it would take place at the Eiffel Tower.
After meeting him, the band proceeded to take Manoeuvre's trousers off, taped him to the girders on the first floor – still a pretty queasy 400ft off the ground – and left him to be photographed by Japanese tourists.
When asked about The Stranglers' antics over the years, Baz replied: "If you're harping back to the famous one where they gaffer taped somebody to the Eiffel Tower – well, he fucking deserved it!
"He wound them up, he was being very obnoxious and at the end of the day, whether or not you see music as your career, you want favourable press.
"Naturally you want to toe the line and be as good as you can, but sometimes it's just like, 'nah, this guy needs to be taught a lesson!'"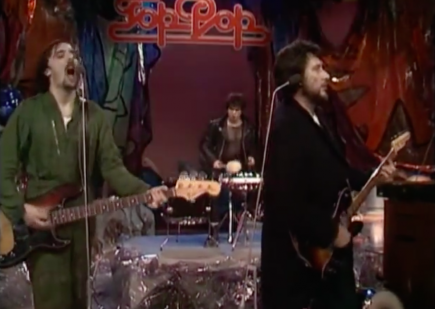 BACK IN THE HEYDAY: The Stranglers performing on TV back in '77 
(© Dutch TV, via YouTube, with thanks)
I asked Baz whether I should be worried about what he was going to do to me after the interview.
Laughing, he replied: "That doesn't happen so much nowadays because people are a lot more respectful, and look, that was 1979 and we're still talking about it.
"People's memories go back a long way and I think people are scared that if you get on the wrong side of us, you'll get a slap.
"But we're friendly geezers, and the only reason these incidents happened is because they were trying to say something and get a rise out of us. We can express ourselves in other ways now."
Baz told me that music journalism was in its infancy when the band started playing, and the group's insistence to not fall into a specific label frustrated and angered journalists who wanted to class them as punk.
"You've got to remember that back in the day it was all as new to them as it was to anybody else. I mean music journalists couldn't pigeonhole what The Stranglers sound was – was it punk? I don't think it was punk."
The band has had their fair share of criticism over the years for what critics describe as misogyny, sexism and racism in the lyrics – claims that Baz said prompted The Stranglers on many occasions to fight fire with fire.
With racist slurs in titles and lyrics discussing smacking a girlfriend's face, The Stranglers were masters of antagonism, quickly recognising the benefits their controversy brought in terms of publicity.
"I think we just write some things that were going to really get people het up. Take I Feel Like A Wog, for example, which in actual fact is anti-racist, but of course, the band used that word in the title just to be provocative," said Baz.
"Lyrically, you took very little of it at face value those days. You were writing in different tenses with a lot of pseudonyms just to fox people. I think if anybody took that kind of thing seriously, it was their problem, you know, not ours."
The BBC were one broadcaster who took particular offence to The Strangers' music, with 1982 number two hit and all-time favourite 'Golden Brown' banned from the airwaves due to the realisation that it was about heroin consumption.
It followed a ban three years earlier on the video of 'Duchess' on the grounds that it was blasphemous in its depiction of the band members dressed as choirboys.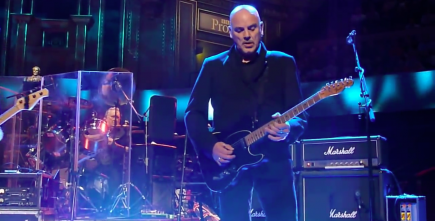 'A VINDICATION': The Stranglers' Proms invite felt like being 'welcomed back', according to Baz (© Mark Taylor, via YouTube, with thanks)
But The Stranglers clearly fixed their tempestuous relationship with the national broadcaster in 2013 when they were invited to perform at the BBC Proms, joining DJ Steve Lamacq and Maverick Sabre in an urban edition of the classical music event.
Describing the experience, Baz said: "The irony wasn't lost on us, put it that way! I think all they wanted to do was get a group that had pop/rock sensibilities but also a bit of baroque and classical leanings and influences.
"We'd heard about it for a while, it had been on the back burner for a while and then all of a sudden it became a reality and it was like, 'wow, this is interesting'.
"They started sending us classical treatments of our songs, which is always a nice thing to hear, and then we got up there and played and it was fabulous, it was a great occasion which was just very different.
"It was a real privilege to do the Proms and it was almost like being welcomed back into the fold again after all these years and a kind of vindication really."
Discussing how Manchester has treated the band over the years, Baz only has fond memories to recall.
"It's always been great. We tended to finish our tours at the Academy just as a ritual more than anything, but we're not actually doing that this year, we're going to play Manchester in the middle," he said.
"Last year we completely sold it out, and i mean the Academy is a wonderful place because it's massive: it's just a big square box, that's all it is, and with everybody standing it's an incredible view from the stage."
But with drummer and founder Jet – who some claim is the oldest British rocker at the ripe age of 76 – reportedly suffering from health complications, he's had to tone it down a little over the past couple of years.
"Jet will come out with us. A lot of it is up to him, to be honest. It's his band, after all, to a lot of people. He's the guiding light that formed the band. But it's no secret now that Jet's in his mid-70s, and with all the best will in the world, with all the greatest training and health, you just can't cheat old age – it's as simple as that," said Baz.
"So he's going as long as he possibly can; he's an absolutely intrinsic member of the band and when he finally stops playing physically, he'll still be involved in the politics and the running of the band and it's his life, you know.
"In the past he's come out on the road and been taken ill and we've had to whisk him off to hospital. He's quite fragile, we've got to look after him. But he will do what he wants to do when he wants to do it and we're quite used to that."
Back at the Manchester gig, Jet appeared mid-way through the set for a few songs to the sounds of raucous, worshipping applause from the fans baying for his return to the stage.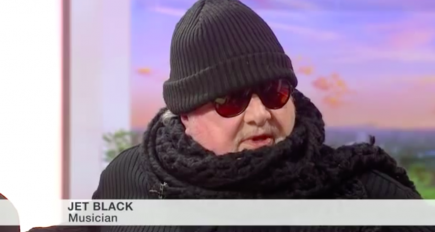 'GUIDING LIGHT': Jet, pictured in a bizarre outerwear ensemble on BBC Breakfast, has given the band's new drummer his blessing 
(©BBC, via YouTube, with thanks)
In between, touring drummer Jim Macaulay stepped in for Jet, hammering out a sterling performance in quite difficult and sensitive circumstances. They were big boots to fill – but fill them he did.
Describing Jim, Baz said: "We've got a 30-year-old drummer who's full of piss and vinegar who can absolutely give it the beans, and I think people would rather see us without Jet than not see us at all."
Addressing rumours that Jet's death could mark the end of the band, Baz refused to dismiss them.
"To be honest with you, that's something that we'll almost certainly be addressing at the time. I've always thought that was the case, but people have taken our new drummer very much to their hearts.
"Jet's given his blessing and we just continue to work. I always thought it would be the end if there was no Jet – now I'm not so sure."
The Stranglers played at Manchester Academy on Saturday March 21.
Top image courtesy of Eddy Bethier, with thanks