David Mamet's most famous work Glengarry Glen Ross is at Manchester's Opera House from director Sam Yates and starring EastEnders' Nigel Harman and Waterloo Road's Mark Benton.
In the age of Trump and the Weinstein scandal, the critique offered by the exploits of the real estate salesmen at Glengarry could have been a sharp skewering of toxic masculinity and putting profit before people. However behind the outstanding set design, some good performances and an overall entertaining experience, this production plays it too safe.
Nowhere is this more evident than in Harman's portrayal of Ricky Roma: a smarmy, slick, expert salesman due to his dispassionate approach. When Roma first meets James Lingk, his latest sap to be conned played by James Steddon, this is an opportunity for the actor portraying Roma to make their stamp. Harman doesn't hit the mark.
The scene acts as a trial by fire for the actor as Roma blindsides Lingk with Mamet's inimitable, sharp, fast-talking dialogue that pushes the character into buying a property that he ought not to.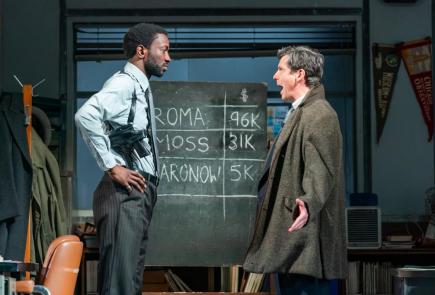 For Lingk to get drawn in he, like us the audience, has to believe that Roma is not reciting from a script. Roma's character only works when his obfuscations seem genuine and off the cuff but, to use Roma's vernacular, you can smell the bullshit.
Harman also pushes too hard later in the show in Roma's infamous "where did you learn your trade" scene. Harman is clearly playing this as a moment of great machismo but Roma is reduced to calling John Williamson, another highlight of a performance from Scott Sparrow, to childish names because of a mistake.
In the current context, the scene could have easily been played for laughs, rather than as a moment where Roma is the embodiment of toxic, masculine aggression. There is irony in the names he calls Williamson which is lost in this portrayal of Roma; he is a child throwing his toys out of the pram.
There are also issues born out of the age of the play. Written in 1983, the pages are rife with outdated sentiments. Rather than use these moments as an example of how unscrupulous the characters of the show are, Yates and the cast decide to play them for laughs. There are multiple times where cheap laughs are capitalised on rather than trusting the wittier, more timeless parts of the script.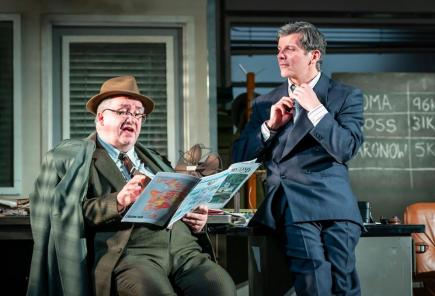 Denis Conway, portrayed by Dave Moss, is the first to fall foul of this even though his overall performance was a highlight of the show. There're jokes within the show about a notorious couple, the Patels, who "just like talking to salesman".
Whilst criticising not only the Patels but all Indian people for this trait, Conway puts on a broad and bad Indian accent. With a turn to the audience, it's clear this wasn't meant to be played as an illustration of Moss' poor character but as a way to get a cheap laugh from the crowd. In fairness to Yates, he knows his audience, because it worked.
A central part of Moss' character is that he is willing to do anything to ensure his financial security and has allegiance to nothing other than this; this was a stark missed opportunity that summed up issues with this production.
Benton's portrayal of down on his luck, former sales dynamo Shelley Levene falls into some of the same directorial pitfalls. Benton does well with the character, playing him with an ample amount of desperation but without the requisite pathos. You find yourself feeling less sympathy for him when he ultimately succumbs to a desperate decision.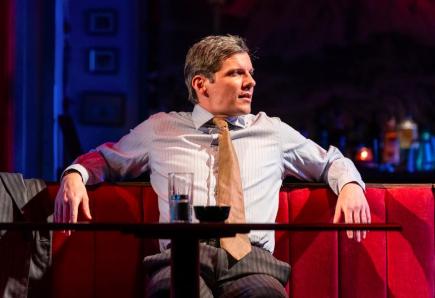 There's a moment again where the issues in the production come to the fore. During a monologue about his latest big sale, Benton looks out into the crowd for a sleazy nod and a wink during a monologue. This felt contextually out of place but the audience seemed to love it. This perfectly captured Yates approach to directing this production: he knows his audience better than the nuances of the material.
That being said, the production still had some remarkable merits. Chiara Stephenson's set design was outstanding with the set morphing from Act 1's elaborate Chinese restaurant to Act 2's dishevelled office. The detail in both sets was truly remarkable and I scarcely understood how they managed to turn it around in the interval.
Alongside this, whilst some of the character choices were off, the performances were all good for what they were trying to portray. Conway as Moss, Sparrow as Williamson and Wil Johnson as Aaronow particularly stood out with Sparrow opening the show alongside Benton with great poise and energy.
David Mamet famously said: "people, in circumstances of stress, can behave like swine and that this indeed is not only a fit subject, but the only subject of drama." I feel this production missed this point somewhat.
*Glengarry Glen Ross is playing at Opera House, Manchester until Saturday, March 30. You can buy tickets HERE.