The Wind in the Willows has been brought to life in a new musical adaptation written by Downton Abbey creator Julian Fellowes.
With the show set to come to The Lowry at the end of the month, Rufus Hound, who plays Toad, spoke to MM about how he came to be involved.
"When I was a kid I used to have trouble sleeping and my mum and dad bought me these story tapes.
"I used to listen to those to help me sleep and the one that really stuck was Kenneth William's reading of The Wind in the Willows.
"I genuinely listened to that hundreds upon hundreds upon hundreds of times. It's a story very dear to my heart."
It also seems that this is a role Rufus was always destined to play since he was marked out for it while working his first professional theatre job.
"Peter Caulfield came to me and said "Rufus if you ever get a chance to play Toad take it, you would be incredible!" and I thought what a weird thing to say to someone. 
"Years later when I got the phone call to ask to audition to play Toad I had this thing in my head from a man who I came to love a great deal that told me I should absolutely be doing that.
"It felt sort of weirdly prophetic."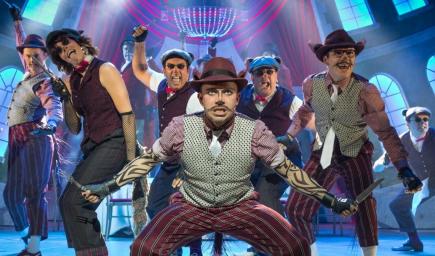 REAL KILLER: Olivier Award winning composer and lyricist team George Stiles and Anthony Drewe ​have composed a score that, according to Hound, takes the wind out of his sails
Toad is flamboyant, wealthy, conceited and impulsive but when asked if he can see any of himself in Toad it seems the only thing is a shared love of fast driving.
"I think that in every character you play you look for the things that are most apparent about them and you think about where they overlap with you.
"Toad's somebody who likes going fast, I'm somebody who rides a motorbike."
Toad is also a character who buys into fads and crazes and Rufus admits that whilst he prides himself on his "rugged individualism" it's difficult not to follow the trend.
"I look at myself as a 30-something white man with facial hair and tattoos riding a motorcycle, wearing jeans and big heavy boots whilst drinking craft beer in a pub full of men in their 30s with facial hair and tattoos, wearing jeans and big heavy boots.
"You realise you're as likely to have fallen into the same old tropes as everyone else and your own internal monologue masks that as 'defining you'."
When asked what animal he would like to be however he makes a rather maverick choice.
"I would be a tapir because I love tapirs. You won't see many things cuter than a baby tapir.
"They've got stripes and spots and they look like they're smiling all the time."
Yet unlike the slow-moving tapir Rufus has proved himself to be rather nimble.
In 2012, he won Let's Dance for Sport Relief with a performance of the routine for Cheryl Cole's Fight For This Love and promises that the musical has lots more dancing in store with "leaps and jumps" and "a fair amount of jigging about."
The musical also features songs written by Olivier Award winning composer and lyricist team George Stiles and Anthony Drewe and for Rufus this is most challenging aspect of the performance.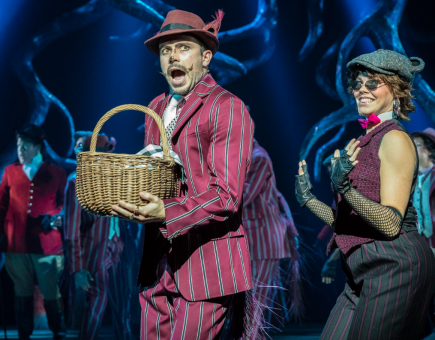 "It's actually the singing that's the hardest part.
"Stiles and Drew write incredible, very detailed and rather complicated songs which sound really simple and effortless but a few of them just don't let up and trying to get a breath in amongst delivering long multi-syllabic sentences is a real killer on the old lungs."
Finally, Rufus tells of how he looks forward to coming back to Manchester and partaking in the city's night life.
"I always love coming to Manchester. Fortunately there's now so much media production and theatre in Manchester that I have an excuse to be there quite a lot.
"There are troupes of people that I know and love in Manchester and it's amazing to know that I get to see them again and hang out with them.
"You'll see me traipsing around Affleck's and in various late night clubs around the town between now and when we move to Southampton."
The Wind in the Willows will be shown at The Lowry, Salford from Thursday October 27-Sunday November 6.
To book tickets visit http://www.thelowry.com/event/the-wind-in-the-willows2