Half-naked and half-drunk, The Orwells took on a feverishly energetic crowd at the Academy on Monday, serving up an impressive performance of their raw and unapologetic blend of rock.
The Chicago-based post-punk band dished out an hour-long set filled with their distinctive, angst-driven style of rock, brilliantly embodied by animated lead singer Mario Cuomo.
The blonde-headed, Kurt Cobaine-esque frontman added a weighty slice of personality to the gig, assertively pacing the stage, belting lyrics and working the eagerly moshing fans, before capping the night off with the obligatory crowd dive.
Lulls in the performance were short lived, with the entire night propelled along with favourite songs from all of the band's perceptive and unruly albums.  
Since supporting the Arctic Monkeys and playing at this summer's Leeds and Reading festivals, the band has firmly replicated their state-side success, becoming a warmly welcomed act on the British music scene.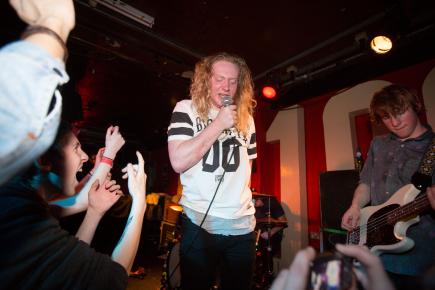 THE ANTITHESIS OF PUPPETEERED ARTISTS: Chicago post-punk rockers The Orwells shook up Monday night's Academy gig
Monday night's Manchester gig finished off their four-venue UK tour, but the band's rocketing popularity will soon see them return as a much-loved face of American rock to British festivals in summer 2015.
The Orwells push post-punk with an attitude and a 'diamond in the rough' style that offers up strong competition against some of the best bands in a well-trodden genre dominated by the likes of The White Stripes and The Black Keys.
Yet they manage to add their own original twist to the familiar sound, dishing out grass-roots rock that refreshingly ditches all the synchronised and sheltered trappings of modern music.
In short, they practice in their basement, drink while they play, and put a great deal of effort into every performance. They are the antithesis of puppeteered artists and the assembled and packaged music that governs the charts.  
The money and fame is inconsequential to the band, and whether you like them or not, they don't care: the music clearly takes priority.
Well, that, and having a hell of a great time.