The award-winning World War I play 'The Glasshouse' makes its northern debut at 53Two Manchester next week.
The production runs from November 1-11, the final night taking place on the centenary of the end of the First World War.
The Glasshouse focuses not on the front line action of the war, but instead two men charged with cowardice and desertion.
Confined in a makeshift prison on the back line of the Somme, a friendship blossoms between the two, but how long can friendship last while they are trapped?
It is based on extensive research into true stories of conscientious objectors on the front line, and aims to tell the tale of the frequent but highly taboo topic of these actions.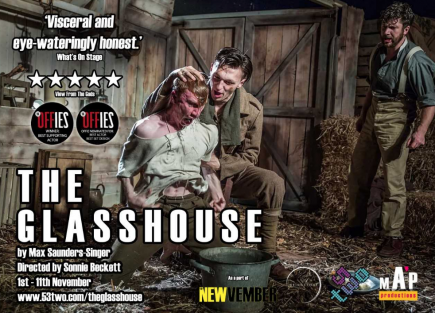 Written by Max Saunders-Singer, who also stars in the production, it made its debut in 2014 in London.
Simon Naylor also returns, after his OFFIE nomination for Best Actor from the original run of shows. He has previously appeared in soaps Emmerdale, Coronation Street and Casualty.
The play will be supported by the brand new Switch MCR who have devised a 'curtain raiser' as a direct reaction to the script which they will perform on Nov 2-4.
Tickets are £8 for concessions and £10 standard, and can be purchased here – http://53two.com/the-glasshouse/4593003914