Sun, sea and sangria is brought to Mancunians this week – and forecasts say this will last until the end of the week….
Benidorm Live hit the stage at Manchester's iconic Palace Theatre, bringing a bout of joy to the cold winter months.
Stars such as Jake Canuso (Mateo), Tony Maudsley (Kenneth) and Adam Gillen (Liam) from the much-loved ITV sitcom give the audience tons of laughable moments that are sure to rock you in your seats during its run.
However, it's unfortunate to see that fan favourite Doreen Maltby – played by Elise Kelly – didn't make an appearance in the production, although her absence admittedly didn't make much of a difference to the amusing show.
The hour-and-a-half-long 'episode' includes everything from the usual dirty jokes from Middlesbrough's Swinger Association fanatic, Jacqueline Stewart, to musical numbers from Neptune's Asa Elliot.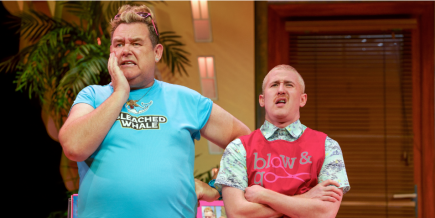 FAN FAVES: The loveable characters are back – and this time they're on stage
The set varies from popular Solana hotel locations such as Blow 'n' Go, Neptune's and of course the poolside bar. These are easily recognisable to the audience and add that much-needed touch of familiarity.
The plot focuses on the Solana staffs' mission to uncover a covert hotel inspector in an attempt to save the fate of the hotel and their own employment, whilst also throwing in the typical antics of the holidaymakers.
Members of the audience are treated to a special flamenco performance from Canuso in the role of Mateo, and the Solana welcomes new characters such as Gay Derek, who is briefly mentioned in the TV show but never introduced.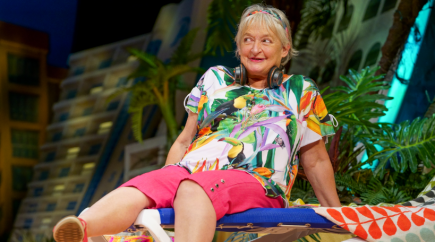 AMUSING: The characters are just as funny as they were in the show
Benidorm Live is well worth the watch, especially for lovers of the programme and comedic characters based in the Costa Blanca.
All the actors display their natural talent and no mistakes are made in the live environment. It truly looks like fun is had amongst all and that the strenuous rehearsals paid off.
Expectedly, this may not be a production for those who aren't familiar with the show as it's packed with inside jokes and often harks back to the series.
Writer Derren Litten clearly hasn't failed to transform his beloved work onto the stage and give it all the qualities Benidorm has had over the past 11 years that fans have grown to love.
*Benidorm Live is showing at the Palace Theatre until Saturday, December 1. You can buy tickets HERE.