On the evening of Friday 20 March, the theatres closed their doors indefinitely.
Theatregoers had no choice but to wander back home through the eerily empty streets.
The hope of finding something good to watch on television was still on the cards. But what could beat the theatre on a Friday night?
The numerous restrictions brought about by the coronavirus pandemic have unfortunately put a halt to many social aspects of our lives. But the Royal Shakespeare Company and the National Theatre were determined to continue entertaining the nation by broadcasting 'live' productions on television.
"Theatres across the country had to close very suddenly when social distancing measures were first introduced," Kevin Wright, Head of Commercial Development at the RSC, told MM.
"Broadcasting our work on television as part of the BBC's Culture in Quarantine initiative and making it available to stream with organisations like Marquee TV ensures that, whilst people cannot currently visit our spaces, they can still have access to cultural resources at a time when the need for them is great."
The RSC recently broadcasted their production of Twelfth Night live on television during the nationwide lockdown.
When asked how they are ensuring that people feel connected during these 'live' performances, Wright told Mancunian Matters that the RSC ran a social media 'watch along' to their production of Twelfth Night.
The use of the hashtag #AlmostlivefromtheRSC enabled the audience to feel part of a live audience.
ALMOST live from the RSC

Tune in for a watch along on Saturday 11 April – we'll be watching the @marqueeartstv premiere of Twelfth Night at 7.15pm and we'd love for you to join us on Twitter for a chat!

Read more: https://t.co/zd5Qw3wlov#AlmostLiveFromtheRSC #WorldTheatreDay pic.twitter.com/uURpA0lNX7

— The RSC (@TheRSC) March 27, 2020
"Theatre is at its heart a communal experience and whilst watching a play on a screen is a different experience to being part of an audience in an auditorium, it can play its part," said Wright.
Throughout the screening of Twelfth Night, the orchestral music was particularly powerful; however, there was a lack of atmosphere due to not being in the theatre itself.
Dr Josh Edelman, a senior lecturer in Drama and Contemporary Performance at the Manchester School of Theatre, told MM that watching theatrical productions at home and at the theatre are two very different experiences.
"There's a real sense of excitement and attention and energy that comes from being in the same room with the performers," said Dr Edelman.
"I've found in my research that one of the main things audiences love about the theatre is watching the performers work – seeing the sweat on their brow and hearing their breathing and seeing their face while they do difficult, creative, exciting, surprising work.
"Part of the key draw of the theatre is that it's there, in front of you, happening live, and you're part of a group of people all taking that in together. That's just hard to re-create when everyone's got their own screen at home."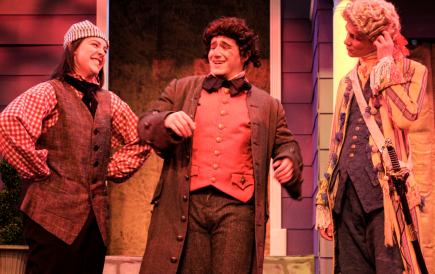 'SWEAT ON THEIR BROW': The actors and actresses are seen working hard during the production of Twelfth Night (image courtesy of Stephen P. Carmody via Flickr, with thanks)
However, the accessibility of this free theatrical content provides entertainment the general public during this difficult time.
Theatregoer Sara Chalabi, of Maidenhead, told MM: "Before the lockdown I would often try to get to the theatre, or even to the cinema to watch a screening of the National Theatre Live shows.
"Now, I can watch shows from the comfort of my own home! It's lovely that I am still able to access these performances, and it's also a great opportunity for people who wouldn't usually go to the theatre, to enjoy it too!"
When asked if free, accessible theatre would encourage more people to watch productions, Dr Edelman said: "I think it would be great if a wider variety of people who were stuck home during this crisis and tried out some theatre they don't totally know about.
"If that breaks down the barrier so people get the sense that, hey, theatre is fun and interesting and exciting and something they want to be part of, great! I'm certainly hopeful."
The future of theatre is left uncertain due to the Covid-19 pandemic.
However, a deadly disease is unfortunately not something of a novelty to our society; Sporadic periods of the 16th and early 17th centuries were marked by uncertainty as a result of the plague in England. Much like the theatres of today, playhouses shut their doors to the public to limit the spread of the disease.
With the help of modern technology, something which is aiding social interaction during this time of isolation, the RSC and the National Theatre have been able to continue to entertain the public.
It is uncertain when the theatres will open their doors again; however, there remains hope for a resurgence of interest in theatre due to the streaming of free 'live' productions.
Main image courtesy of Lorie Shaull via Flickr, with thanks.