Innovative filmmakers will take centre stage this evening in Manchester at a film screening of silent movies where all music and sound effects are performed live. 
All films shown have been created in just three days and are screened at a Kino Kabaret as part of a movement which is unique in the UK. 
Founded in 1999 in Montreal, the Kino Kabaret movement encourages noncompetitive filmmaking in a very short timeframe, with the motto 'Do well with nothing, Do better with a little but do it now'.
Jenny Longworth, PR guru and International representative for the Manchester Kino cell Filmonik, told MM: "Tonight there will be musicians, actors and all kinds of wonderful things.
"I'm not sure what's going to happen. Anything can happen and anything goes!
"In Manchester there is such a good environment for filmmakers, and at the Kabaret we have such a range of people, from beginners to graduates to professionals."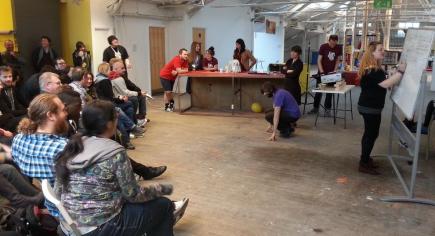 MIND-MAPPING: filmmakers come to Manchester from all over the world to share ideas
The Summer Kabaret is an international event, and is split into three 72-hour rounds over 10 days. 
Over the last week local and international writers, directors, actors, make-up artists and camera and sound technicians have come together to share their skills and produce a film against the clock. 
Filmonik's lab space at Federation House will be open 24/7 during the event, and will be used by all participants for filming, developing scripts and ideas and for editors to work on films during the filmmaking process.
Typically the films screened at the Kaberet do have sound and music, and this is the first ever UK silent screening Filmonik has attempted. 
Jenny said: "Having seen silent screenings in other countries, I know that people interpret the brief in so many different ways.
"Someone may do an old fashioned black and white movie with some piano accompanying, others will have people on stage lip-syncing with what those on screen are saying, and some will even make a piece of moving image, take some actors and do a live performance piece."
Kino Kabaret's founding filmmakers were concerned about the so-called 'Millennium Bug' bringing life to a halt, so started making one film a month.
Even when the year 2000 hit and the world didn't fall apart, they decided they liked their filmmaking system and so created the Kabarets. 
The idea took off and became a global phenomenon, with groups cropping up in Germany, Australia and Ireland, as well as the UK.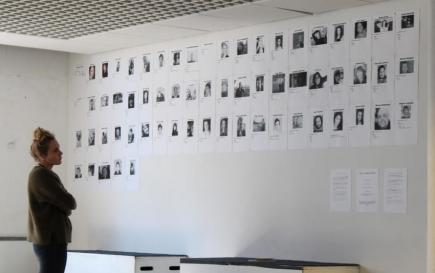 WIDE SCOPE: There will be comedy, romance, horror and more on show at the event
Filmonik opens its doors to all, and it isn't too late for those who love to make films, want to know more or are well established in their field to be a part of the next round which starts on August 1.
Jenny said: "There's so much pressure involved but that's why people progress and flourish so much.
"It's incredibly hard work but when you see what you've created at the screening there really is nothing like it."
"When people come to a screening they can see something completely freshly-produced locally, by people from Manchester and much further afield.
"There will be comedy, romance, horror and even downright upsetting stuff. They'll see a group of people there who have put their passions into one place over the last few days and that will definitely come through."
The silent screening will take place this evening at 7pm at the Deaf Institute, and the screening for the third round of films will take place at Gorilla on August 3.
If you'd like to take part in the third round or find out more information on Filmonik visit http://filmonikweb.blogspot.co.uk/
All images courtesy of Jenny Longworth, with thanks.