Number 35, jump and jive! There was plenty of that on display at Manchester's Albert Hall in the first of two Bongo's Bingo events this week.
As someone whose previous encounters with Bingo have involved working in a care home, I wasn't prepared for the pace of number crunching involved.
All given a felt tip pen on entry, the audience only had a couple of seconds to sift through six grids on a page to tick off tickety-boo 62 before legs 11. (How anyone managed to follow along after a double JD and coke is a mystery which would have Hercule Poirot stumped!)
However, this didn't seem to matter- it was compensated by the sheer magnitude of mayhem emanating from the stage. Jokes or numerical references aplenty were accompanied by renditions of adverts, popular computer games, The Great Escape, Eastenders…the host and dancers getting the crowd on their feet.
Number 85 saw a chorus of the Bee Gee's stayin' alive, then two minutes later we'd be singing My heart will go on, Mamma Mia or Jump around.
Number 9 inevitably led to a singsong of "Engine, engine number 9", the bridge from guest on the night Fatman Scoop's 2003 hit Be Faithful, to which the crowd knew every word.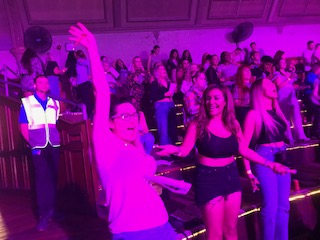 Jenny, 21 who works behind the bar told me that Bongo's Bingo is one of the stand-out events organised at the hall: "Everyone's always so happy and lively", adding that one of her colleagues came as a customer and won a space hopper last time.
The prizes were as elective as the music, a cardboard cut-out of Gordon Ramsay, followed by a cardboard box of Coco Pops, the cash jackpot increasing by £50 each round.
If two callers claimed a prize then there'd be a wackier- than strictly style dance-off on stage to settle the score, often complete with giant inflatables, pyrotechnics and Come on Eileen blasting from the speakers.
Brad Grantmyre, 25, summed up his first outing at a Bongo's Bingo night: "I wanted to experience bingo and music at the same time. I'm now an avid addict!"
Judging by the number of people who appeared to share Brad's sentiment, I think we can safely predict a full house when the event returns to The Albert Hall this coming Sunday.