Anna Spark stole the show and won the Frog and Bucket's Beat the Frog World Series on Monday night, and is now planning on taking her comedy up and down the UK.
The runner up was the half Venezuelan James Heath, and the panel prize went to Michael Mannion.
Anna, a dual Australian-English citizen, hopped to victory with jokes that ranged from her abortion that took her off the circuit for a year and a half, to talking about people's mums squirting on their dads.
Her winnings include £250 and paid gigs at the Frog and Bucket.
She's now planning on taking a solo show to next year's Edinburgh Fringe Festival. The work in progress is called The Holy Foetus, and, if successful, she's hoping to perform it all over the country.
For Beat the Frog, a night which started at the Frog and Bucket in 2003, acts have to fight to stay on stage for a full five minute set. However, audience members get given cards which, if all three are shown, means the act must get off stage.
As Anna was waiting for the judge's verdict, she kept repeating to herself: "finalist is good enough."
When it was announced that she won though, she told Mancunian Matters: "I felt really cold when Dan Nightingale [the evening's compere] said my name, and I don't really remember getting from where I was on to the stage… I just wanted to tell my mum."
She also said that she had been preparing to lose, as the audience were much more riotous with their applause in the second act, after she had performed.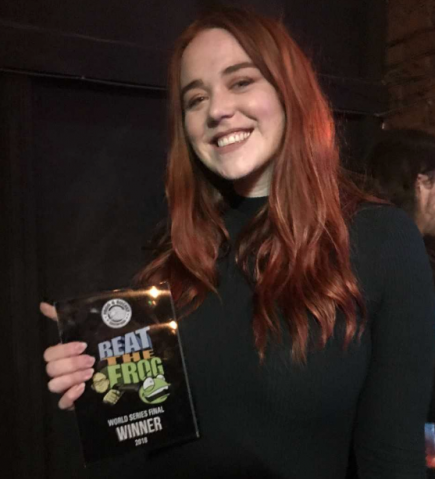 EDINBURGH BOUND: Anna Spark hopes to take her winning brand of comedy to the Fringe in Scotland next year
She did concede that this might have had something to do with the amount of alcohol consumed in the interval, though.
Five hundred acts competed in Beat the Frog newcomer gong show nights over the past year.
The winners of each show were entered into the competition that ran throughout October, which culminated in Monday night's final of nine acts.