Much Ado About Nothing is one of the most frequently performed and familiar of Shakespeare's comedies – and this RSC touring production feels safe yet fun.
Drawing in the big crowds is an obvious requirement for all big touring productions and while the accessibility of this show must be commended, it at times strays too far into the realm of pantomime and farce.
It is a rare feat that any Shakespeare play has an entire theatre laughing uproariously and it must be said that there were moments of comic brilliance that had audience members from the ages of eight to 98 in stitches
But sadly, there were also times when the laughs came out of politeness more than anything else.
The second half suffered particularly from this and director Christopher Luscombe's decision not to cut down the Dogberry scenes caused the pace and momentum of the play to lag.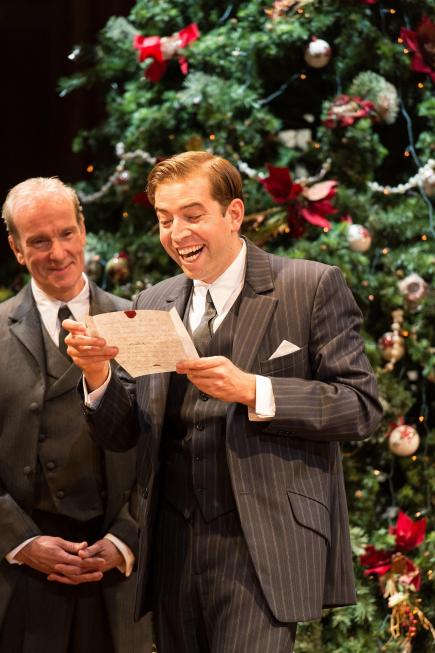 LAUGHTER: There were some moments of comic brilliance
It is one of the challenges for any director of Shakespeare to decide what is and is not expendable from the plot and Luscombe's choices meant that for large periods of the second half Benedick and Beatrice were totally absent from the stage, thus reducing the impact of the play's happy resolution.
And this was a real shame because the chemistry between Edward Bennett as Benedick and Lisa Dillon as Beatrice was the production's true virtue.
Bennett had astounding charisma and his rapport with the audience was wonderful, while Dillon's comic naturalism rolled across the verse with the ease of a truly great actor.
Steven Pacey was also astonishingly accomplished as Leonato, demonstrating a versatility that saw him command some of the funniest and also most tragic moments of the play. He is surely due a shot at one of the great roles in Shakespeare: he would make an impressive Antony, Macbeth or even Lear.
The post-war setting worked well with the text and the music brought some beautiful and memorable moments, particularly through the stunning voice of Harry Waller as Balthazar.
So, it was not without highlights and was by no means a bad production, but this particular run of Much Ado will be remembered as bankable and not brilliant.