The BBC Philharmonic's last pre-lockdown performance was on Friday 13 March, but it feels like the distant past.
As part of Sport Relief, they played Beethoven's Fifth Symphony at their Salford Quays home while several hundred people ran a 5k race around the docks, aiming to beat the symphony to its conclusion.
"Andy Burnham ran it," recalls the orchestra's director Simon Webb, "Tim Davie [now the BBC's Director General]… Alastair Campbell turned up to do it. It was a real A-lister crowd."
Yet within a few days the orchestra had aborted its studio projects and sent its players home.
It was time for an abrupt reinvention.
"Within another three weeks the orchestra had worked out how to create lockdown content, just using the microphone on their phones," Webb says.
The orchestra put out a prolific stream of pop song arrangements, including a "Great Northern Playlist", which found their way across the BBC network and local radio stations – granting them a whole new audience of listeners.
There was a pragmatic reason for this project: as part of the BBC's public service arm, the musicians weren't eligible for the government's furlough scheme.
Despite not being able to play together, they had to keep working.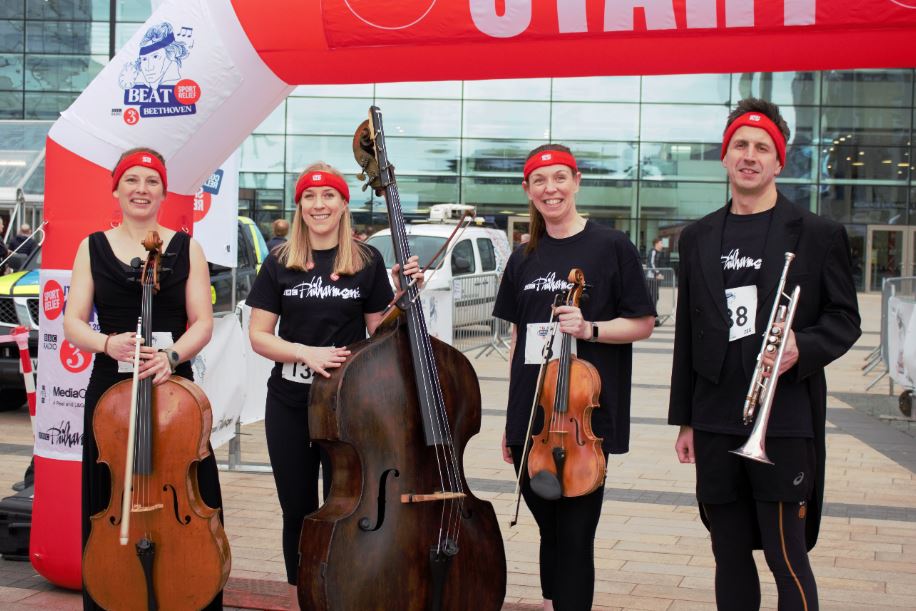 Of the several orchestras around Greater Manchester, only the BBC Philharmonic kept its players fully occupied throughout the lockdown months.
They were also the first back in the studio, in late August, abiding by complex social distancing rules that restrict the size of the orchestra to 43.
Different organisational models have placed other orchestras in widely varying situations.
The musicians of the region's other full-size symphony orchestra, the Hallé, were placed on furlough all the way through until late October.
Since then, they have embarked on a winter season of ten concerts, all to be streamed online.
It has been a baptism of fire for David Butcher, who was appointed CEO in the halcyon days of February but didn't begin until September.
"Orchestras are famous for planning way in advance," Butcher says, "so I was thinking I might be tinkering with programmes and branding for two, three years hence."
But in fact he has overseen the creation of an entire new season from scratch – not to mention the logistical minefield of setting up performances at Bridgewater Hall, an organisation which has faced its own set of lockdown challenges.
A stage extension now allows the hall to accommodate up to 70 musicians, all two metres apart – enough for the Hallé to play larger-scale orchestral pieces.
In their Christmas concert, a full orchestra is joined by offstage brass and a distanced choir of around a hundred in the auditorium – a virtuosic organisational feat.
Projects like that are also dependent on a rapid scaling up of the orchestra's digital capabilities – online streaming is a must in this new age, as orchestras large and small have discovered.
Charlie Rowley, general manager of the Northern Chamber Orchestra, used emergency Arts Council funding to stream three recent concerts from Macclesfield Heritage Centre.
"But as anyone working in the business knows, the cost of making the filming isn't recouped by tickets," he says.
For Rowley, streaming the concerts was more of a service, a way to keep engaging with their loyal Macclesfield audience, who have also shown their support through donating to a crowdfunding campaign.
The NCO is orchestra in association at Manchester's Stoller Hall, where performances are still not allowed, so they are fortunate to also have a home in Macclesfield, which for a while was in Tier 2: those three concerts had a live audience, albeit one in which only every fourth seat could be occupied.
"The response to the first concert was ecstatic," Rowley says. "They're just so happy to see live music again."
Another chamber orchestra, Manchester Camerata, managed to fit in a few live performances before November's second lockdown: one in a church in Kendall and another in Leeds Town Hall.
But uncertainty over the future is such that the orchestra is planning concerts that can smoothly blend digital streaming with whatever sort of live audience is permissible.
Like the NCO and the Hallé, they have gratefully been aided in this by the Arts Council's Culture Recovery Fund.
Live streaming, though, may only be the start of the new age dawning for orchestras.
"I don't think digital means broadcasting a concert," the Camerata's CEO Bob Riley says.
"We've all learned a lot about what it means to sit in front of a computer for hours a day at home.
"You're not engaging the same as you would live."
This thinking has led the orchestra to innovate with digital projects including the film series Untold, each instalment of which will tell a moving personal story alongside performances from the orchestra's roster of freelance players.
"We spent quite a lot of time last year thinking about why we existed," Riley tells me, so that – when faced with a genuine existential crisis – "we simply returned to what we'd already found, which is about making music that really matters to people, and that can make positive change in society."
Like many orchestras, Manchester Camerata do this in part through work in the community – for instance, their dementia music therapy programme Music in Mind.
Continuing this work has been as crucial as putting on standard concerts.
For the NCO that has meant playing outside care home windows; for Manchester Camerata it has involved moving work online as much as possible.
Some Hallé players took on community work voluntarily, despite being furloughed.
Some BBC Philharmonic players, too, have gone above and beyond.
A few of them chose to give up their salaries for certain projects, so that the orchestra could hire a freelancer in their place.
Every orchestra chief I speak to emphasises how hard things have been for freelance musicians this year.
Freelancers make up the entirety of Manchester Camerata and the NCO, and in usual times they also supplement the ranks of the symphony orchestras.
But cancelled projects, and small ensemble sizes for those projects that go ahead, have had a devastating impact.
"It's been tough," says Butcher at the Hallé, "and particularly for the ones that have fallen outside the job support scheme. We all know examples."
Things will be different as Manchester's orchestras tentatively start back up in 2021.
The pandemic has highlighted existing frailties in the classical music industry, like the lack of support for freelancers, and accelerated changes like the shift to digital that had only just been gathering speed.
But it is heartening that the orchestras here, in what Webb proudly calls "the epicentre of orchestral activity in the country," are rallying round.
There's a sense of optimism about what might be possible as orchestras learn from their experiences.
"I'm just keen that the things we have learned don't get lost," says Riley.
Webb, who is also chair of the board of the Association of British Orchestras, emphasises that ultimately the orchestras need each other to succeed.
"All my hopes are really centred on my colleagues, and wanting them to thrive in their halls. If they're thriving, we're thriving."
Main photo: The BBC Philharmonic, socially distanced, playing at a BBC Prom in September, conducted by Chief Guest Conductor John Storgårds. Credit: BBC Philharmonic