A Manchester theatre company are taking legendary William Shakespeare tragedy Othello from the stage to the centre circle.
Lass Productions are swapping daggers and handkerchiefs for shinpads and studs in their football-themed play – if they hit their goal on crowdfunding platform Kickstarter.
And producer Gareth Kavanagh told MM that the award-winning thespians will be in a league of their own as they break new ground for the theatre classic.
He said: "We toyed with lots of ideas but really wanted to come up with something new. Othello has been done time and time again but I think stagings have recently settled into a groove.
"That's why we wanted to do something different that hasn't been done before."
Set in the city of Venice, at the home of Venezia Football Club, Iago, a club legend and grizzled defender, convinces Othello, a former playing legend that his wife has been unfaithful – but Iago is a devious, manipulative character with his own agenda.
"Setting the play at a football club gives us the perfect platform to re-examine the themes of jealousy, reputation and ambition that remain as true today as they were 450 years ago."
And it was all inspired by the infamous 2010 sex scandal of a former England captain.
Gareth said: "I was sat reading about this footballer who had been having an affair and he reminded me so much of a devious character in Othello. I mean John Terry practically is Iago.
"I think it brings the text alive in a different way and I think people who would never dream of watching a Shakespeare play will really love it."
Although the plot and text stay true to the original, Gareth has promised to inject some of the city's swagger into the piece through the use of a home-grown cast. 
Local lads George Olyunka and Liam Grunshaw will be taking on the lead roles of Othello and Iago and Salford lass, Roisin McCusker, will be portraying Bianca, the ultimate club groupie and wannabe WAG.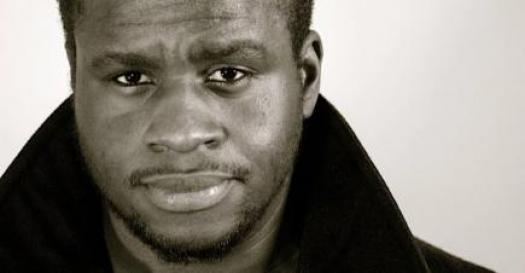 STARRING ROLE: George Olyunka plays Othello in Lass Productions footballing interpretation
The company also decided to cast a black actor to play Cassio, Venezia FC's flash foreign signing and club captain under new manager Othello, which Gareth says 'brings a whole new dynamic to the piece' as the titular star is no longer the only black character.
Gareth said: "We've got an excellent cast of really talented actors, some are new faces and some we have worked with before."
Since the company's first production of Rising Damp, back in October 2011, Lass Productions have delivered an exciting blend of TV and film revivals in the city including Blade Runner, V for Vendetta and an adaption of Alan Moore's Ballad of Halo Jones.
Gareth said: "We've never shied away from a challenge and that's why we're not afraid to tackle Shakespeare and, perhaps, his greatest text.
"Manchester is one of the greatest footballing cities in the world and the piece is full of references and gags that our audience will recognise."
Lass Productions are currently seeking funding for this project through Kickstarter, an online platform which aims to provide the funds to help find their feet.
Gareth and the team are giving away posters and retro football stickers to anybody who pledges money to the project and moves them closer to their £895 goal.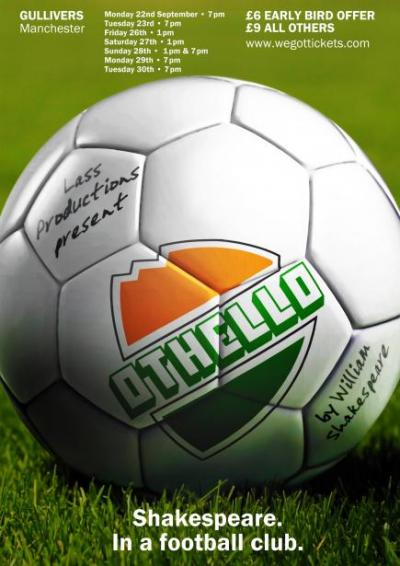 OTHELLO FC: The show is set for a theatre run in September
The production will run from September 22-30 at Gullivers, Oldham Street, Manchester.
For tickets visit: www.wegottickets.com 
To make a pledge to the project visit here.