The Addams Family has officially touched down in Manchester.
After months of anticipation, the musical kicked off its multi-date stretch at The Lowry in Salford this week.
When the curtain opened there was just one question on everyone's mind: could the stage version capture the family's magic that's been seen on television and in cinema since the 1960s?
This version tells the story of Wednesday Addams falling head-over-heels in love with an ordinary boy and what happens when she has to tell the kooky clan that she's engaged. 
Admittedly, the opening number – When You're An Addams – doesn't quite make the splash that you'd expect from this kind of production.
While the tune is extremely catchy, it causes the show to limp through the first scene rather than start with a bang.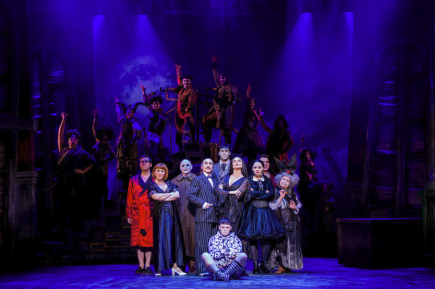 CREEPY: The family are fittingly ghoulish
In fact, it's fair to say that the momentum doesn't truly pick up until Wednesday – played by Carrie Hope Fletcher – performs Pulled some 10 minutes into the action.
Vocally, the role of Wednesday requires much of the heavy lifting in this production. Luckily, Fletcher's more than capable of the task at hand.
The actress appears both comfortable and confident whenever she's on stage and it's hard to think of a better face to play the brazenly dark Wednesday.
Fletcher isn't the only member of the cast who earns her stripes during The Addams Family.
Former soap stars Samantha Womack (EastEnders) and Les Dennis (Coronation Street) prove that their acting talents stretch far beyond television.  
Womack – famed for her 10-year stint on Albert Square – is a surprisingly good fit in the role of Morticia.
Meanwhile, Dennis returns to his comedy roots with ease as he steps into the shoes of the loveable rogue that is Uncle Fester.
Unfortunately, the talents of these three – along with Cameron Blakely in the role of Gomez – aren't enough to stop Act One feeling both rushed and disjointed.
However, there's a strong indication that things can (and will) improve after the entire cast hits the stage to perform Full Disclosure before the intermission.
It's then that the production really manages to hit its stride as it returns with a much more consistent and enjoyable Act Two.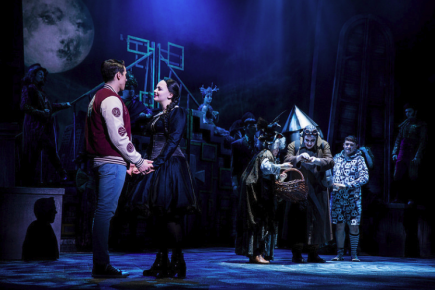 LOVE STORY: The plot focuses on Wednesday's new romance
The final half is playful, smooth and oozing with theatrics – exactly what one would expect from The Addams Family.
Even the humour – which ranges from subtle to in-your-face – is better received from those in attendance.
Yes, not every gag hits the spot. But that's expected from a production that bills itself as suitable for 'ages seven to 307'.
All in all, this musical is certainly worth a watch if you're fond of creepy crawly antics along with a side of laughs.
*The Addams Family is playing at The Lowry, Salford until Saturday, September 9. You can buy tickets HERE.