If you're still sticking to your New Year's resolution diet or detox then you are ahead of 99.9% of the city – and if anyone tells you that percentage is exaggerated they're one of the 97% still trying to convince themselves they've not given up… yet.
Whichever group you fall into, if you're looking for places to gorge yourself – or treat yourself because you've been so good all week… day – then here are some of the best food and drink festivals you can hit up.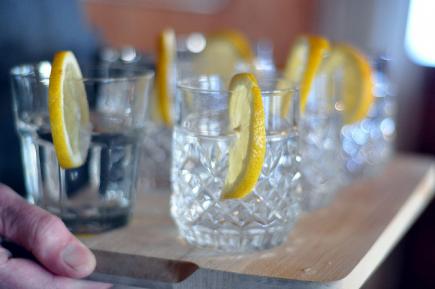 BATHTUB GIN: Manchester's new Gin Festival will be hosted at Victoria Baths (© cyclone bill, with thanks)
5. Manchester Gin Festival
2014 was very much the year of gin and the drink now has its own festival, popping up this spring.
Held in the authentic Victorian baths, your ticket gets you a celebratory glass (free stuff alert!) but not much else as drinks vouchers have to be purchased at reception, at £5 a pop.
Even so, not many opportunities to try over 80 different gins in a beautiful historic building present themselves, so it's certainly worth popping in.
Date:  Friday March 27 6pm – 11pm, Saturday March 28 12 – 5pm & 6pm – 11pm
Venue: Victoria Baths, Hathersage Road, Chorlton-on-Medlock
Tickets: £7
MM's advice: At the drinks prices, perhaps one for the gin connoisseur rather than guzzler
4. Foodie Fridays at Stockport Market Place
So let's say you like your food on a Friday, but in a slightly more relaxed suburban setting.
Look no further than Stockport, where on the last Friday of every month you can dig into wood-fired pizzas, pulled pork, jerk chicken and many more delicacies, as the rotating line-up of vendors and seasonal goods means you can never be sure of what you might come across in the centre of Stockport.
There's also music, as local Stopfordians wheel out their instruments to give you something to munch in time with.
Date: Last Friday of the month, 6pm until 9pm
Venue: Stockport Market Square
Tickets: Free. Totally.
MM's advice: Head to the Nasi Lemak stall for some authentic Malaysian street food
Looking back in time at our Nasi Lemak team serving at #FoodieFriday #Stockport May 2014. #StreetFood #BubbleTea pic.twitter.com/LuXtAHUDpo

— NasiLemak (@NasiLemak_MCR) January 25, 2015
3. Manchester Beer and Cider Festival
Okay so you've missed 2015's festivities (it happened last weekend), but this event definitely deserves a mention, if only for the fact that it was held in the middle of a cycling track. So be super-organised and plan ahead for 2016.
However, quite apart from the novelty factor, there were more than 500 different drinks available, and more than 60,000 pints were sold over the four days, while racing continued on the track around.
Not worth missing. Put it in the iCal.
Date: January 2016
Venue: The Velodrome at the National Cycling Centre
Tickets: Free to CAMRA members or £4 after 5pm on Friday, from £3 to everyone else
MM's advice: Don't drink and cycle. Seriously.
@MancBeerFest where else could you enjoy a CAMRA beer festival and a cycle race at the same time? #Manchester pic.twitter.com/d7XBtValr7

— Tony Smith ACIH (@hotpixUK) January 23, 2015
2. Friday Food Fights
Self-styled as a mad night of beats, eats, and booze, #FridayFoodFight is the natural progression of the street food revolution.
It combines disco, funk, and soul music, with hipster food challenges and master classes, original cocktails and craft beers.
There is no actual dress code, but if you're not wearing braces, a bowtie, or glasses with no lenses, you might get shunned from the crowd, and be left to eat your linguini alone.
Date: Fridays, 5pm until late
Venue: Great Northern
Tickets: Free but guest list available through Facebook to guarantee entry
MM's advice: Outfit half the battle.
You can sign up for our head-to-head Food Fight Challenges on Friday pic.twitter.com/5l7PQWjQSo

— #FRIDAYFOODFIGHT (@beatstreetmcr) January 26, 2015
1. Big Indie Wine Fest
Does exactly what it says on the tin. It's big. It's independent. It's wine-y.
It's not that independent though, as it runs as part of the Manchester Food and Drink Festival. Nevertheless if chocolate wine or punning vintners are your passion, then this is the place for you.
Your ticket gets you a glass, and then you can taste to your heart's content as vendors ply you with their produce.
There is some food on site as well but we recommend a hearty meal to make sure that the second or tenth glass of merlot doesn't tip you over the edge.
Date: Friday 11th – Saturday 12th September 2015
Venue: Manchester Town Hall
Tickets: £12.50
MM's advice: Eat before, drink all you like. 
It's the #BigIndieWineFest soon! pic.twitter.com/kdeH46WraM

— Ticketline (@Ticketline) September 15, 2014
Main image courtesy of Steve Garry, with thanks.