A popular beer festival will return to Bolton this month for its third year to serve up some of the best real ale in town.
Campaign for Real Ale (CAMRA) will play host to over 40 real ales and ciders at Ukrainian Club from April 9-11.
The club is one of eight Greater Manchester CAMRA branches which competes in an annual 'club of the year' competition and was selected because of its 'Ukrainian décor'.
Peter Kobryn, Bolton CAMRA Beer Festival Organiser, told MM: "CAMRA had been trying to find an appropriate venue for a beer festival for many years, before discovering that Bolton Ukrainian Club had an ideal events hall, whilst the hall has Ukrainian décor, this is not generally obtrusive.
"We look to provide people with some of the best real ales and ciders produced within the UK.
"Choosing only 44 beers, as there are over 1500 breweries nationwide, makes final selection quite a challenge, but we feel we've come up with a great mix of styles, indicative of such a thriving industry."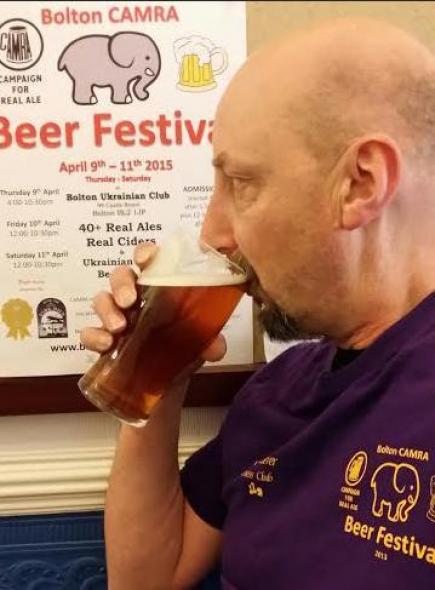 BOTTOMS UP: CAMRA will play host to over 40 real ales and ciders in Bolton from Thursday April 9-10
Clubs are judged on their beer quality, facilities and sympathy with CAMRA aims, with the Ukrainian club being voted the club of the year many years in a row.
Peter said: "Bolton Ukrainian club has now been voted Bolton CAMRA Branch Club of the Year for the fifth year in succession."
The festival is hopeful to attract a wide range of people – young and old – to come and taste what it has to offer.
"Whilst young people may like beer festivals for the freedom involved, they are not necessarily so adventurous when visiting our pubs and bars.
"Of course, the vast majority of us that try hard to promote real ale are the wrong side of 40, which limits our appeal," said Peter.
Whilst the main focus is to offer quality real ale and cider to the public, the branch feels that it's important to also support the local community, and have, once again, chosen Bolton Hospice as their festival charity.
Peter added: "The services provided by Bolton Hospice have probably impacted, at least indirectly, on just about everyone who lives in Bolton.
"And although we're not directly raising monies for them, it's just nice to be able to offer them a fundraising opportunity."
The event will run from Thursday 9 – Saturday April11. For more information, click here.