Manchester's historic Midland Hotel is helping to lead the city's culinary renaissance thanks to the arrival of celebrity chef Simon Rogan.
But wander through the Midland's glass doors and its swanky lobby and there lies a bar with a difference.
Mr Cooper's House and Garden, which opened last year, is the hotel's second Simon Rogan-fronted eatery but, while its food is quite rightly being lauded by all and sundry, its liquid offerings are also worthy of a wider audience.
It is here that the creativity of Australian bar manager Tim Laferla is blossoming.
Perth-born Tim was bitten by the bar bug in his teenage years when he got his first part-time job and despite obtaining a degree in Physiotherapy since, he is adamant that mixing drinks rather than fixing injuries is the vocation for him.
"I love the creative side of bar work as it gives me license to experiment," he told MM.
"What people don't realise is that I can probably make more money from doing this than I can from a career in physiotherapy.
"We try to give people something different and think outside of the box when it comes to creating cocktails.
"But there is always an emphasis on using fresh produce where possible because that fits in with the philosophy of Mr Cooper's."
This philosophy dates back to 1819 when Mr Cooper himself – first name Thomas- and his famous gardens inhabited the site.

DELICIOUS: Rukus Juice and Take Me Back to the Summertime
His family were coach-makers by trade, but Mr Cooper was best known for the luscious strawberries, gooseberries and apples that grew in the gardens.
An amiable character, he and his family would invite the Manchester public to the gardens on special occasions, with many a Mancunian taking the opportunity to have a picnic in the grounds.
Nearly two hundred years later standards of hospitality have not waned as MM was pleasantly welcomed upon arrival.
Equally rigid is the establishment's unwavering devotion to using fresh local produce in both the restaurant and the bar.
In the kitchen this ethos is maintained by Michelin-star winning restaurateur Simon Rogan, known for menus that provide a delicious blend of fresh ingredients infused with invention.
Behind the bar, Tim's credentials are just as impressive. Only last year he won the UK Disaronno Mixing Star bartender competition, before representing Britain in the global finals which took place in Amsterdam.
After exchanging pleasantries with Tim, MM's attention turned to the cocktail menu which was so elaborate that each drink was described by paragraphs longer than the ones in this article.
There was so much to take in that choosing a drink was proving hard-work, so MM left the first drink in the hands of the experts and went with Tim's recommendation- a Ruckus Juice.
MM was informed it was house favourite and it did not take long to realise why.
A chalice of lightly-coloured liquid arrived garnished stylishly with a cinnamon stick, a sprig of mint and a maraschino cherry.
So aesthetically pleasing was the drink that it almost seemed a shame to drink it at all and spoil its appearance, however once the first sip was made Ruckus Juice was soon disappearing at a rate of knots.
A sweet without being sickly concoction of spiced rum, lime, orgeat, ginger and lager the Ruckus Juice quite literally went down a treat.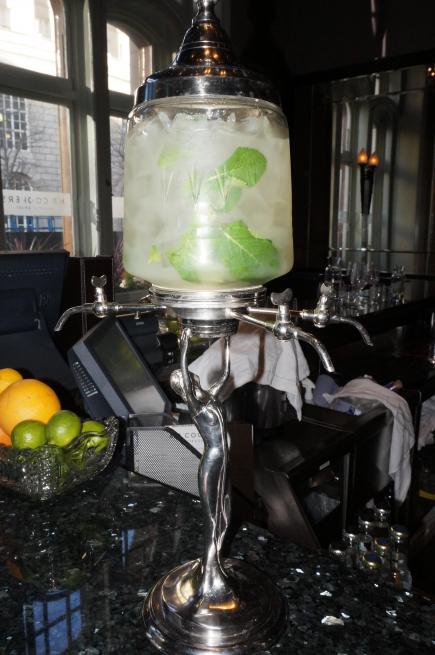 TRADITION: The bar uses an Absinthe fountain 
Order number two arrived via an unusual source – an Absinthe fountain, which in contrast to the belief of many Magaluf club reps, is the traditional way to serve Absinthe.
The fountain contained Mr Cooper's Autumn Punch a satisfying mixture of white rum, elderflower, apple, lime, soda, mint and naturally, absinthe.
The Fountain was equipped with four taps and MM was instructed to turn a tap in order to dispense the liquid into our tea cups which we were supplied with along with a saucer which had delicately chopped slices of apple on it in the place where a biscuit might usually be placed next to your tea.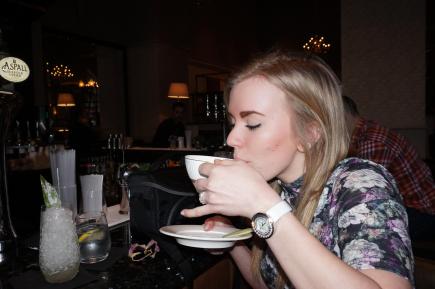 THE HIGH LIFE: MM's Lucy Varley sips a Mr Cooper's Autumn Punch…
Armed with a tea cup full of punch MM took the first sip and despite the presence of absinthe the taste was every bit as satisfying that all-important early morning brew.
The final selection made before MM departed was picked via a recommendation and it meant that minutes later Tim placed a hip flask containing butter popcorn infused bourbon, bitter and fig on the table.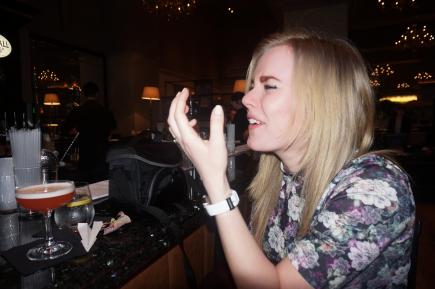 TASTE SENSATION: … but it's a all a bit too much for tequila first-timer Lucy
This was the blockbuster-inspired beverage Cinema Swill, which was accompanied with a tumbler which held large chunks of ice and dried fig.
Certainly harsher than the previous two drinks, MM's final choice was not for the faint-hearted with a strong whiskey flavour that was enjoyable nonetheless.
Tim told us that Mr Cooper's is not the sort of rowdy bar where people get drunk on mass but is the sort of place where people can meet with friends to catch up and enjoy some unique cocktails while they do so.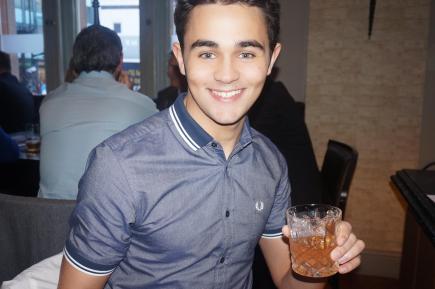 BLOCKBUSTER: MM reporter Josh Nicholls enjoys his Cinema Swill
However after finishing the Cinema Swill the statement that very few people ever got drunk there seemed somewhat hard to believe.
Mr Cooper's is not the sort of place where you will find blaring music and attention seeking women dancing on the bars, but it is a great place to relax and enjoy some quality drinks into the bargain.
You might not end a night out in Manchester at Mr Cooper's but a few drinks there you will, as MM can vouch for, put you in the mood for a night on the town.