MM donned its Lederhosen and Dirndls, brushed up on its German vocab and headed to sunny Albert Square for Manchester's first German Bierfest. Altogether now: "eins, zwei, drei, GSUFFA!"
Christmas may be a good six months away but the beer tents and Bavarian stalls are already up in front of the town hall.
With the Christmas Markets growing in popularity year after year and bars like Peter Street's Alberts Schloss and The Printworks' Bierkeller doing a roaring trade, there's clearly a growing demand for Deutsches Bier in Manchester.
"People in Manchester like drinking beer just as much as the Germans!" event manager Marvin Kluge tells MM over a stein of ale.
"There are loads of pubs in Manchester with so many different types of beer so I think we've definitely made the right choice coming here.
"We Germans love sitting and drinking a beer together and listening to music and I think that's a feeling we share with people in Manchester."
Open until Sunday, the stalls and stands in the German Village offer a seemingly endless supply of Bier, Bratwurst and Schnitzel, whilst the Bavarian FestTent plays host to live German festival music.
Manuel Wersdezh, 29, from Munich, is the band's guitarist. He's played at almost 60 beer festivals across Europe already this year and told MM what Bierfest visitors can expect on stage.
"We play a mixture of traditional German Bierfest music and some more modern English rock," he explains.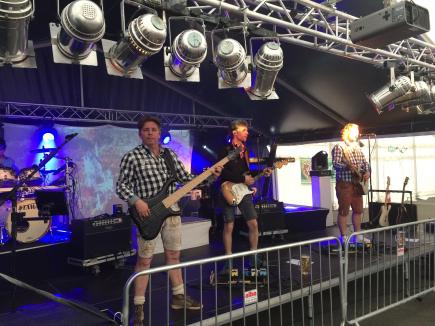 LINK ARMS AND SING ALONG! Band member Manuel Wersdezh urges people to get involved in the music to add to the atmosphere
"We start off with the more traditional songs and switch to more well-known pop later on. But the most important thing is to link arms and sing along!"
DJ Peter Molt, 43 and also from Munich, has accompanied the festival to cities across the UK and has noticed a change in attitudes towards Germany in recent years.
"Ten or twenty years ago it could be a bit difficult because people made a lot of associations with the past and things like that," he says, as a waitress in a blue and white Bavarian dirndl brings another round to our table.
"But now when you come to a place like Manchester, it's a city known across the world and everyone is so welcoming.
"I like the British – I think they're funny!"
And as MM staggers towards the exit with an emboldened attempt at a Danke schön! and an Auf Wiedersehen!, we don't blame them for laughing.
Manchester German Bierfest is on until Sunday June 5 in Albert Square. More information and tickets for the FestTent are available at: http://manchester.bierfest.co.uk/