Caffeine junkies from up and down the country gathered in Salford over the weekend to celebrate all things coffee-related, for Manchester's first ever festival dedicated to the warm, dark brew.
Cup North, a two-day event at Artwork, Greengate, saw more than 30 independent cafes and roasters gather to celebrate the city's growing artisanal coffee scene.
After oil, coffee is the second largest trade commodity in the world, and Mancunians' caffeine addictions have exploded over the last few years.
"Coffee's mad down in London, but until recently there's never been this kind of good coffee in the North," said Alastair McElhoney, 29-year-old regional business manager for Coopers Coffee.
"It's all about taste now with coffee, and people can see past the chain labels. It's really catching on, it's really exciting!"
Hundreds visited to sample specialty coffee and try their hand at latte-decorating, while musicians like Paolo Fuschi and Alice Gasson entertained festival-goers on the lookout for their next caffeine fix.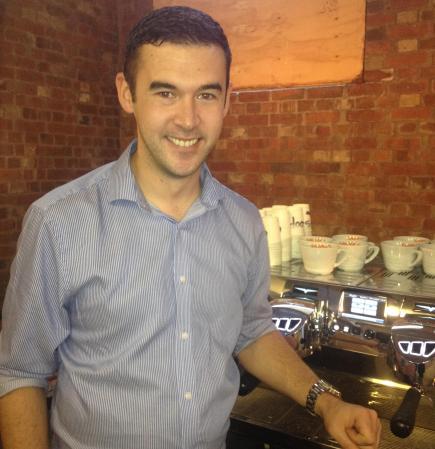 FLAVOURFUL AND FRUITY: Alastair says there's coffee to suit everyone's tastes
Coopers, one of the event's main sponsors, have begun to expand all over the country, thanks to the response they've seen in Northern cities like Manchester.
The Huddersfield-based company showcased the official winning grinder of the UK Barista Championships 2015 – the Mythos One grinder from Nuova Simonelli – as well as a three-bean blend of their own design, to be unveiled on November 24 in Istanbul.
"Coffee doesn't have to be bitter if that's not what you like," said Alastair, who drinks seven or eight cups a day.
"There are so many different varieties, and you can get really flavourful, fruity coffees now – there's something for everyone!"
From espressos and lattes to tea and hot chocolate, innovative blends featured heavily among coffee connoisseurs.
"Coordinating all these traders has been manic, and the PR has been a huge job," said Cup North organiser Hannah Davies, also 29, who lives in Stretford.
"But I love it – I wouldn't do it if I didn't!"
Hannah has worked in the coffee industry for ten years, and has seen huge changes over the last decade.
She said: "Back then, in Manchester you could never get a decent cup of coffee.  Events like these are vital in growing a coffee culture in a city.
"The way coffee's been growing over the last 18 months, Manchester could really be the Northern coffee hub in a few years."
The country's growing appreciation for quality coffee has been reflected in the number of people gaining the confidence to open their own shops, as coffee lovers turn away from big brands like Starbucks and Costa.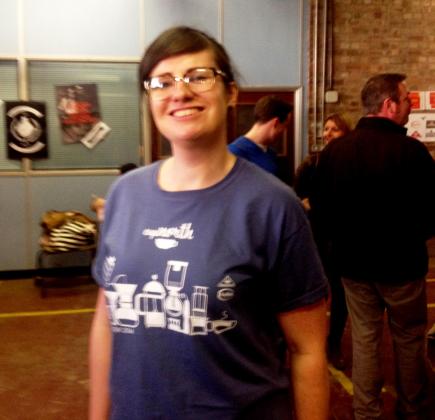 BREAK THE CHAIN: People are turning away from the bigger brands like Starbucks
"They're only interested in profit, and that comes out in the coffee," added Hannah.
"No-one here is 'anti-Starbucks', but people just prefer this stuff."
Alastair agreed, explaining that smaller coffee suppliers had a more personal relationship with consumers.
He said: "I see myself as a coffee partner. We care about how your coffee tastes as much as you do, which is the right way to do things, I think."
After an eventful ten months of planning, Hannah deemed the festival a success, and plans to host the event again in the future.
Cup North is the only major coffee event outside London, and could help cement Manchester's status as coffee hub of the North.
Main image courtesy of Michael Dales with thanks