One of several branches, including Edinburgh and New York, Hawksmoor's Manchester outpost was opened in 2015 to offer the best steaks in the city.
Think heady, broad cuts of meat with artery-clogging dipping sauces and big baskets of fries. But this is no casual steakhouse. Instead, Hawksmoor unashamedly aim for the upper end of the market, offering staples of high end establishments such as oysters, lobsters, and the obligatory fine cuts of grass-fed beef. 
Situated in a old Victorian courthouse, the stairs lead into the dimly lit bar full of trendy people in their thirties sipping cocktails. The décor is muted, all dark wood panels, turquoise leather banquettes, and polished brass which speaks well to the building's origins. The old Victorian pomp is transmuted into a chic, classy interior. 
As part of the restaurant's birthday celebrations, the drinks on offer tonight are part of a takeover by cocktail wizzes the Schofield Bros. They offer a range of takes on classics as well as showing off some of their own creations.
The cocktails use simple ingredients, and are immaculately presented with large chunks of perfectly transparent chipped ice, made by using boiling water and magic. A "Schofield's Clover Club", made with gin, raspberry, and lemon is zesty and smooth.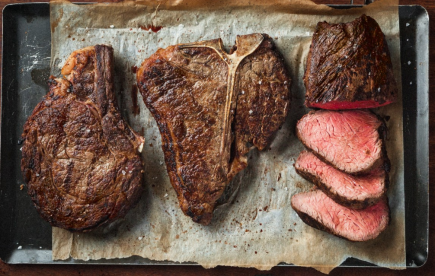 Although the "Rhubarb Negroni" is a good attempt, for me it feels a bit like gilding the lily, though my companion disagrees. The "Cucumber Cooler" however, is excellent, using the Schofield Bros. own vermouth and a cucumber tonic. It's simple but delightfully refreshing. At £5 a go, it's little wonder the bar is packed.
The dining room, in contrast, expands out like the TARDIS. A vast space, with high ceilings and some more of that dark wood panelling. It's a serious room for serious eating. Rows on rows of tables are laid out with sparkling glassware. 
Service is attentive, efficient, and informed. We are taken through the pros and cons of each cut in expert detail. They clearly know their stuff back to front. Sadly, there is no lobster tonight, but I'm sure we'll survive. 
Starters arrive briskly. A crab salad is simple but effective. Fresh, cool white meat is served on toast with ample slicks of mayonnaise. A salad of pea shoots, sliced pickles, and capers gives a heady punch of acidity. A little dark meat might have carried it further, but let's not split hairs. There is smoked salmon the deep burnt orange of autumn leaves, cut into thick, generous slices. It's been left alone, quite rightly, and served with thin slices of brown toast.
This is not pretty or delicate, it's high quality seafood that's not been tampered with. I approve.
In the end, we plump for 800g of prime rib between us, done rare, because I like fat, so shoot me. It arrives seared to the same colour as the cast iron bowl it's served in, with sides of dripping fries, triple-cooked chips, and a selection of sauces.
Done over charcoal, it's a serious piece of meat that has been very well taken care of. The char is excellent and the centre is just the right shade of pink. It's crispy and juicy in the middle, with reams of creamy well-rendered fat running through the centre. It's a tricky thing to pull off when cooking a steak rare, as I have found to my cost, and Hawksmoor manage it excellently. It's what they do.
A béarnaise dip is good, but could use a few more herbs. The anchovy hollandaise though, is an exquisite umami bomb. The anchovy is added in just the right proportion to season the sauce without the strong fishy flavour becoming overpowering. I imagine all the ways I could use it whilst gnawing at the bone left over.
Being a complete glutton, I might have tackled the whole thing alone. However, for those with more concern for their gastric health, the portion is just right for two. 
Desserts are good, but don't pull focus. A blood-orange panna cotta is a touch over set, but is fresh and cleanses the palette nicely. A lemon tart is cool, with crisp pastry. As puddings, they're not the most outlandish options. At the end of the day though, we're here for the steaks, not the dessert.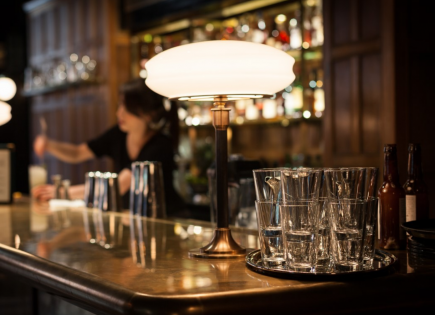 Our glasses are kept topped up throughout with a 2018 Petite Syrah. At the lower end of the wine list, it's an excellent accompaniment. Those of a sensitive disposition would do well to avoid the higher end, which tops out at a Chateau Lafite Rothschild for a nosebleed-inducing £1,750, perfect for any oil-barons or arms-dealers who happen to be in town.
For us mere mortals however, there is a broad selection for less than £40 a bottle as well as several options available by the glass. 
In the corner, amidst the groups of boisterous young men and overdressed, nervous-looking couples picking at their plates, a lone diner peruses Private Eye over a glass of champagne. Under the low-lighting, he seems the very picture of quiet contentment. 
Like Hawksmoor, he clearly knows what he's doing.
Images courtesy of Hawksmoor, with thanks.