Finding a well-priced, relaxing restaurant in Northern Quarter is almost impossible – unless of course you're partial to a side order of arrogance.
The word of the new Infamous Diner had reached my ears a number of times, and after some Chinese whispers, I was expecting an American-style Ritz.
It's safe to say I was slightly underwhelmed to arrive at a very modest looking diner on the corner of Nicholas Croft on the outskirts of Northern Quarter.
Surprisingly however, the outside is no reflection on the interior, which boasts elegance with an injection of the classic all-American-diner.
The @InfamousDiner Big Macaroni burger & the onion rings were so good! Full to the brim! #burger #macncheese #food pic.twitter.com/bjHRvOrwnM

— Samio (@Samiorenelda) August 5, 2015
The whole place is smaller than I anticipated, but it adds to a homely atmosphere difficult to find in restaurants in the ever-popular area.
I managed to fit in a quick interview with the Area Manager, Abbie Blasdale, who spoke about the themes and ideas behind the popular American décor.
"You run the risk of looking tacky, and I think we've got that fine line of it not. There's a lot of Americano everywhere, but we've gone quite classic," she said
"You feel like you're walking into back to the future don't you?"
I have to agree. Many diners I've visited have lacked authenticity by trying too hard, but Infamous blends diner vibes with Northern Quarter sophistication.
#manchester firm @nochintz has won further contracts following its revamp of @InfamousDiner http://t.co/qj0m3uFeio pic.twitter.com/eaNb2e66kq

— BdailyNorthWest (@BdailyNorthWest) August 4, 2015
The floor consists of classic black-and-white checks, whereas the seating areas mix soft pinks and raspberries for a warming touch.
The bar is nothing short of grand, with an impressive display of bourbons and liquors, complimented by the quirky beer bottles which line the shelves.
The walls are laced with 3,000 authentic American number plates flown in from the US, and a jukebox sits comfortably in the corner.
If you're looking for a more lively experience however, according to Abbie, the Friday night Grease mega mix goes down a treat!
On entering the restaurant mid-week, the first thing I noticed was the unusually flat atmosphere, with only a very faint whisper of the jukebox to break the silence.
Despite this, I was greeted almost immediately and asked to wait at the bar until my table was ready.
Our girls lookin pretty in their brand spankin new Candy stripe dresses! You like? pic.twitter.com/Kn7lpowTRR

— Infamous Diner (@InfamousDiner) August 5, 2015
I ordered a frozen strawberry Daiquiri for £7, and my friend ordered the vanilla milkshake for a reasonably priced £4.
For the price of the cocktail, I was expecting something outstanding. Unfortunately, it lacked a great deal of flavour so I was slightly disappointed.
The milkshakes too fell short of expectation. Although my friend described the flavours as delicious and refreshing, it lacked thickness – perhaps just personal preference.
However, it didn't stop him ordering a second one, so they must have been doing something right for his taste buds!
After several minutes waiting at the bar, we were politely escorted to a booth which was clean, extremely spacious and next to a window.
An attentive young waiter, dressed in an authentic American shirt and bow tie, handed us menus and asked if we wished to order more drinks.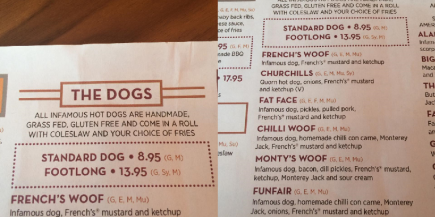 GLUTEN FREE? The appearance of lots of Gs for gluten on the 'gluten free' menu were baffling
Unfortunately, this is where the real problems arose, as despite offering my friend a gluten-free menu, bizarrely, everything still contained gluten! 
After several minutes of being severely confused, the waiter asked if we were ready to order to which we explained our misunderstanding of the menu.
He clarified that the meat didn't contain gluten but the bread rolls, sauce etc. did, which to me, makes little sense. I mean, who on earth orders a hot dog without the bun? 
Serving up The Funfair this evening y'all! It's a carnival for your tastebuds, that's for sure! pic.twitter.com/dBVKhHsLT1

— Infamous Diner (@InfamousDiner) August 4, 2015
Eventually, the manager came to the table, and explained the menu to us in a little more detail. Her knowledge of the food was extremely reassuring, and I was impressed by her efforts to help.
To our surprise, the manager offered to combine a few dishes together to accommodate my friend, who was offered nacho's with chilli con carne and some complimentary sausages and corn.
Although it wasn't my friend's ideal choice of dish, the staff at Infamous went above and beyond to make us feel welcome, and for that, we stayed.
Dial 911… Our Nachos Stack is a house on fire! pic.twitter.com/oL8DtI6i8t

— Infamous Diner (@InfamousDiner) August 2, 2015
For myself on the other hand, I was thrilled with the choice of dishes on the menu. I ordered the NFC chicken in a basket, served with fries and coleslaw for £9.95.
Both dishes arrived within 15 minutes, served in classic diner-style baskets, completed with a small American flag for added cuteness.
Much to my surprise, the chicken was absolutely fantastic – moist, cooked to perfection and bursting with southern spices and herbs.
The fries were to-die-for! Crispy on the outside but light and fluffy inside, with little grease considering they were deep fat fried.
My friend's nachos went down a treat too, which was a pleasant surprise considering the difficulties we faced finding him something to order.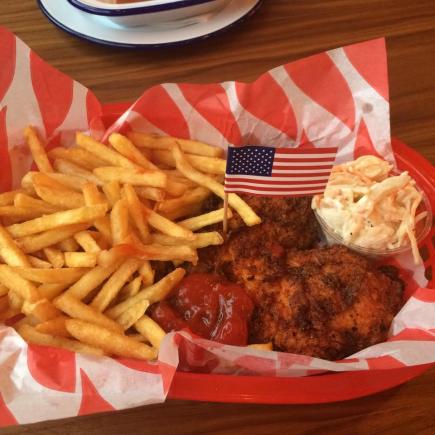 'FANTASTIC': The chicken was cooked and seasoned to perfection and the chips were crispy on the outside, fluffy on the inside
By this point, it was around 8pm and the atmosphere had slowly livened, with the jukebox booming and warm lighting relaxing the room.
The light chatter of children had lessened, and the energetic roar of rowdy students filled the diner.
I was quite intrigued to see such a diverse mix of people at Infamous, after growing accustomed to the swarm of hipsters who infest the Northern Quarter.
Finally got to try the food at @InfamousDiner and it was amazing! @RateARestaurant pic.twitter.com/72VIz38NWj

— Jade Pierre (@j_pierre90) August 1, 2015
During our interview, Abbie and I spoke about the stereotypes surrounding Northern Quarter's bars and restaurants, and how they are often perceived as stand-off-ish. 
She said: "I think we are trying to do something that's very family accessible, where everyone can come in. It doesn't matter if you're young or old, or even have kids!
"I think it ticks all of those boxes."
I must agree that along with the reasonably priced menu, the extremely welcoming nature of the staff certainly makes Infamous stand out from other restaurants in the surrounding area.
Abbie added: "It's a lot about personality, because in the US you get that really friendly service."
What impressed me above everything was the bill. For two mains, two cocktails, and two milkshakes, we were charged just short of £40, a very agreeable amount for what we were given.
For those who like their meat on the bone… Plenty of wings and ribs, including #halal options #diner #food pic.twitter.com/6o1Rwz0llA

— Infamous Diner (@InfamousDiner) July 28, 2015
Despite the fantastic service and great food, however, I couldn't help feeling that the restaurant was still struggling to find its feet.
Some of the younger waiting staff seemed nervous, and the lack of variety for people with dietary needs was concerning.
Abbie said: "We are still in our opening-this is only our second week. Once we get settled, we are going to introduce a lot of diner specials such as corn beef hash and chicken and waffles."
After a few more weeks, there's no doubt in my mind that this restaurant will become one of the hot spots for families and students in the Northern Quarter.
The websites boasts of Infamous being 'Manchester's first American Diner'- a statement I must disagree with. But it certainly stands out from the rest.
With a sprinkle of class and a team of welcoming staff, it's unique. Perhaps it's not Infamous just yet, but it will be! 
A stupendous knickerbocker glory @InfamousDiner tops Sunday off @RateARestaurant @worthafork @ILoveMCR @allofmcr pic.twitter.com/RFlwwq2um2

— KingStreet Townhouse (@KingStTownhouse) July 26, 2015