When invited to the launch of Buffalo Café and Wine Bar we naively didn't realise buffalo would actually be on the menu.
With so many restaurants, bars and cafes in Greater Manchester to choose from, you could be mistaken for thinking that the city had every variety of cuisine covered.
That is until you visit Buffalo, newly launched and ready to impress with their new menu, described as 'American with a Nepalese twist'. So that's that covered too then.
Buffalo Café serves an unusual fusion menu. As a nod to its Nepalese roots, Buffalo meat is used in the burgers instead of beef.
With 90% less fat than traditional burgers, they are ideal for the health conscious among us seeking tasty, filling meals without the need to hop on the treadmill as soon as they finish.
Decorated with exposed brickwork and splashes of red, we were warmly welcomed as we shivered in from the wilds of Heaton Mersey.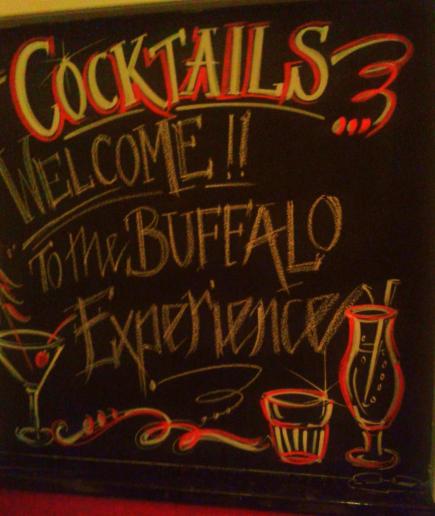 Built around more than just a novelty ingredient, Buffalo Café seems to really care about their ingredients and customers.
Chatting to Chef Steve, he was keen to enthuse about the Asian water buffalo meat ground and prepared in-house, and sourced from a farm in North Wales.
His personal recommendation was the Blue Mac, a buffalo burger with blue cheese alongside a glass of deliciously fruity Merlot.
We were served a selection of tasters from the new menu, buffalo sliders (a mini burger to the uninitiated), buffalo chilli dogs, buffalo meatballs with a butternut squash dip and rather incongruously chicken wrapped in pancetta stuffed with, what else, buffalo mozzarella.
We found the buffalo a lot lighter than beef, perhaps due to the reduced fat content, and as a result much tastier and easier to have seconds.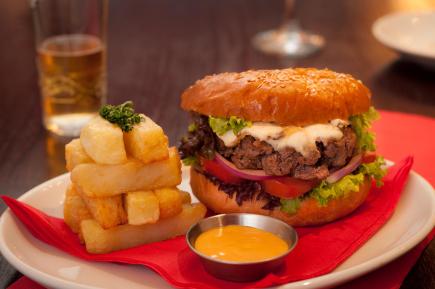 With backgrounds in hospitality and driven by their love quality food and drink, the new foursome of owners are fulfilling a lifelong dream to run a restaurant.
Mrs Tattersall said: "When we agreed to the partnership we were all so excited and wanted to get it just right. We've done a lot of research into what was missing in the local community and from the response we've had so far we think we've added something special to the area."
Local resident Chris Hargrave agreed. "It's fabulous, it has so much going for it," he said. "It gives the balance that was lacking to the local area. The mood changes throughout the day, I come in to work on my laptop on Friday afternoons and in the evenings my wife joins me for dinner and fizz."
The restaurant is built on excellent service and is already regarded as a local gem, something different from the usual gastropub.
We suggest you keep an eye on Buffalo's future events. With upcoming whisky and wine tasting evenings we're sure you'll have as much fun there as we did.
These were some seriously good burgers, and with prices equivalent to any high-end burger chains in central Manchester, we'd say they're worth the trip for the warm hospitality and specialist knowledge of the owners and staff.