Manchester revellers now have a place to party without the need for booze as the city's first alcohol-free bar has opened its doors.
The Umbrella Café launched last Friday and will promote fun and excitement despite there being not a drop of booze in the house.
The grand opening in the Northern Quarter was attended by Coronation Street star Chris Gascoyne and actor and comedian John Thomson, both teetotallers after battles with alcohol.
John, who is best known for his roles in Cold Feet and The Fast Show has been teetotal for seven years is also patron of the café.
And in a buzzing and happy atmosphere he took to the stage to congratulate the directors of The Dry Umbrella, the brains behind the idea, on their achievement.
He said: "It's an honour to be a patron of The Umbrella Café because there's nothing like this in Manchester."
We love our patron @JohnnyThomson2 Drinking is not a spectator sport! So true! Thank you John xxx pic.twitter.com/PqUcUuO0dT

— Umbrella Cafe (@thedryumbrella) September 7, 2014
He told guests that 'drinking is not a spectator sport' and that 'this is somewhere we can come, we can meet and we can socialise and I hope this is a massive, massive success'.
"It's heart-warming and very reassuring to see the turn-out tonight and I just hope it goes from strength-to-strength," he added.
The venue itself was relaxed and there was a great atmosphere as John and Chris took the opportunity to chat to guests while enjoying musical entertainment.
The project is the brainchild of Community Interest Company, The Dry Umbrella, as co-directors Michaela Jones, Debbie Drinkwater and Helen Malarky, were fed up of nights being about booze.
Instead they wanted people to give alcohol a miss whether for health and religious reasons or just because they're having a break from it but wanted somewhere to go in Manchester and still have fun.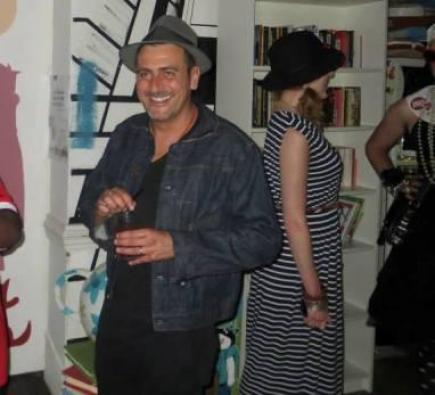 CHEERS: Coronation Street star Chris Gascoyne is now teetotal after years battling alcohol
They wanted to provide a place for people to come together as a community in a safe and friendly atmosphere and not be judged as being boring for not drinking.
The café is open on Friday and Saturday nights from 7.30pm and is held at the Nexus Art Café on Dale Street.
It will provide different forms of entertainment from live music to comedy and will serve delicious mocktails, non-alcoholic drinks consisting of a mixture of fruit juices or other soft drinks.
A step forward for the community the café will provide an alternative to drink-fuelled nights out notorious in Manchester without taking away the pleasure.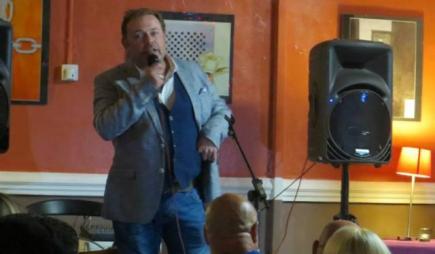 STAND-UP: John is a patron of the café after battling alcoholism
John added: "I hope this project is a huge success and gains a reputation as being somewhere cool and exciting to go without the fear of the atmosphere turning sour because of different individuals' adverse reactions to alcohol."
Image courtesy of Facebook, with thanks