Veganism's rise from quirky dietary habit of the hippies to Hollywood A-lister's part time food fad has given it a bad rap in recent years.
Are people taking up veganism simply because 'it's trendy'?
Manchester Vegan Society this month celebrates its tenth year of promoting an animal product-free lifestyle with a packed calendar of celebrations across the city, and is encouraging anyone to give veganism a go.
MM caught up with Lynnmarie Mellors, moderator for the group's 1,000 North West members, to try and bust some of the myths surrounding veganism and why the group has no issue with anyone becoming vegan 'because it's trendy'.
Lynnmarie, who describes her role within the group as 'rallying the troops', works tirelessly promoting the vegan cause in Manchester, organising events for the group's network of members and also presiding over the newly formed Vegan Society at Manchester Metropolitan University.
"Our main thing is vegan outreach," Lynnmarie told MM. "That covers a multitude of things including simply advising people who are interested in veganism. Whether they are considering becoming vegan or just interested generally in the vegan diet, we allow and encourage people to be members and attend our events who are not vegan.
"But, like I say, we've got vegans and non-vegans all mixing together. Some of us do animal rights stuff, some of us don't. People have the idea that all vegans are mad animal rights activists – that isn't true – some are, some aren't – and we'll facilitate everything vegans want to do as long as it's legal!
"My own view is that if you're more open, you get rid of the myths that being vegan is somehow weird and that we're 'the other'. You know, we're all different: vegans aren't hippies wearing sandals, we're definitely not. I'm a proper football-head which people find really funny!"
Veganism is the practice of abstaining from the use of animal products – and there are now 150,000 'full-time' practising vegans in the UK alone.
The term was first coined in 1944 by Donald Watson, co-founder of the Vegan Society, and was intended to mean 'non-dairy vegetarian', but later to refer to 'the doctrine that man should live without exploiting animals'.
As one of the strictest diets, it rules out the consumption of meat, but also products deriving from animals, such as milk, honey, leather or wool.
Famous adopters of the regime include Tobey Maguire of Spiderman fame, Emily Deschanel, star of detective drama Bones, and legendary dance musician Moby.
About one in 400 in the UK are vegan. But that figure is dramatically higher in the US, where it is estimated one in 150 are now vegan.
With vegans 10-20 pounds lighter than their carnivore counterparts, and with reduced chances of developing diabetes, heart disease, and strokes, there are certainly health benefits to going meat-free.
For anyone wanting to follow in Beyoncé and Jay-Z's lead, after the pop couple famously took up the meat-free diet late last year, Lynnmarie said the group has absolutely no problem with that.
"They've got better now over the years," said Lynnmarie on city restaurants' provisions for vegans. "There were only three places where you used to be able to get vegan food.
"Now it's expanded rapidly because it's become quite trendy to be vegan now.
"Beyonce and Jay-Z going vegan for 22 days and then turning up at a vegan restaurant wearing a fur coat slightly defeated the object, but it is still a little bit trendy and the provisions have improved a lot."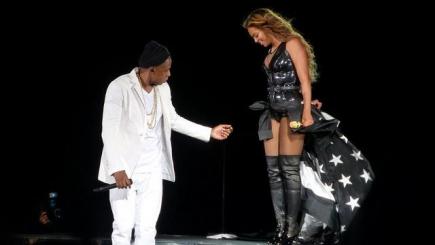 NO HONEY FOR QUEEN BEY: Beyonce and Jay-Z became 'part-time' vegans when they did the 22-day challenge (© Erin Benson)
Queen Bey and her 44-year-old hip hop husband completed the 22-day PETA vegan challenge nearly a year ago for a 'spiritual and mental cleanse', but it made waves in the entertainment world with fellow star J-Lo jumping on the bandwagon and commenting, 'You do feel better. I do recommend the vegan diet because you wake up and feel great!'
With just three restaurants in the UK's second biggest city offering vegan catering only a few years ago, MM asked Ms Mellors if things had changed and where she now likes to eat out in Manchester.
"You've got places that do great vegan provision that aren't vegetarian. Ning on Oldham Street is pretty good, and one of the owners there is – or at least was – vegan, so they've got some concept of what is involved.
"And of course, 1847 now, too, which is vegetarian, not vegan. So you've got all these new places; it's good, it's expanding, and of course, you've got all of the old classics like Mod's at the Thirsty Scholar."
Naturally, with an animal-free diet, a big focus of the dietary movement is on animal rights, but Lynnmarie argues that it's not at the core of all their members' beliefs.
"We're advocating veganism, so we encourage any kind of vegan lifestyle," she said. "So it doesn't matter if you're not into animal rights, that's not what we're about.
"People might go vegan for health reasons, and strangely, you know, a lot of people who do that do come round to the animal rights angle of it in the end. You might not necessarily become actively involved with animal rights, but you naturally become aware of the animal welfare aspect of the diet."
When a cow can no longer produce milk, she becomes DOG FOOD or LOW-GRADE MEAT. RT if u know cows deserve better! pic.twitter.com/au8ZLsGyIi

— PETA (@peta) September 19, 2014
She told MM that very few make the transition from meat-eater to vegan straight away: a far more natural progression is through vegetarianism.
Describing the personal background of fellow group organiser Linda Sever, she said: "Linda grew up on a pig farm in Ireland on a very meat-heavy diet, and as soon as she left home she became vegetarian, and vegan soon after. That's true of a lot of our members – they become vegetarian or vegan when they leave home, when they get the opportunity to be."
And as for Lynnmarie, she said she hasn't been vegan all her life, but has been for quite a few years.
"The reason I'm vegan is basically because of the animal rights aspect. I've always, from a very early age, connected animals with meat. Some people seem able to separate it, but I wasn't able to, so as soon as I was able to become vegetarian, I became vegetarian and it just was a natural progression to veganism.
"I have no issue with why people become vegan. If they become vegan because it's trendy, that's fine. If they stay vegan, that's absolutely amazing. If they just want to be vegan once a week or when they're with us, that's amazing as well – I'd rather that from my point of view because it saves a few animals' lives!
"It's not a cliquey group and it never has been – we wouldn't survive if it was. We wouldn't still be here 10 years later if we were shouting at everybody about what shoes they should be wearing!"
The group holds a monthly social on the last Saturday of every month, and hosts a weekly 'meat-free Monday' event in the city centre, a 'perfect opportunity' for non-vegans to give the diet a try.
They are holding a celebration of their 10 years this Sunday , and encourage anyone considering joining the group to get in touch via their Facebook group.
Main image courtesy of Nancy Regan, with thanks.