Perched inside a large garage near Ardwick Station, Squawk Brewing Company is one of Manchester's hidden hoppy gems.
There are no flamboyant signs or fleets of branded minivans to tell you that you have arrived at one of Manchester's youngest breweries – established as recently as November 2013.
Oliver Turton – all-in-one owner, brewer and distributor extraordinaire – greets me cheerily at the door.
"I'm quite nervous about this to be honest", he says gingerly, although he is every inch in his comfort zone in the world of real ale.
Visitors to the cosy microbrewery in Tonge Street, Ardwick, are welcomed with several large vessels – a fermenter, a water heater and three tall distillers.
These all help create a regular brew of nine barrels from each batch.
Several bottles of the aforementioned beer stand invitingly on a table in the corner – the Squawk IPA (ABV 6.7%) and a Squawk Porter (ABV 5.5%).
That does not complete the range, though – there is also a pale ale and a stout.
These four beers have taken Manchester by storm in the last few months, with Beermoth, The Liquor Shop, Soup Kitchen and The Font Bar among the bars snapping up Squawk's brews.
Oliver is enthusiastic about the brewery and the industry as a whole.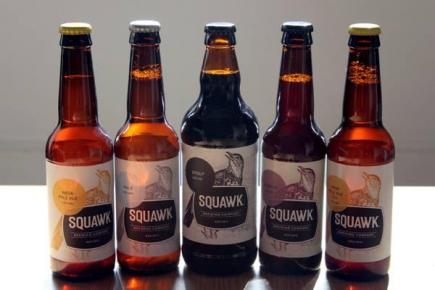 GOT BOTTLE: Squawk's current range of ales and stouts
He has had only good experiences so far and has been welcomed into the brewing community.
"It's a really friendly industry. Ever door I've knocked on, they've been really friendly. Other small breweries are quite willing to share information and knowledge – it's a lovely thing. It's not like a closed industry."
He speaks in depth about the technical side of his craft – water treatment, fermentation and much else besides.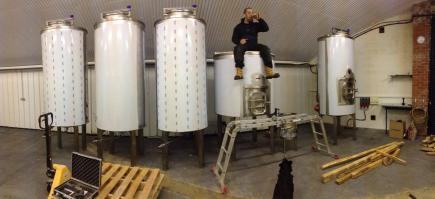 ON TOP OF THE WORLD: Oliver Turton is drinking in the success
It is not without its hard work, though.
One-man band Oliver handles every part of the business and works alone, mixing his brewing duties with distribution, social media and administration.
"I was up until about two o'clock in the morning on my computer and then back here at half seven!" he says.
"I've been starting to feel it. My body's starting to fall apart!"
Oliver is no stranger to a hectic work environment and used to be a chef before he started home brewing alongside a fellow cook a few years ago.
"We used to nick the big pans [from the kitchen]," Oliver says. "We made a couple of passable beers, nothing amazing.
"I became obsessed with it – it was all I ever did."
After much experimentation, he started to hone his skills and gradually the idea for Squawk started to materialise.
It took a while to put everything in place – the equipment, the brand, the beer itself – but eventually Oliver started brewing full-time at his Tonge Street base.
The four ales have started appearing in shops around Manchester and parts of Yorkshire this year.
So Squawk was quickly established in the craft ale market – but what should Oliver do next? Stick or twist?
"I might do two or three core ales but I don't want to get stuck doing the same thing over and over again," he says.
"I want to experiment – mess about with different ingredients, different sorts of yeast – and keep it fresh."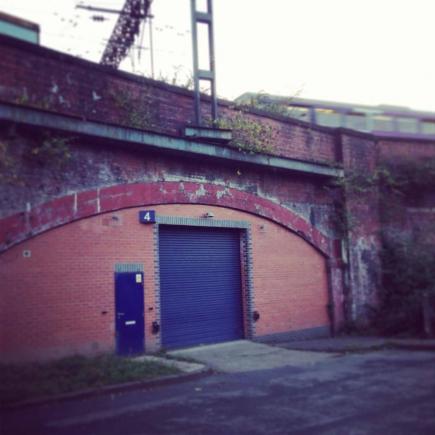 OPEN SESAME: Who'd have thought this inconspicuous door in Ardwick hid an Aladdin's Cave of brewing magic
Despite the brewery rising quicker than yeast, any plans to see Squawk ales in the aisles of the big supermarkets will have to be shelved.
"I couldn't supply supermarkets. You'd need to have got a lot bigger and be brewing 40 barrels per brew."
That idea will have to be left to ferment but should not take any shine of Oliver's work so far.
To be able to produce (single-handedly) the amount of beer he does, in a brewery that he drives over 20 miles to get to, is an astonishing feat.
He has been able to launch Squawk Brewing Company despite fierce local and national competition: there are now more than 1,000 breweries in the UK.
The beer market in this country has not been that large since the 1920s, while the 'craft brewery' sector – small-scale brewers working in small batches, but producing big flavours – is growing by 71%.
The pubs also reflect this surge in small-scale beer production with a quarter of UK licensees now stocking a craft beer.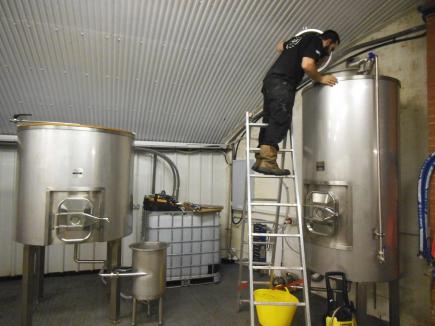 LIFTING THE LID: Oliver inspects his brew
Oliver recognises this growth, too.
"There's a lot of breweries opening. As long as people are getting into it, I think they'll be room for us. I'm quite optimistic about the whole thing."
"Obviously some people are going to go bust. Some people start a brewery and don't realise how hard the work is.
"It's physical work – everything weighs 40 kilograms or more!"
The transition from drinking Foster's or Carlsberg to drinking real ale can often prove to be a good move in terms of cost and quality.
Oliver likes the idea of drinking local produce – and many people would agree with him on that.
"It's dead interesting coming away from the mass-produced beer and deciding to drink something that's brewed down the road.
"You're never really far away from a microbrewery. There's one 200 yards away from here."
Privateer Beers is just round the corner on Temperance Street – it has been brewing only slighter longer than Squawk, and was founded in 2012.
Squawk, meanwhile, has come a long way in less than a year.
Bottles of their ales have flown off the shelves with a lot of positive feedback from stockists.
One bar was left Squawk-less after it shifted its entire stock.
"The Soup Kitchen sold it all in [one] weekend. They e-mailed me the following Monday and said 'can we have the same again?'"
The beacons seem to indicate that Squawk has been a big success.
From appearing at beer festivals, to creating the 'Keep it Real Ale' with Mr Scruff, the brewery has gone from strength to strength.
It continues to expand and interest is growing, with more and more bars now stocking the ales.
Oliver has even suggested that he may need to get some help on board.
It has been his venture from the start and a project that he has full control over and delegating some of that control would perhaps be against his ethos.
 "There's never really a typical day. I never really stop."