Not many restaurants have a quote from Antoine de Saint-Exupéry's The Little Prince written above their door: "All grown-ups were once children… but only few remember it."
But stepping into Tomfoolery at 34, which opened on Alderley Edge's London Road on July 28 this year, is like entering the world's best playgroup for adults.
There are arcade games in the corners, pictures from classic children's films, and more games on the tables.
Mine had The Avengers Top Trumps, Connect 4 and an eighties trivia quiz, which I lost – inevitable when your dining companion is your mother and, unlike you, lived through the decade.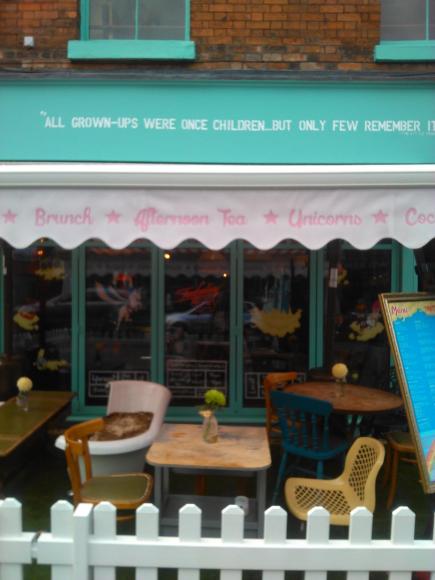 TOMFOOLERY AT ANY AGE: Nostalgia is the key at Alderley Edge's new eatery
The restaurant, created by Manzur Iqbal and Laura Burgess, has a laid-back simplicity which makes it stand out in the upmarket Cheshire village as much as its neon-signed exterior does on the high street.
We were there for brunch, but the menus, which are on clipboards and decorated with cartoons of everyone from the Care Bears to George Orwell, offer afternoon tea and burgers as well.
In case the eighties trivia quiz didn't tip you off, Tomfoolery at 34 is aimed unashamedly at the nostalgia market, but it's fresh and vibrant enough to draw in customers on its own merits.
The spacious interior is eye-poppingly decorated, with wallpaper patterned in tigers, tartan and Hans Solo, and a mix of second-hand chairs and fittings such as a model shark's head and a cut out of Chief Wiggum from The Simpsons.
The walls are decorated with famous paintings with cartoon figures stuck in the middle, typical of the restaurant's irreverent tone.
Even the crockery is mixed – my (very good) Earl Grey came in fine china, but my mother's flat white coffee was in a Thundercats mug.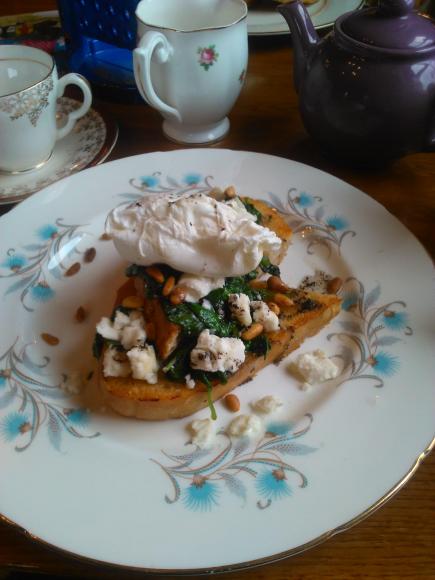 RUNNING UP THAT HILL: Poached eggs on honey-glazed, toasted bread
But despite their playfulness in decorating, it soon became apparent that the Tomfoolery team are serious about straightforward, good-quality food.
Everything is home-made and they use local suppliers.
Neither of us had meat, but according to their website they use free-range meat only.
The hot drinks came with deliciously crisp home-baked miniature shortbread biscuits and the fruit juice, which was, again, quirkily served in jam jar glasses, was freshly-squeezed and very refreshing.
There was a wide range of options on the menu, but as a Kate Bush fan I had to choose the intriguingly named Running Up That Hill – a poached egg with cooked spinach, goat's cheese and toasted pine nuts, served on honey-glazed, toasted, crusty bread.
Like the design scheme, it was a mix of different ingredients which could have been overwhelming, but proved to be just right.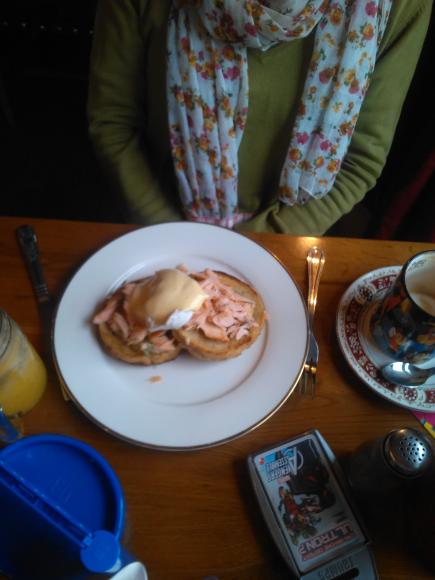 EGGS BENEDICT: Succulent home-smoked salmon on a breakfast muffin
The mix of sweet and savoury tastes and soft and crunchy textures balanced each other out beautifully.
My mum's dish was equally tasty, a muffin with succulent home-smoked salmon, poached egg and hollandaise sauce.
Chef Brice Moore has a gourmet pedigree that shows in the simple but mouth-watering food.
He's previously worked at Michelin-starred restaurants Gidleigh Park in Dartmoor and Paul Ainsworth in Padstow, as well as Manchester House on Bridge Street.
The food cost £6 for the smoked salmon muffin and £5 for the Running Up That Hill, a very reasonable price for a solid meal that would set you up for the morning and afternoon, and the waiter was prompt and helpful.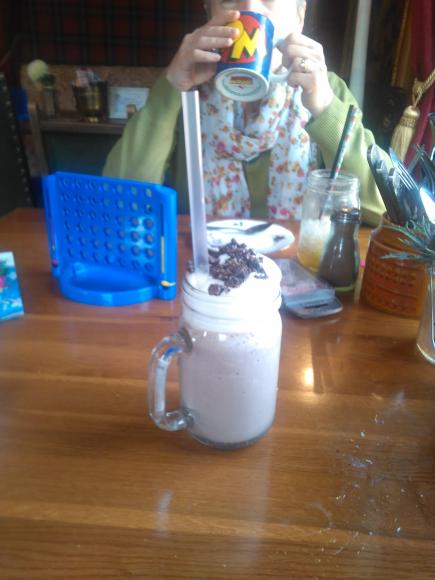 CHILDHOOD PLEASURES: An oreo milkshake rounded off an enjoyable brunch
He also urged me to try one of their chocolate bar milkshakes, so I finished up with the Oreo one, in keeping with Tomfoolery's carefree air of returning to childhood pleasures.
It was perfectly made – thick and creamy with a crunchy biscuit topping.
Tomfoolery at 34 are looking to attract more customers in the next few months, including over Christmas.
They'll be showing beloved children's films throughout December, starting with Lady and the Tramp and ending with Home Alone, and offering a special Christmas menu, if you fancy trying 'hash browns, pulled turkey, sprout and egg' for brunch.
If you're in the Alderley Edge area, I highly recommend Tomfoolery at 34 for a truly one-of-a-kind dining experience.
Tomfoolery at 34 is open from 10am to 10pm on Tuesday to Sunday and doesn't take reservations apart from Christmas bookings in December.