Manchester's latest micro brewery is aiming to turn back the clock and bring the taste of sour beer back to the city's burgeoning ale scene.
Chorlton Brewery was opened in November 2014 by local brewer Mike Marcus, who came up with his own unique recipes after months of researching and travelling to Europe's best beer scenes.
The 42-year-old former fine artist, from Old Trafford, sold the first batch of his new product in January and told MM about his unlikely career change.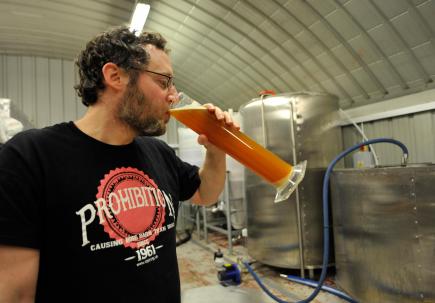 ALE TO THE KING: Mike enjoying one of his craft beers
The Saint Martin's University of the Arts graduate said: "After doing my MA, I became very cynical about the purpose of art. 
"Also around the same time I was discovering brewing and I found a different way of putting my personality out into the world. 
"As an artist, you are essentially making something very few people care about and likely so there is no reason to care about art because in reality art doesn't do anything where as beer does.
"Other than the taste, it also acts as a social lubricant."
Proving that he takes control of every stage of not only the brewing process but everything either side of it, Mike recently suffered an injury when unloading bottles from a delivery van. 
After some miscommunication between himself and the delivery man, a box of bottles slipped from their grasp and came crashing onto Mike's leg, breaking it.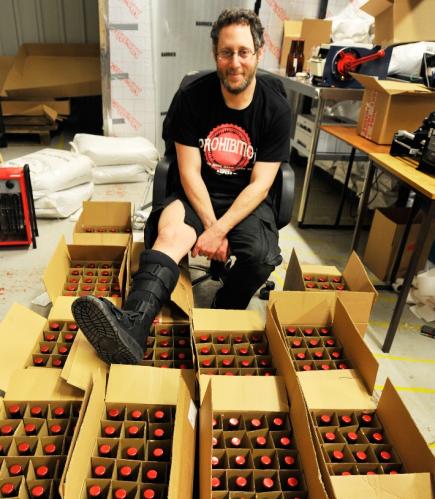 CRACK A BOTTLE OPEN: Mike broke his leg when he dropped a case of bottles 
Always one to see the funny side, Mike even temporarily renamed his brewery on his Twitter account, changing it from Chorlton Brewing Co to Broken Leg Brewing Co. 
Now back to its true name, Chorlton Brewery currently has three different beers on offer including Yakima Sour 6.5%, Dark Matter 6.8% and Woodruff Berliner 3.8%, which are already being distributed to London, Sheffield, Leeds and Bristol.
The Berliner Weisse is one of the sourest beers on offer, which is a take on the traditional beer of Berlin created hundreds of years ago, that sources real woodruff with no artificial flavours and colours added.
Mike explained that he was a huge advocate of old-fashioned brewing techniques and that he aimed for this to come across in his creations.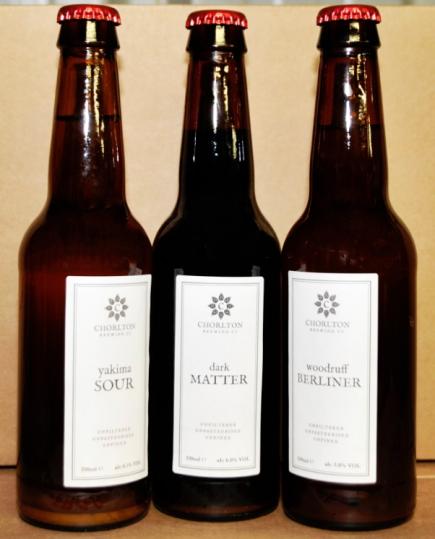 BEER ME UP: Chorlton Brewery have a range of ales on offer
Mike said: "In this brewery we are taking German and Belgium brewing traditions as a base for our brewing techniques.
"I've been to Berlin a couple of times now and two years ago I spent the whole of the summer there doing research.
"We are planning on going to Belgium as well to do a lot of research and bring all the information and knowledge back to our brewery, then apply all that knowledge to our brewing technique."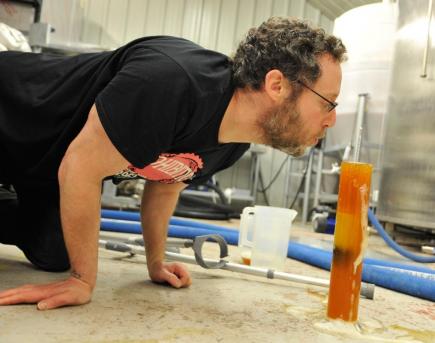 IT'S A TOUGH JOB, BUT SOMEONE'S GOT TO DO IT: Mike is happy to sample his produce
Chorlton Brewery is also currently working on an IPA – a very bitter and hoppy beer – which will be their fourth craft ale.
"We don't only make sour beers – we now have four beers in the whole range," Mike said.
"We are using sandalwood in this beer and making it a little bit different from the other IPAs. It will be a bit stronger, fuller and a bit more fragrant."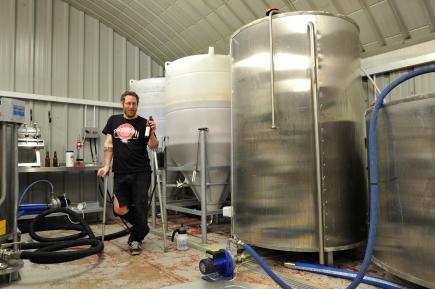 TANK YOU FOR COMING: Mike gave MM a guided tour
The 42-year-old explained that industrial brewers are killing the art of brewing and that he intends to keep the brewery as an independent business.
Mike added: "In the future they might be similar breweries like this in other cities but it will always be a small business.
"We will always be a micro brewery and have no intention of joining an industrial brewery or become one."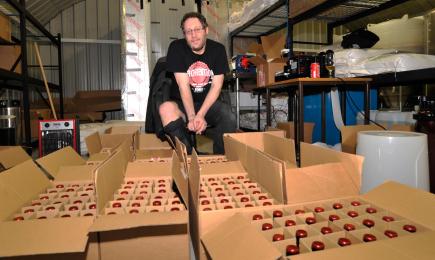 BOX CLEVER: Mike is distributing his ales across the country
You can visit Chorlton Brewery's website by clicking here. 
All photography by Koray Erol.