If you're new to Japanese food, Castlefield's laidback Sapporo Teppanyaki could be the perfect place to start.
Split into separate teppanyaki and sushi areas, the Liverpool Road restaurant gives diners the chance to experience two very different styles of Japanese cuisine.
In teppanyaki territory, expect flame-tricks and theatrics from chefs at the hotplate – ideal for groups wanting a little excitement with their dish.
For a more relaxed setting, head to the sushi bar, grab a cocktail and look out over Castlefield's amphitheatre.
Sapporo Teppanyaki puts an Asian twist on western tipples with saké Mojitos and Hakushu-based Old Fashioneds on the menu.
Head chefs are flown back to Japan once every year to source recipes and the restaurant has recently added some new sushi dishes.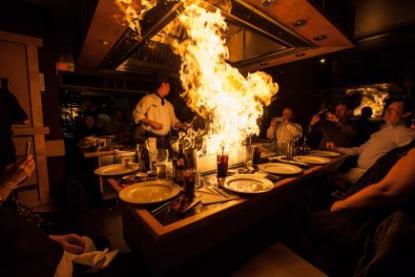 HOT STUFF: A chef entertains diners at Sapporo Teppanyaki
The staff are effortlessly friendly and keen to explain the impressively extensive menu.
The crispy prawn tempura is delicious and, although fried in a thick batter, feels remarkably guilt and grease free.
With the spider rolls, avocado and cucumber add freshness to a rich combination of tender softshell crab and fiery tobiko sauce.
The Green Heart sushi – chicken teriyaki with rice wrapped in nori and spinach – is highly recommended for those not so keen on seafood.
Although it's fair to say that there aren't many options for veggies in terms of sushi, the flower rolls on offer are crunchy and fresh.
Wakame seaweed and fried tofu with beansprout salads are also on the menu for people looking for a lighter meal.
The rolls sizes at Sapporo Teppanyaki are generous to say the least, and trying to stick the traditional method of eating each roll in just one bite proves tricky.
If you don't mind getting messy in front of your fellow diners, however, you can sample a range of fresh sushi at a reasonable price.
With an average cost of around £8.25 for either four or six rolls per plate, Sapporo Teppanyaki offers a full stomach and free entertainment from the chefs – without breaking the bank.
And if the tobiko sauce wasn't spicy enough for you, finish off with the eye-watering Nomimasu cocktail – a mixture of golden rum, passion fruit syrup and a hefty scoop of chilli flakes!
Image courtesy of Sapporo Teppanyaki, with thanks.