Being welcomed into the almost-hidden tinted façade of Spinningfields' newest offering, Tattu, it's hard not to feel like you've been extended an invite for dinner from a Chinese triad.
Inspired by the Orient's influence on body art, this new player in Manchester's burgeoning restaurant scene has carved out a new niche in its delivery of contemporary Asian cuisine.
The interior is nothing short of incredible. At the centre, the imposing – and totally real – 4-metre-tall cherry blossom tree dominates the restaurant, while maritime detailing sees the ceiling transformed into veins of rope.
Over a bridge, the half-open kitchen gives diners a view of their meals being prepared and paraded to them across a culinary catwalk.
But it's easy to get carried away with the design. As Manchester – and indeed, Spinningfields – becomes more saturated with quality food offerings, each new contender needs to raise the bar just a little higher.
Tattu has got off to a good start, though, with both the head chef and head dim sum chef being sourced from the celebrated Hakkasan Group, which boasts Sake No Hana and Yauatcha on its menu of restaurants.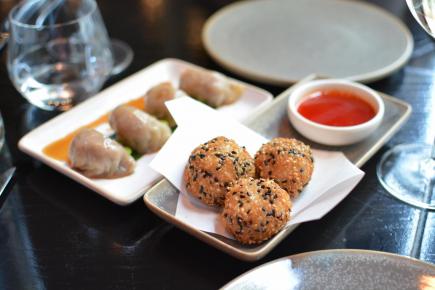 TATTU TAKE ON TAKEAWAY: The lobster and prawn toast (right) was on the right side of stodge, while the gyoza was reminiscent of golden syrup pancakes
To start – dim sum. Intrigued as to how they would take on a Friday night takeaway staple, I opted for the lobster and prawn toast with sweet and sour chilli sauce (£9).
Three large balls arrived, the outside coated in sesame seeds, the inside a firm, delectable bite into the minced lobster and prawn. It lacked that deep-fried, cardiac arrest-inducing stodge that comes as a given with prawn toast.
My partner, throwing animal rights to the wind, chose the beef and foie gras gyoza (£8), drizzled with a teriyaki sauce and accompanied by soya beans.
Forging a cross between the crimped contour of a Cornish pasty and the translucent skin-like texture of the dim sum delicacy har gow, the gyoza was wonderful – though did bizarrely taste like a golden syrup pancake.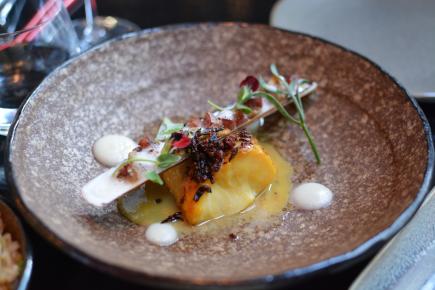 SMALL, NOT OVERINDUGLENT: The saffron miso black cod was over before it had begun
For the main, I chose the saffron miso black cod (£24), served with razor clams, lap cheong, kohlrabi, sea spray and sweet wine jelly.
Beautifully presented, it was a small portion but enough to not be overindulgent. The cod, exquisitely soft, felt like biting into melted butter, while the lap cheong (Chinese sausage) lardons were a powerful contrast in texture and taste. Needless to say, it felt like it was over before it had even begun.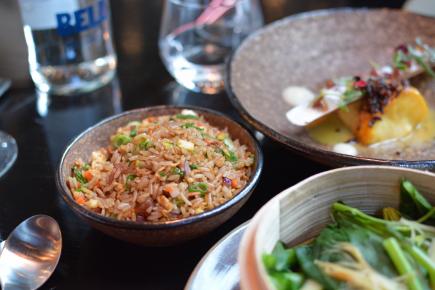 STANDARD: The duck egg and sausage fried rice hit the spot
Accompanying was a generous helping of duck egg and sausage fried rice (£5) – pretty unremarkable, but with no complaints.
Frustrated that she couldn't go for the same, my partner chose the Black Angus fillet with shitake, asparagus and caramel soy (£26).
Just bloody enough to still preserve the taste, the five thick slices of beef were intended to be dipped into the frothy bowl of caramel soy, a quirky creative touch.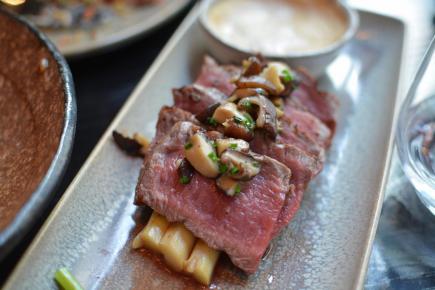 VEGETABLE RESPITE: The Black Angus fillet's asparagus addition diluted the meat-heavy dish
Peppered with a sprinkling of tender, diced shitake mushrooms over the top, the three long stalks of asparagus propping up the concoction were a much-needed vegetable respite from the meat-heavy dish.
Having thought about this in advance, my partner chose the steamed mixed vegetables, ginger and garlic (£5), served in the traditional bamboo basket, but the limp, dishevelled greens got cast to the side fairly quickly.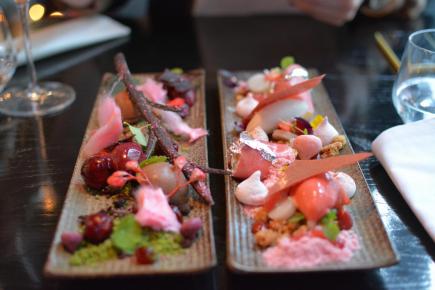 DISAPPOINTING: Tattu's fancy desserts had more flair than flavour
And then, just when it was all going so well, the desserts happened.
Sharing between us the 'Cherry Blossom' (£8), made up of chocolate, miso and cherry; and 'The Silk Road' (£8), with strawberry, lychee and rose; the descriptions on paper were vague enough to sound appealing.
What arrived was visually striking – two long, thin plates filled with an assortment of shapes and highlighter-shade colours – but unfortunately a bit too ambitious.
It was a confusing mix of too many different things – candy floss, broken biscuit and what appeared to be powered pistachio all competing for some room on the crowded plates. Perhaps if there was less, we might have reluctantly finished it.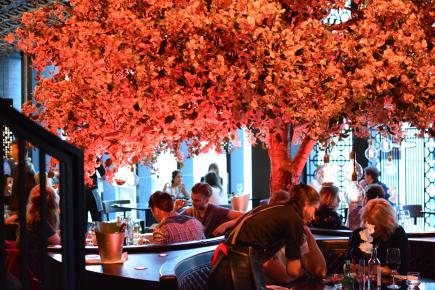 INCREDIBLE INTERIOR: The real 4m cherry blossom tree is stunning
But it's very easy to let the final course taint a meal, and that would be a shame, because the first two courses were good. Very good.
To see the tree alone is worth eating out here – it just helps that they can cook a pretty mean main course.