A Manchester restaurant has created the ultimate anti-Valentine's Day treat for food lovers – a macabre ox heart burger served RAW.
My Bloody Valentine was dreamt up as a rebellion against romance and sentiment, but it does consist of a few well-known aphrodisiacs including truffle oil and garlic, in addition to the less seductive raw burger.
The dish was created by the owner of Manchester's Splendid Kitchen, Mike Edge, and head chef Sam Longhurst, in the hope of appealing to customers who cringe at the romantic menus on offer at this time of year.
Mike said: "We are not the sort of restaurant to do a Valentine's menu, catering for two people eating together by candlelight. We wanted to do a playful spin on Valentine's Day, keeping with the 'heart' theme.
"Although we have a lot of couples coming in, we're definitely not a romantic venue and we wanted to reflect that with the dish."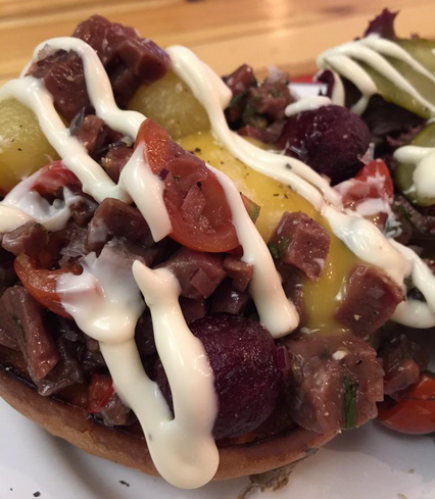 50 SHADES OF RED: The raw burger is certainly not for the faint-hearted
In a similar method to steak tartare, the heart tartare burger is created by finely dicing the meat and adding red wine vinegar and lemon juice, capers, diced red onions, finely cut chillies, olive oil, basil and mint to create a burger patty.
The burger is hollowed out in the middle and filled with an egg yolk before being topped with capers, truffle mayonnaise, roasted beetroot, rocket and garlic crisps.
Despite its gruesome title, Mike said he is keen to reassure customers the dish will not be oozing blood.
He said: "We order in the meat as a full ox heart and cut it down. On the plate, it won't have blood running off it because with heart meat that only happens when you cook it and we're serving it raw.
"We had a go of it a few times to make sure we got it right. The flavours are balanced and work well, and that's the most important thing. In terms of how it tastes, it's most similar to a rare beef steak but with a more heavy flavour, slightly more iron-y. It's exactly what you would expect from something that pumps blood around the body.
"We chose ox heart because it's closest to beef, which is something people don't mind eating pink or raw.
"We were torn between ox or lamb heart, but this has a more meaty taste and is a good introduction to offal. And chicken heart would have been out of the question, purely because they're so small."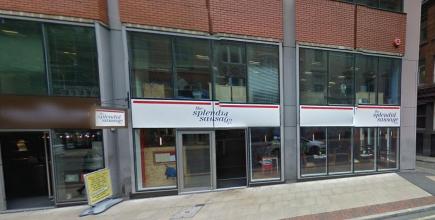 NO CANDLE-LIGHT HERE: Splendid Kitchen's raw heart burger is 'anti-Valentine's' (image courtesy of Google Maps)
Mike has been sharing pictures of the burger on Twitter and has received a mostly enthusiastic response – though is unsure how many customers will be brave enough to try it.
He said: "Some people have come back to me on Twitter saying they can't wait to give it a go, so I think it will go down quite well. People are always willing to try new things."
My Bloody Valentine is available from Friday February 13 at Splendid Kitchen and is priced at £9.50.
Story via Cavendish Press.
Images where not indicated courtesy of Splendid Kitchen, with thanks.