Pop-up restaurants have been 'popping up' (excuse the pun) with increasing frequency across Manchester. 
While somehow managing to have avoided them so far, experiencing Tampopo's temporary set-up in Exchange Square makes me think I'll be popping in (there we go again) more frequently from here on.
But what is it that sets it apart from the tried-and-tasted method of restaurants?
What could you possibly get from a pop-up restaurant – which by all accounts is much smaller and has much fewer facilities – that you couldn't get from a building specially designed to feed dozens of people at a time?
Well, for a start there's genuine atmosphere. You're not sat in a corner of a dingily-lit room, waiting 15 minutes trying to catch the waiter's eye because you're dying for another glass of wine.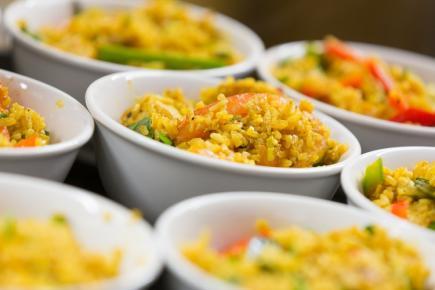 TASTE OF ASIA: Tampopo offers an authentic Asian street food experience
Whether you're sat under the covered area, or on the tables set just outside on the square, there's a social atmosphere which you don't get from your average restaurant.
Whilst many people might see privacy as a positive element of your everyday dining-out, it's nice sometimes to do something different and to embrace the variety of city life.
The pan-Asian cuisine lends itself very well to street food. While speding time in Thailand, I found a majority of the food is served in this style by the locals.
Also the food at Tampopo is of a much higher standard than your usual fare from street vendors.
On display at the opening were coriander-and-chilli marinated chicken thighs – which were genuinely the juiciest chicken I've ever eaten – as well as Asian-style sandwiches, tofu wraps, and several different Asian-flavoured rice and noodle dishes.
But it's not just about the food. It's all about the 'dining experience'. I realise that sounds incredibly pretentious, but we've all been to restaurants before, and you know exactly what you're going to get.
Why not take a step outside the norm and try something different? Tampopo's pop-up is certainly the place to do so.
There are, however, a couple of problems caused by the limited nature of the pop-up restaurant.
The toilet situation, for example, is basically 'walk across exchange square to the Arnedale' or 'go to the pub next door'.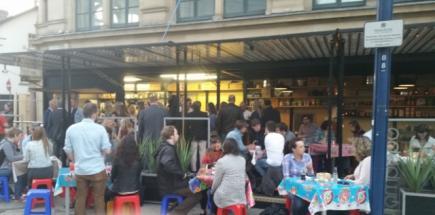 SIZE ISN'T EVERYTHING: The pop-up restaurant is clearly a big hit 
And sitting on plastic stools with tables only really large enough for children to sit at is not exactly comfortable but I'm being picky.
These are small concessions that are well worth putting up with for the experience, and which, for the most part, add to the genuine 'feel' of something you'd expect to find in a Bangkok street.
With some of the tastiest Asian food you'll be able to find in Manchester, for very reasonable prices, and an authentic experience, Tampopo will be the name on your lips next time your friends ask you for a restaurant recommendation.
Tampopo is temporarily based in Exchange Square while their new venue undergoes a £30million refurbishment.