Didsbury's latest addition to its eclectic foodie scene, CAU, is well and truly a cut above the rest.
The Argentinian steakhouse has taken over a spacious ground floor bar, restaurant and outside heated terrace on the corner of Wilmslow Road and Norgate Street – where Zizzi used to be – and they've done so in style.
The interior is sleek and stylish, dominated by cool shades of grey – very modern and minimalist but with some interesting twists to make it a pleasant change from all the other modern and minimalist eateries we see popping up these days.
It's got a very 'ooh new and shiny' feel about it – seriously the seats in the booths are so shiny they look hard but they're not hard and they're not too soft either but just right (goldilocks would be impressed).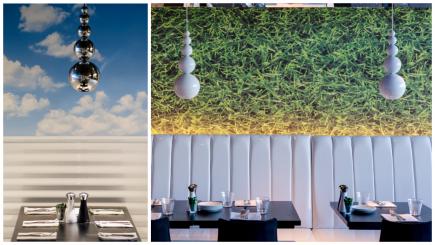 CLEAN CUT: The cool greys and sleek lines of CAU's layout are jazzed up by splashes of grass green and sky blue
But the splashes of colour – prints of bright green grass and blue skies with puffy white clouds – dotted around add a bit of fun and flair to the otherwise sleek and stylish layout.
These little eccentricities, along with the cow/CAU puns, are your first hint of the creativity poured into every aspect of this dining experience and, of course, the menu.
We started out by exploring the cocktails – where else would you begin a night out?
Indulging in some pre-dinner cocktails at @CauDidsbury. Delicious! Can't wait for food #sohungryIcouldeataCau #steak pic.twitter.com/tMZrBXoVWe

— Kimberley Reader (@kj_rdr) November 12, 2015
Most the concoctions were a personalised and (this is the first time I've ever been able to say this) vastly improved take on the classics.
The altered or additional ingredients were enough to make them completely unique to CAU but without losing the essence of the original cocktail by drowning out the other flavours.
The Buenos Aires Iced Tea actually involves Argentinian tea unlike its Long Island counterpart.
This along with the addition of Fernet – a bitter, aromatic spirit usually served as a digestif – took away the sweetness of the original recipe and gave it an extra but not overwhelming kick.
And the Tommy's Margarita used agave syrup rather than Cointreau to sweeten the tequila and lime deal. It was delightful.
#HolyCau starters did not disappoint!Smoked Haddock croquettes and tuna carpaccio. Superb @CauDidsbury pic.twitter.com/4ZcP6vSNDv

— Kimberley Reader (@kj_rdr) November 12, 2015
Taste buds suitably tantalised, we delved into our starters – the tuna carpaccio with capers, chilli, peppers, herbs & lemon oil and the smoked haddock and creamy Spanish manchego cheese croquettes served with caper mayo.
I can't comment on the croquettes, although I am assured they were incredible, but the carpaccio was wonderful.
Each part of this intricate and beautifully put together and presented dish was bursting with flavour – I could even still taste the thinly sliced tuna, which is often a worry when carpaccio fish is accompanied by other strong tastes.
The lemon oil tied everything together wonderfully and the seasoning was spot on.
A short post-starter break and it was time for cocktails round two.
This time I ordered The Cau Girl Martini – a Porn Star Martini but with added apple, vanilla sugar and sparkling rosé Malbec.
At the risk of sounding weird, it was like drinking a fluffy cloud of passion fruit milkshake and it was glorious.
And my dinner companion ordered one of CAU's signature creations the Burbujeo – Portobello gin, cassis, pomegranate and lemon, topped with bubbles.
Don't ever let someone you're out with order one of these without you also doing the same. No matter how good your drink is, the most serious case of drink envy will ensue.
But without further, albeit delicious, delay onto the segment of the meal you and we had all been waiting for – the meat of this review, the really juicy bit, the steaks.
Cocktails round two and incredible main course @CauDidsbury #steakout #foodporrn #gotCau pic.twitter.com/IvctoQqdSN

— Kimberley Reader (@kj_rdr) November 13, 2015
From the 'speciality cuts', we ordered the Lomito – a fillet of rump considered to be the finest cut in Argentia, served with a blue cheese sauce – and the Tira de Ancho aka 'the king of steaks' – a spiral cut of rib-eye, marinated in chimichurri and grilled slowly for maximum tenderness.
Weighing in at 400g and 500g respectively (that's 14oz and 17oz ) these steaks are not to be trifled with – they are huge.
Wave goodbye to dreams of dessert or hopes of being able to moo-ve after your meal and say hello to food coma inducing bliss.
CAU's steaks are so tender they could be cut with a butter knife and they really do melt in your mouth.
If you've not been to an Argentinian steakhouse before, the style of cooking is very different to most.
The steaks are never charred and because they are such thick cuts they are cooked for longer – we ordered ours rare and were advised to up it to medium rare.
As someone who would usually opt for a blue steak and already thought I'd accommodated for the size of the steak by ordering it rare, I wasn't so inclined to take this advice but I did and I would highly recommend it!
Both were succulent, well-seasoned, unbelievably tasty and cooked to perfection.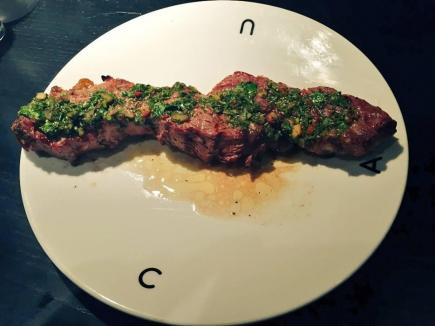 TIRA DE ANCHO: This 'king of steaks' will have you cau-towing to the chef
The Tira de Ancho packs a greater punch as it is marbled with fat making it more flavoursome but if you'd rather a leaner cut the Lomito certainly does not disappoint.
An Argentinian specialty often served with grilled meats, the chimichurri – a green sauce of chopped parsley, minced garlic, olive oil, oregano, white vinegar, and red pepper flakes – is a distinct, tangy and fresh herby addition that complimented the Tira de Ancho superbly.
And the blue cheese sauce was rich and velvety, exactly how you would want this classic and unfailingly lovely addition to any steak to be.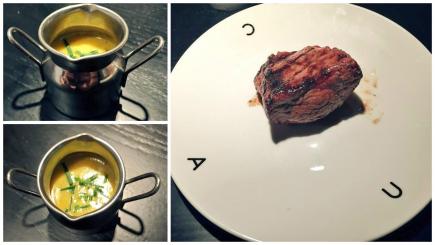 LOMITO WITH BLUE CHEESE SAUCE: A beautiful cut packed full of flavour and served with a rich, silky sauce
We opted for the salad side rather than the chips. This was a simple and straightforward salad of crispy lettuce leaves, and thinly sliced radishes combined with a light and zesty dressing.
But as with everything else it was given the special CAU touch, topped with cooled crispy onions fried in a very fine batter.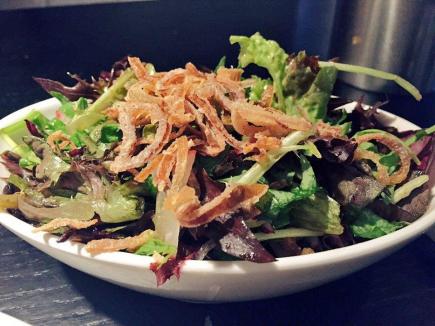 FRESH AND ZESTY: The side salad was a light and tasty accompaniment to the mains
I'll warn you now, it took us a long time to finish these steaks and it was sheer stubbornness that drove us to our clean plates.
As delectable as they are, they are not for the faint-hearted. I guess you could be sensible and order one of the smaller cuts or, unlike us, take the advice of the person serving you and get a doggy bag.
That said, every second of extreme fullness that followed was 150% worth it.
Needless to say, dessert was a no go but I've heard the cornflake ice cream sundae is as scrumptious as it sounds so perhaps next time we'll pass on starters.
But there will definitely be a next time, not just to sample the desserts but also the wines.
The wine list is usually an instant go-to whenever I eat out (or in) and I've got a serious favouritism for Argentinian reds so I surprised myself opting for cocktails.
How much I enjoyed my deviation from the norm is hardly up for debate though.
More important than the dessert or the wine, no restaurant experience is complete without good service and at CAU it was great.
From our warm welcome to the bubbly, helpful and attentive caugirls (we didn't get to meet a cauboy), the service cannot be faulted.
And, in fact, the staff took a refreshing approach – instead of just coming over and asking how we were doing or if we were finished when it took us an hour to get through our mains, we were assured we weren't being rushed but in a friendly and believable way.
There was a genuine back-and-forth, a lot of laughter, and it all felt very honest and upfront.
Having recently opened in Liverpool and Wilmslow and with another restaurant opening soon in Glasgow, CAU seems to be winning over the hearts of the country's meat lovers and there is absolutely no question as to why.