The Urmston food scene could potentially draw comparisons to Game of Thrones. It seems that there's not a week goes by without a hot new restaurant emerging – and they all want to sit on the cuisine equivalent of the Iron Throne.
Now, Astoria – situated in the thick of the hustle and bustle of Flixton Road – is throwing its name into the hat as the premier dining out option in the most up-and-coming town in Trafford.
Could it be the new King of Sunday Lunches? Perhaps.
Astoria boasts an exciting menu, alongside numerous deals during the week. This includes a midweek steak-for-two offer that's proving especially popular with locals.
It is, however, the roast dinner that's arguably receiving the biggest push on social media and picking up the most traction. Therefore, MM headed to Astoria to see whether it's actually a cut above its competition in the area.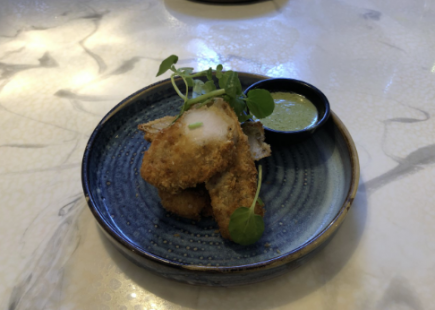 STARTER: The chicken strips are accompanied by blue cheese sauce
A first-time visitor will notice that Astoria is something of a bar-restaurant hybrid. There are more than enough tables scattered around, but sizeable parts of the floor are left clear. It appears more geared up for bustling queues at the bar rather than a sea of diners waiting to be seated.
This ordinarily wouldn't be much of an issue, but it doesn't exactly scream the perfect spot to sit and eat your roast dinner on a Sunday.
Fear not, Astoria seem to have clocked onto the fact that it takes more than just a few tables and a chunk of roast beef to attract people. This is evidenced by the fact that they've arranged for live acoustic music to set the scene for diners.
Unfortunately, the musician wasn't performing at this reasonably early 12:30pm sitting. Instead, those of us tucking into the food did so with a standard playlist in the background. It was sadly too Saturday night-esque, meaning the ambiance just wasn't there.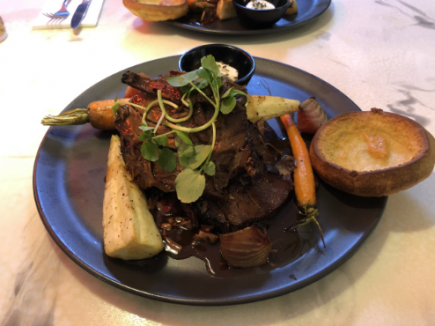 SIZE: There's no shortage of meat on the plate if you go for the beef
It's fair to say that those with a hangover might not have found the solace that they usually find in a roast dinner…
The food, however, was an entirely different kettle of fish (or pork, chicken and beef if you want). There is plenty to appreciate about the menu, which tries hard while at the same time being largely unpretentious.
Take, for instance, the chicken strips starter. Priced at £5, it's a relaxed way to start the meal. The poultry – which was crisp without being tough – is served alongside a blue cheese dipping sauce. It's not the type of option that appears on every menu, making it a nifty way to set itself apart from other offerings in the area.
The main event is, of course, the roast dinner. This occasion saw both the roast chicken and roast beef (both priced at £13) brought to the table. Well-presented and with all the trimmings, it appeared – and tasted – so fantastically British.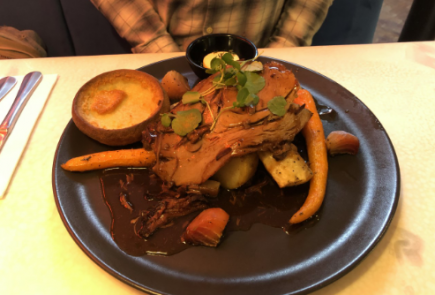 WINTER WARMER: It's the ideal comfort food to enjoy on a Sunday
The price tag is around what you'd expect it to be for such a venue, but at the same time there was an impressive amount of meat on offer. In particular, the beef was chunky and easy to pull apart. There's no doubt that plenty of pride had gone into preparing it.
It would be amiss not to note that every course was served with a smile and a genuine interest in improving the experience. Astoria clearly know that it takes more than just top quality food to keep people coming back, which makes it easy to have high hopes for its future.
All in all, Astoria is good – but it could be great. Thankfully it's still in its infant days and the team appears to be striving for perfection. While the ambiance lets it down on a Sunday, it wouldn't be surprising if this place is firing on all cylinders from Monday to Saturday.
*You can book a table, discover the latest offers or find out more information on Astoria by visiting HERE.